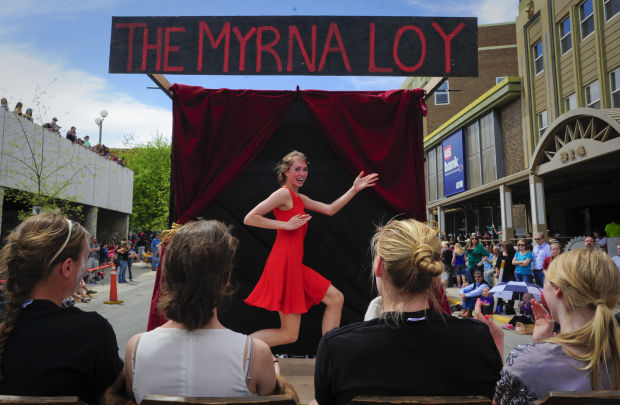 Floats made by students from Helena's two high schools lined a quiet downtown street on Friday morning awaiting the start of the annual Vigilante Parade.
For some students from Helena and Capital high schools, this year's parade was like no other. It was their last ride up Last Chance Gulch lined on both sides with people. Graduation for them is but days away.
Lacey Morse and two of her friends built a float celebrating her family's business: Synness Auto Wrecking. This was her third parade. Their costumes included those of auto yard workers in dirty overalls with dashes of grease adorning their faces.
The float sported a blue and white Chevrolet pickup that might be 60 years old and an array of rusted auto parts. A wheel, devoid of its tire, provided a footrest for a sofa that has long lost its place in a home. Wrenches swung from a workbench in the morning's breeze.
"It's like our excitement for the year," Morse said. "It's something you get to do with your friends. I just think it's really fun."
She characterized her class as being made up of different groups, "but in the end, we're like a family."
But Morse, like her friends, are members of the Helena High School senior class.
"It's kind of sad, actually. It's my first year doing a float with just girls and not my younger brother," Morse, 19, said.
Graduation later this month is scary for her, she explained, as it will mean going out on her own without the members of her class that have been a part of her life for the last three years.
Graduation also means new possibilities.
"I just want to be able to get out and experience the world," she said.
She plans to go to school for cosmetology in Great Falls, a career she said she sees as fun and far preferable to working in an office.
Kaylee Carpenter, 18, is part of the Synness Auto Wrecking float. She is also a senior at Helena High School, where she's spent three out of her four years.
The parade, she said, is "definitely sad as it's kind of a reminder that senior year is at an ending."
She reflected on what it's been like and said, "I've made some really strong bonds with a lot of people you wouldn't really think you would."
Getting to know people provided the opportunity to discover similar interests, she explained.
This year's parade is exciting because summer vacation follows on its heels and college awaits in the fall. She plans to attend the University of Montana, where she is weighing courses toward a degree in pharmacy or those that will allow her to become a physician's assistant.
"It's sad because you know that this is the last time you're going to see a lot of people you grew up with," Carpenter said.
"It's time for something new, even though I love Helena. It's my hometown," she said.
Brooke Trammelle, 18, completed the trio of women on this float.
This fall, she will begin studying diesel technology in Havre.
She attended Helena High School for four years and built strong connections over the course of four years.
"I think that you get a connection with your classmates that's incomparable with anything else that you will ever experience. Some good, some bad. But all of it lessons learned, memories that you won't forget," Trammelle said.
The parade is a chance to bring the community together as well as see both high schools competing against each other, she added.
"It's weird knowing you won't be a part of that, but on the outside looking in, in the future."
"It's bittersweet," Trammelle said, "I'm excited to go out and do my own thing, but I'm going to miss people and miss high school."
The parade is a tradition that's perhaps in its 90th year. This year's event had about 100 floats celebrating local history in seven categories.
Eddy's Bakery, Holter Sawmill, RB Drive-in, Frontier Town, Parrott Confectionery and The Montana Club were all subject for floats. Melting snow dripped from the Great Divide float. Red and yellow paper strips danced in the breeze to imitate fire on a Mann Gulch float that recalled the death of firefighters from a wildfire.
David Strandberg, 44, sat in a lounger waiting for the parade to start. He went to Capital High School for four years and participated in the parade the last two.
Looking at the students getting ready, he said he saw "kids having fun."
"Most will miss it a little bit; know you're about done."
The parade means there are only about 20 days left to the end of school for the year, Strandberg explained.
"Half of your friends go one direction, and half of your friends go another direction."
"Some of it makes you sad. Your life's going to be a drastic change," Strandberg said.
Life after graduation for him, he said, has been fine. He works for UPS in an office.
Down the street from him sat Mark Walker, 46, and a Capital High School graduate.
He was part of the band in the parade for each of his four years in high school. He played a trumpet and didn't really care for marching.
"Usually the weather was terrible," he said on a day that was mostly cloudy and cool; unusual, he called it.
He works as an environmental engineer for Hydrometrics and watched as the students made last-minute preparations.
"They seem to be having a pretty good time," he said, adding that he has a daughter on a float and a son in the band.
"I'm sure the ones that spent all these days working on the floats will remember it for a long time," he said.
"Gentle on my Mind," a song popularized by Glen Campbell, played from a speaker on a float as John Anthony, who hauled the float commemorating a wedding at the Kleffner Ranch, paused to talk.
"My wife volunteered me," he explained of why he was there. He's been driving floats for about eight years.
But the sudden roll of drums cut him off. There was no time for talk. The cadence of the drummers in the band beckoned to the floats that slowly pulled from the curb. The parade was under way, a poignant moment for those who, in a matter of days, will embrace new lives.
Get local news delivered to your inbox!
Subscribe to our Daily Headlines newsletter.