If you've driven down Lincoln Road northwest of Helena recently, you might have noticed several helicopters in a field near the road to Marysville.
Over the past two weeks, this helicopter base has gone from helping fight the North Hills fire to fighting the Horsefly fire. The air support at the base is there to assist the front line in whatever way it can. This includes more than just dumping water buckets on the fire. 
According to Stefani Spencer, a public information officer for the Horsefly fire, there are three types of helicopters that rotate in and out of heli-bases like the one on Lincoln Road. Most of the heavy helicopters are sky cranes. The medium helicopters are typically used to shuttle crew. Light helicopters can be used for anything from recon to medical transportation. 
The helicopters at the base are typically determined by the incident type. Incidents start at type 1, which are the most complex incidents. As incidents become less complex, they are downgraded to type 2 and 3, according to Spencer. Air traffic comes into play when more than two or three helicopters are at a site, she said.
The Lincoln Road heli-base had nine helicopters at its peak.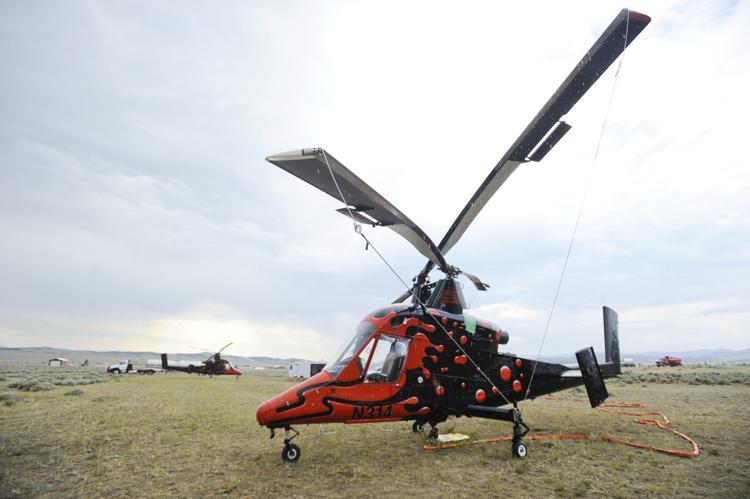 Lee Stewart, a Nevada native, has been managing heli-bases since 2003. Stewart says he can be on the road up to 105 days a year chasing fires. He typically brings his camper along with him and can be on scene to manage a heli-base within a few days. 
"After a while, you tend to know where and when fires will be," Stewart said. "I can stay on a base from 14 to 28 days at a time."
Stewart, who is a retired government worker, said he takes on the role of heli-base manager because it's not a popular job. He said there aren't many people willing to do it and remarked that there is a lot of responsibility that goes into the job. He is responsible for all of the aircraft and managing their time in the air. He has to make decisions about when and where to save air hours, as helicopters are limited by how long they can be in the air on any given day, in case a medical evacuation or other immediate need comes up. 
"Between air attack and us, things get worked out," Stewart said. "They are my lifeline."
Helicopters are an immensely useful tool for front line firefighters. According to Stewart, their versatility and speed at entering and exiting the incident location is what makes them so useful. The helicopters are used for medical transport, reconnaissance, shuttling firefighters, equipment retrieval and more. Stewart said they are even responsible for bringing back the saved garbage from the front lines. 
"Everything that goes out has to come back," Stewart said. "If we aren't doing bucket work we are still flying in gear, cargo, food or something else."
Steward said most heli-bases average about nine helicopters at a time. The most he has ever run at a time was 20 helicopters on a fire in California. The helicopters at the Helena site were a mix of private and United States Forest Service aircraft. As of Friday, Stewart had been managing the site for 14 days. 
Once the fires near Helena die down and air support finishes its work, it will be on to the next fire for Stewart. He said he is often requested by name to manage heli-bases. Stewart attributes this to the low number of people capable and willing to take on the job.