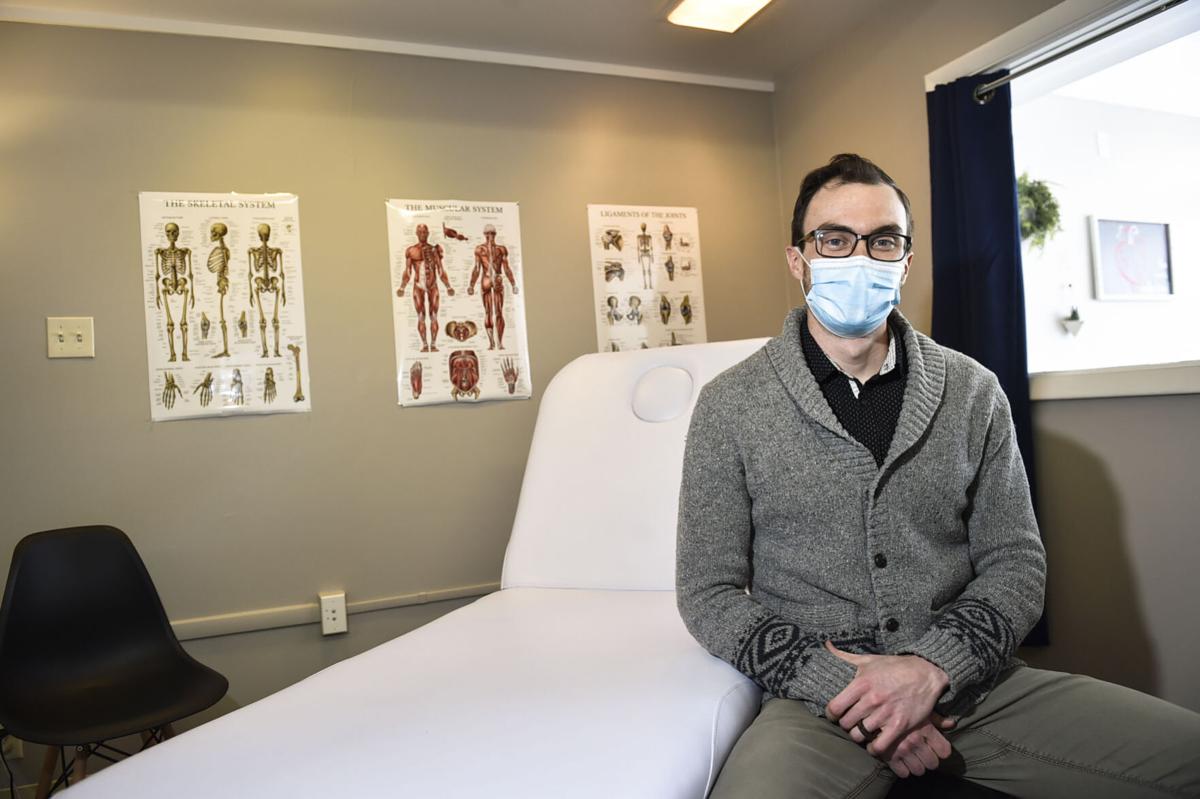 A health care clinic with a unique membership model recently opened its doors in Helena.
Ridgeline Family Health, which is one of eight "direct primary care" clinics in Montana, opened Dec. 14. The business was started by Dr. Brandon Bilyeu and offers primary care on a membership basis. Instead of billing insurance, Bilyeu said, the clinic offers all services for flat monthly membership fees, which are $75 for adults and $25 for kids.
"How I describe it is that I don't so much take the place of insurance, but instead try to keep insurance from getting in between the doctor-patient relationship," Bilyeu said. "In the Direct Primary Care model, patients' health insurance will not be billed, nor accepted, for rendered services that I provide."
Bilyeu said he doesn't want his clinic to replace insurance. Instead, he recommends that his patients maintain at least catastrophic insurance or enroll in a health cost sharing plan to provide coverage if they have an illness or injury that would require extensive services in a hospital or with a specialist.
Bilyeu said he has some cost-saving deals for services beyond what he offers in his clinic. He said he has worked out deals to get X-rays for $70-$80 and most common blood tests for $7. He said any of his patients who do maintain insurance would be able to submit these bills for reimbursement.
Bilyeu said he typically refers patients to specialists when they need care beyond his capacity, such as a knee surgery. He hopes to negotiate cash prices for referral patients who may not have insurance, but he has not had those conversations yet.
"One major issue I'm trying to address is the reduced access to primary care faced by people who cannot afford health insurance or can barely afford their health insurance monthly premiums," Bilyeu said. "Let alone the co-pays/lab fees/procedure fees with little hope of reaching their usually high deductible. These people are often forced to just wait and see if their illness/injury will resolve on its own due to the fear of medical costs, which often leads to unnecessary emergency room visits, hospital admissions referrals to specialists for issues that may have been addressed easily by a primary care provider."
Bilyeu also mentioned a lack of cost transparency in the insurance world, which causes issues in budgeting for a potential medical bill. He noted that in traditional third-party payer primary care situations visits are often very short. Bilyeu claimed his average visit length is usually about 40 minutes, as opposed to a more common 13-16 minutes in the third-party payer model.
Bilyeu is the sole owner and provider of Ridgeline Family Health. He has no employees now, but said he plans to hire a medical assistant as his patient pool grows. Bilyeu is a doctor of Osteopathic Medicine and a board-certified medicine physician. Some of the primary services provided by Bilyeu include chronic disease management, wellness exams, sports physicals, casting, laceration repair, mole removal and trigger point injections. Bilyeu also boasts guaranteed same or next-day appointments, unlimited clinic visits and 24/7 access to the provider via phone, text or email.
Direct primary care has been a somewhat controversial type of business model in Montana. Former Gov. Steve Bullock twice vetoed bills approving this type of clinic before U.S. Rep. Matt Rosendale, who was Montana's commissioner of securities and insurance at the time, determined that there weren't any rules against the model and it doesn't fall under the business of insurance. His advisory memo essentially authorized the use of primary care agreements in 2017.
When Bullock vetoed bills regarding direct primary care, he noted that the business model offered "little or no added value to most consumers" and that they "charge fees for treatments already covered by a consumer's health insurance, such as preventative care that insurance covers at no out-of-pocket cost to the consumer."
Bilyeu disagreed with that assessment and believes the model allows for a much stronger doctor/patient relationship than what the "traditional" system allows for. He said that he actively testifies in support of bills like SB101, which specifies that direct primary care agreements are not insurance and should not be governed as such.
Bilyeu said he first came across the model about a year ago while working in residency training in Kalispell. There he knew he wanted to work in an outpatient clinic setting, where he could connect with patients and families.
"Our clinic worked in the traditional 'system' and I was learning how difficult it was to actually provide quality care," he said. "With only about six months of residency training left, I hit a point where I was burnt out on our current health care system, and when I looked at my career after residency it gave me little hope for improvement."
All information about the membership and services offered by Bilyeu's clinic can be found online at ridgelinefamilyhealth.com. The clinic is at 318 Fuller Ave. and can be reached by phone at (406) 513-1065.
"I am hopeful that my clinic will grow and in the future my goal is to have the ability to offer other services for members in addition to my own," Bilyeu said.