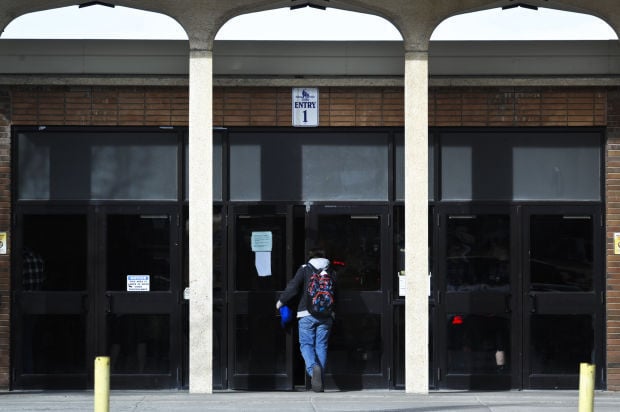 Helena High School and Capital High School will close to in-person instruction for at least two weeks beginning Monday due to a staff shortage caused by the COVID-19 pandemic.
"We can't run classrooms without having people in those classrooms and that's the point we're at, or that's the point that we will be at shortly," Helena Public Schools Superintendent Tyler Ream said Thursday afternoon.
Ream said about 200 of the school district's 1,000 employees cannot report to in-person work for various reasons related to the pandemic. He emphasized that not all of those employees have tested positive for the virus, and many are unavailable because they are in quarantine or taking care of loved ones affected by the closure of a daycare or a school in a nearby district.
Radley Elementary School in East Helena and Montana City School are also temporarily closed to in-person instruction for pandemic-related reasons. 
"There are a lot of situations that impact our employees," Ream said. "A lot of them can still teach and they can do remote."
Since school closures are more difficult for younger students and their families, Helena Public Schools decided to close the two high schools and reallocate any available substitute teachers and proctors to other school buildings. Proctors are paraprofessionals or other staff members who oversee classrooms when students are at school and their instructor is teaching remotely.
"By doing this, we can reallocate resources from the high schools to keep everybody else open," he said.
Even while students are leaning from home, Ream said, the high school buildings will remain available for those who need access to student support services, food services, libraries or labs. Instructors who are still able to report to work in-person will have the option of teaching classes from school or at home, he said.
"It's not a virus transmission closure," he said. "It's staffing."
Within the next two weeks, Ream said, school district officials will evaluate whether they have enough staff available to safely reopen the two high schools on Dec. 7.
"I very much want to bring our high schools back on the 7th, but we have to have the staffing to do it," he said.
Although school district officials might have to make some quick decisions, Ream said they will do their best to give families plenty of notice if any additional school buildings need to be closed. 
"This is the last decision that we want to make, but we can't make decisions that are negligent," he said. "We have to make decisions that are right for the kids and their personal safety."
COVID-19 cases have been spiking in Lewis and Clark County and throughout Montana in recent weeks, with the state reporting 826 active cases in the county and 20,780 statewide Thursday afternoon. In a note sent to parents and staff, Ream said the school district will need the "full support of the Helena community to flatten this two-month long curve and restore relative health and safety across our community."
"Our students and staff have worked tirelessly to follow all health and safety protocols and have successfully limited the spread of the virus in our schools," he said in the note. "However, the spread in our community is so significant that we are no longer able to maintain adequate staffing levels."