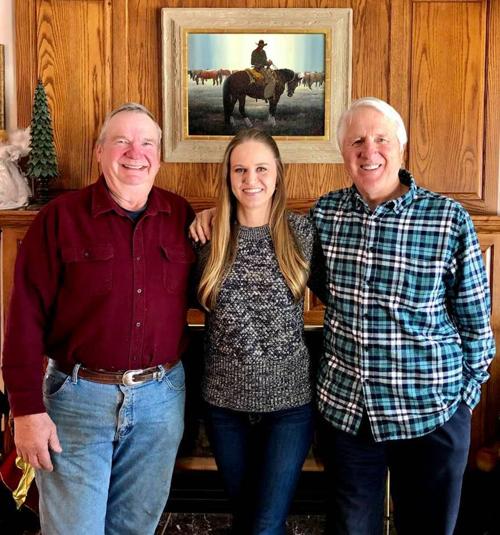 This week, "Helenans Who Served" features three family members; USAF Major Morgan Dolan, her uncle, Army CWO3 Dave Cameron (retired), and her stepfather US Marine Bill Abney.
David Cameron, 69, graduated from Townsend's Broadwater High in 1968, where he competed in football and track and field. After attending boot camp at Fort Lewis (Washington), he graduated from Fort Rucker's (Alabama) Advanced Individual Training. Cameron was assigned to Company B, 4th Aviation Battalion, 4th Infantry Division, during the Vietnam War.
The 4th Infantry Division area covered the entire II Corp area of the Central Highlands. This area was considered the Viet Cong's highway for transporting forces and supplies from the north to the south.
Cameron's first exposure to the realities of war took place after landing at AnKhe Airfield, when he witnessed a detail of other "newbies" unloading black body bags from a Chinook helicopter on the tarmac.
"Everyone knows that people die in war, but for me, this was evidence, the first that I had seen," Cameron wrote in his book "One Small War."
"Fear grabbed its first hold on me, and a cruel shiver rolled down my spine. Death was a reality."
His first mission took place the next day, before he was even issued a weapon. Cameron manned an M-60 machine gun on a Huey Gunship rescue mission that helped pick up six LLRPs (Long Range Recon Patrol) on the Ba River.
As a helicopter crew chief gunner with Company Bravo's "Ace High Gambler Guns," the M-60 machine gun would be Specialist 4 Cameron's constant companion for the next year of his life.
"I have no idea how many missions or flight hours, we flew most every day except during the monsoon downpours," he wrote. He lost two close buddies after becoming a 30-day "short-timer," and left In-country 11 days shy of his tour in order to escort his best friend's body home to California.
At SeaTac Airport, Cameron and a large group of returning soldiers were verbally accosted by a crowd of anti-war protestors from an overhead balcony.
"They began yelling and cursing, 'baby killers!'" he related. "The biggest insult was when they began spitting on us. I hadn't expected a homecoming, but I hadn't expected this, either.
"The pain and hurt I'd been feeling kept me calm and quiet… I just walked past them with my head down. Defeated, I avoided looking at them. I didn't want any more faces haunting me for the rest of my life."
After his discharge, he re-enlisted 8½ years later. Cameron went on to make a career of the military, with a combined 21 years in the service.
He graduated from Aviation Maintenance Officer Training and from Embry-Riddle Aeronautical University, with a BS in professional aeronautics. Cameron's stations included Germany, Fort Lewis, Fort Ord (California), Camp Humphreys (South Korea), and Wheeler Army Airfield (Hawaii).
"I was in the 160th special operations at Fort Campbell, Kentucky," related Cameron, who resides in the East Helena Valley. "We were the first unit to field the UH-60 Blackhawk helicopters."
He retired from the service in 1999 as a chief warrant officer 3, followed by a 6-year career as an engineer building the Apache Gunships at the Boeing Plant in Mesa, Arizona. Cameron said his highest military citation was the Legion of Merit Award.
Bill Abney attended school in Absarokee High, where he "played some football." Abney, 67, served in the U.S. Marine Corps from 1971-75. He spent one tour in Vietnam (1972-73).
"I went to boot camp in San Diego, and was a sergeant E-5, with HMA (Marine Attack Helicopter) 369, Cobra helicopter squadron," Abney wrote. "We flew missions off of Navy LPDs (landing platform/dock ships) and spent some time in North Vietnam."
HMA-369 was assigned to Marine Aircraft Group 36, 1st Marine Aircraft Wing, and deployed to South Vietnam to participate in Operation MARHUK (Marine Hunter Killer) in June 1972.
"Pistol Pete" as the squadron was then known, had the distinction of being the first attack helicopter squadron in Marine Corps history to conduct offensive air operations, according to the website Wikipedia. This occurred on June 20, 1972 when HMA-369 AH-1J Seacobras, operating from the USS Denver, began interdicting enemy barges and ferries and acting as low lying Forward Air Controllers for Navy carrier strikes.
The squadron subsequently transferred to the USS Cleveland and then the USS Dubuque while conducting MARHUK operations. The Marine Corps Aviation Association honored HMA-369 with their Helicopter Squadron of the Year Award in 1972, and they were awarded a Navy Unit Citation, as well.
"I took care of safety and survival equipment, packing the parachutes for the ejection seats for F4 Phantoms, A4s and many other aircrafts," recalled Abney. "I got my private flying license while in the Marines.
"I loved the Corps, but wanted to come back to Montana."
He said his proudest accomplishments in the service were two meritorious promotions, while advancing to sergeant in 2½ years. In 1978, Abney started his own business, Helena Insulation, which he still operates to this day.
"Horses are my wife Julie's and my passion," he said, "and we still team pen."
Morgan Dolan was the recipient of Capital High's Jude Gleason Award as the school's top female scholar/athlete, when she graduated in 2003.
Dolan graduated from the Air Force Academy in 2008 with a B.S. degree in humanities, and a minor in philosophy. She was recruited by the USAF for her track exploits, but switched to volleyball, where she made the Academy's Falcon spikers' squad in 2005.
In 2009, she helped the Air Force to a runner-up placing in the Armed Forces Womens Volleyball Championships. She was then selected for the Armed Forces Conseil International du Sports Militaire (CISM) squad, which traveled the world competing against other country's military teams.
Major Dolan has served at four military bases during her 16-year career. She started at Joint Base Lewis McChord (JBLM) in Tacoma, Washington; and then Beale AFB (California), where she supported operations for the U-2 Reconnaissance aircraft.
Next she went to Peterson AFB (Colorado Springs), supporting operations for both Air Force cyber weapon systems and spacecraft systems. Dolan is now in the second year of her present location of Buckley AFB (Denver), supporting the National Reconnaissance Office (NRO) space intelligence community. Her current AFSC is 17S – Defensive Cyber Operations Officer, developing capabilities for and support efforts to safeguard and defend DoD systems from virtual threats.
Dolan has made three deployments overseas. Aside from graduating from the U.S. Air Force Academy, Dolan said her career highlight to date was her latest deployment in 2018.
"While overseas, I spent time in both Iraq and Kuwait which is sobering for anyone who served during or has been serving since the Gulf War," she wrote.
Dolan described standing in the middle of what's left of Saddam Hussein's Iraqi Ba'ath government headquarters building in Baghdad, which U.S. forces sent a JDAM through the top of the 5-story building in 2003, leaving a gaping hole in the roof.
"I touched the damp jail cell bars that held Saddam and walked through the dust covered court room where he sat during his trial and conviction by the Iraqi High Tribunal," she continued. "Being even a second-hand onlooker to a piece of history that most people of my generation will only learn from history books is something that sticks with you forever."
Dolan credits her experiences as a high school and collegiate athlete as what inspired her to finish through to graduation and commissioning.
"As a young adult, there are few personal growth opportunities in life that compare to being part of a positive and encouraging team dynamic, on and off the court," she said. "Those ladies are who got me through the grueling practices and difficult losses building up my resiliency to adversity.
"Being an officer in the U.S. military… keeps me away from my family and sends me to remote locations around the world, but I have the opportunity to influence the future of young military personnel and the future of our technology in defense of our great nation."
Curt Synness, a Navy veteran, can be reached at 594-2878 or curt52synness@gmail.com. He's also on Twitter @curtsynness_IR
Get local news delivered to your inbox!
Subscribe to our Daily Headlines newsletter.