A 45-year-old Helena woman is being charged with assaulting a police officer, criminal mischief and exerting undue influence on a police officer after allegedly threatening to kill a deputy and the deputy's family.
Deputies responded to a call on Thursday for a report of an aggressive woman, who turned out to be Tammy Menicucci, according to court documents.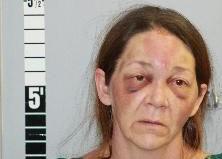 Deputies again responded the residence on Friday and made contact with Manicucci after getting a report of a woman damaging items in the home and breaking windows, according to court documents. Manicucci allegedly walked away from deputies when they attempted to make contact with her, causing deputies to place her in handcuffs. She allegedly kicked the deputy in the knee and shouted profanities as she was placed in the patrol vehicle.
At the Lewis and Clark County Detention Center, Manicucci told the arresting deputy that she was going to kill her and her children, according to court documents.