State environmental regulators say the location of a Helena Valley sewage lagoon permitted in 2006 near several water wells and homes did not comply with regulations at the time, but they also do not believe it poses a threat to groundwater and do not have the authority to regulate how sewage is discharged into the lagoon.
Michael Kilbey bought his house on Valley View Road in 2015. Across the street from his home and wellhead is a large berm, which represents the southern edge of the sewage lagoon serving North Star Subdivision.
For years, he's lived there without any issues. At one point he thought the facility was not in use, but he later found out waste is being carried into the pond by underground pipes to be exposed to air and sunlight as part of the treatment process. The waste is then piped underground again through a gravity-fed system to another pond well away from his and other homes.
The issue began this March, he says, when a sewage pump truck began discharging waste into the lagoon from along the berm. Sometimes twice a day or more, the truck would return and spray a pressurized arc of human waste into the center of the pond. Disgusted and worried for his family's safety, Kilbey approached the operator and was told a hose could not be used due to freezing weather.
With his house downwind, Kilbey became concerned about airborne contamination drifting onto his property and home as well as entering groundwater given how close the facility is to his well. He contacted Lewis and Clark County, the Montana Department of Environmental Quality, the Environmental Protection Agency, elected officials and the Independent Record. He spoke to the truck driver, the company contracted to run the facility, and eventually the owners of the facility, North Star Water & Sewer LLC, which is a wholly separate entity from the subdivision, providing its water and sewer services as a state regulated utility.
Current officials at DEQ, who were not in place at the time the lagoon was permitted, reviewed the complaints raised by Kilbey. In an interview with the Independent Record, Tim Davis, who heads the Water Quality Division, said the review showed that the facility's location did not comply with regulations in place at the time mandating it be at least 500 feet away from water supplies.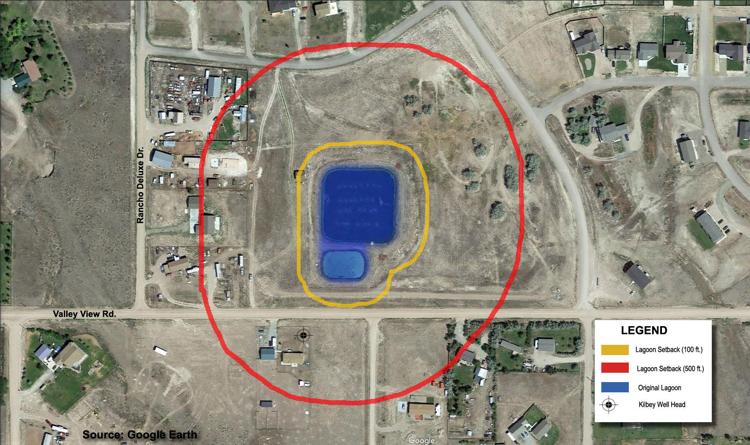 "We were made aware that it is not 500 feet and we don't know why that setback wasn't enforced, but it did not comply with standards at the time," he said. "… We're not sure how that happened and why that decision was made, but it was an oversight."
Doug Peterson is part owner of North Star Water & Sewer. He attended the 2006 meeting when DEQ permitted the lagoon and said he believes officials at the time told him the 500-foot regulation pertained to future wells, but acknowledges the difficulty in recalling the details of a meeting so many years ago.
Among state permitting records for the sewage lagoon is a 2007 letter stating that DEQ became aware of the situation but did not believe it posed a concern to human health.
"After construction of the North Star lagoons was substantially complete, DEQ discovered that there were five residential wells within 500 feet of the lagoons," the letter states. "A provision in the Montana Water Quality Act requires that wastewater lagoons be located at least 500 feet from existing wells."
The letter goes on to point out that regulations differ for public drinking water wells, which demand a 100-foot setback. Because the lagoon does not discharge into the ground, DEQ maintained it would have no impact on groundwater.
Davis echoed the assertions made in the letter. While he thinks the 2006 setback regulation is clear, he also says that 500 feet was an "arbitrary" number and does not believe the lagoon poses a risk to nearby wells.
A 2017 law also called on DEQ to scientifically justify setbacks based on potential contamination to groundwater. New regulations in their final stages of adoption put the minimum lagoon distance at 1,000 feet from wells, but given the groundwater formation in the Helena Valley, the lagoon could be located within 100 feet of wells and residences and still comply, he said.
Lagoon setbacks in the new regulations rely on a "pathogen analysis," which looks at the potential for contamination to enter groundwater. A major consideration in permitting a site is the depth of unsaturated soil beneath the facility, with 4 feet of soil being the smallest amount allowed. At the Helena Valley site, there is about 80 feet of unsaturated soil, which is why the lagoon could be as close to 100 feet to wells.
But Kilbey is less concerned about his water after a recent test came up clean. His issue is centered on external discharge by the pump truck into the pond, which he believes may cause fecal matter to become airborne and enter his property. He wants his property and home tested for contamination and says a string of illnesses in his family has him concerned.
You have free articles remaining.
Kilbey is abrupt and acknowledged his confrontational demeanor as he became increasingly frustrated with various government officials and operators of the treatment plant.
"Something about this seems way, way, way wrong," he said, "but everyone we go to wants to keep sandbagging us until I go away. This is not a personal vendetta but about what's right and wrong."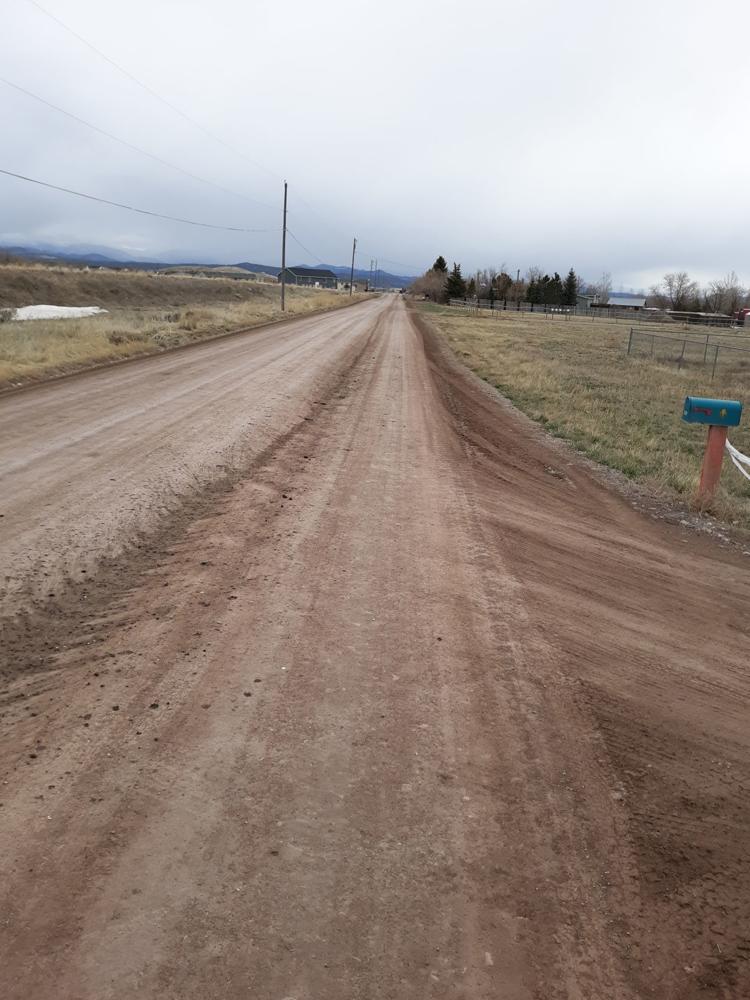 Kilbey's frustration escalated a few weeks ago when a malfunction on the pump truck caused it to leak and leave a stream of waste along the dirt road outside his and several other homes. He again called DEQ, which responded to the site while the pump truck driver shoveled "some of the larger pieces" out of the road, he said.
Kilbey says he became angry when DEQ enforcement staff deemed the cleanup sufficient despite waste that could still be seen in the road. He then became infuriated, he said, when told that lye could be used but could also pose human health concerns.
"We feel like we're being poisoned. At the end of the day they can't just keep turning a blind eye to this," he said.
Lewis and Clark County Commission Chairman Jim McCormick said in an interview that he took Kilbey's concerns to several county departments, but they lacked jurisdiction because they had not permitted the facility. Even so, McCormick says he is interested in acting as an intermediary to help resolve the conflict.
DEQ permitted the lagoon, but officials there say that permitting laws do not include an air quality consideration, nor does licensing of a pump truck operator regulate the manner in which sewage is discharged.
"There are no specific regulations, for DEQ, for regulating the trucks discharging into lagoons," DEQ Communications Director Kristi Ponozzo said. "It is a private contract or agreement between the two companies," meaning the owner of the facility and the contractor discharging. Interestingly DEQ does have authority to regulate spraying of treated sewage onto agricultural lands but not into treatment facilities, she added. 
DEQ enforcement reports responding to Kilbey's complaints obtained by the Independent Record also say that discharging into the pond without a hose does not violate the permit. The reports also suggest contacting local or state health departments or legislators to encourage a legal change granting DEQ authority to regulate the spraying of human waste.
Peterson says that when he became aware of the pump truck spraying waste without a hose, he went to Kilbey's house and said he would address it, which could include voiding the contract with the pump truck contractor if necessary. In 2006, North Star Water & Sewer overbuilt the facility and in addition to North Star subdivision, a second subdivision had hooked into the facility to address its failing waste water system, he said.
In recent weeks, the discharge practice of the pump truck has changed to now hook into a pair of hoses farther away from Kilbey's house, which Peterson says he hoped would alleviate concerns. Gates have also been locked and new warning signage posted. 
Even with the change, Kilbey remains concerned that the dumping has been allowed to continue, and that it is sometimes happening up to five times per day, and noting that the hoses dangle through a gate on the facility.  
"I mean, you can't reasonably expect two subdivisions to disconnect, but stop the dumping," he said when asked what would resolve the issue. "(The lagoon) was never supposed to be here." 
Kilbey has hired an attorney in part to pursue nondisclosure claims about the facility with his real estate company, which he acknowledges is a private civil matter. 
This story has been changed to remove a reference to a potential lawsuit against the state, which Kilbey has clarified he is not considering.