Helena officials have been busy removing both snow and unattended vehicles from city streets as a result of the recent winter weather, which is not expected to leave any time soon. 
The latest storm dropped 7 inches of snow in some parts of the Helena Valley and drove temperatures below zero as part of a long-gestating high-pressure system breakup that is connected to the East Coast's deep freeze, which was caused by the southern movement of the polar vortex.
This snowstorm and others gave city officials a chance to test their new snow-removal policy, which includes the removal of vehicles parked in emergency snow routes. 
According to the city's new "Where's My Car" webpage, which shows where towed vehicles are being taken, 45 vehicles or trailers were towed from emergency snow routes since Jan. 25. Twenty of those were towed from Friday to Sunday alone. 
In a note submitted through Helena's online comment form, Jeff Sherlock praised the city for removing parked trailers that were "really constricting traffic in the past."
"It's really been a stark change to years past and much appreciated," he wrote.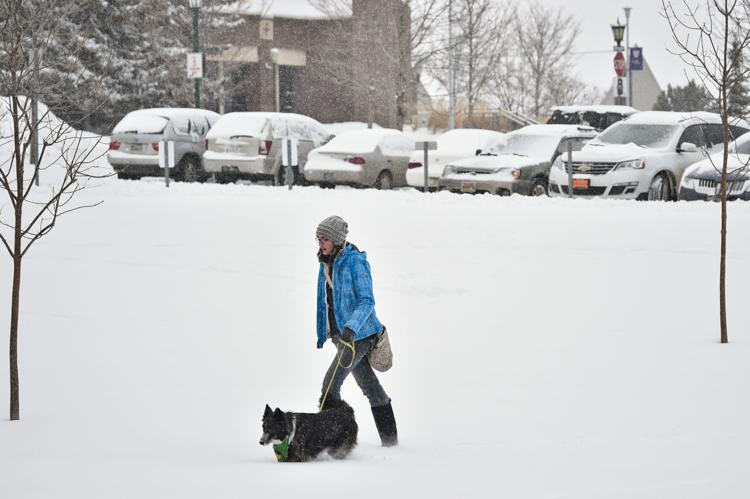 According to Jim Brusda, the lead meteorologist at the National Weather Service in Great Falls, "the cold air is not leaving any time soon."
"The next 10 days the cold air will be in north and central Montana, including the Helena area," Brusda said. "Overnight lows will be below zero until Sunday and will bring periods of snow."
Brusda expects an additional 2 to 4 inches of snow to fall in Helena on Tuesday. "The only good news is the snow won't blow around too much," Brusda said.
Winds are expected to peak at 10-12 miles per hour during the next week in the Helena Valley, which means temperatures will be cold, but not as cold as they are in other areas. 
"A light wind at 4 below, 10 miles an hour, will be in the minus 20 to minus 30 degree range," Brusda said.
Just a few miles west, high winds have driven the mercury way down.
"MacDonald Pass has been one of the coldest spots in Montana," Brusda said. Wind chills and whiteout conditions have dropped temperatures to minus 40 degrees Fahrenheit. At that temperature, it only takes 10 minutes for skin to freeze and frostbite to set in.
"A lot of people like to head up there to recreate," Brusda said. "Any exposed skin will develop frostbite in 10 to 15 minutes."
Skiers and snowboarders should note that avalanche danger has also increased after the weekend storm. The Gallatin National Forest Avalanche Center issued avalanche warnings for the Lionhead area near West Yellowstone, the Centennial Range and the southern Madison and southern Gallatin mountain ranges.
Officials say heavy snow and wind are loading a weak snowpack, making natural and human-triggered avalanches likely.
Independent Record Editor Jesse Chaney contributed to this story. 
Get local news delivered to your inbox!
Subscribe to our Daily Headlines newsletter.