Lisa Cordingley, executive director of the Helena Education Foundation, spent Thursday morning sneaking around schools in the Helena school district to surprise recipients of this year's Great Ideas Grants.
Accompanied by various grant sponsors and district Superintendent Tyler Ream, Cordingley used Ream as a distraction to spring the grant presentations on teachers.
She even went as far as hiding behind desks and around corners so grant recipients wouldn't notice her. 
This year's round of Great Ideas Grants saw six teachers awarded more than $20,000 in funding to pursue new programs in the district. Recipients included: Capital High School's Sarah Urban and Susan Selvig, CR Anderson's Kevin Cleary and Shannon Thomas, Rossiter Elementary's Sarah Dramstad and Helena High's Rene Cloninger.
All of the teachers were awarded funding to pursue their great ideas for a school program; Cordingley found an appropriate sponsor from the local community for each one. 
Dramstad's project involves teaching fifth-grade students Indian education through food and art. Working with two other Rossiter teachers, she hopes to create a collaborative education program.
"Thank you so much, this is going to be so great," Dramstad said after she was surprised with the grant.
Dramstad said she believes it's important that her students understand the important contributions of Native Americans to their culture.
"Food is a part of everyone's culture," she said. "When you travel somewhere else, you always eat their food to experience it."
As part of the project, Mariah Gladstone, a Cherokee and Blackfeet educator, will collaborate with Rossiter students for a full week. They will focus on food culture and sustainability. Additionally, the project will highlight Native culture through art and music. The grant was sponsored by Sodexo, a food services company excited to help educate through food.
Urban attracted the attention of Shodair Children's Hospital with her grant application for RAINS. The "Relating Academics In Nature and Society" project will see AP science classes read popular science books. They will then complete hands-on activities and participate in field trips designed to reinforce concepts within the books. 
Keith Meyer, foundation director at Shodair, said this grant application was a great match to the genetics program at the hospital.
Many area high school students, just like the ones in this class, wind up doing internships at Shodair, Meyer said.
"This was a way to show the community that we support what is happening in our schools," he said. 
The grant received by Thomas will fund "8th Graders in Motion," which "will develop both a conceptual and mathematical understanding of the physics of moving objects."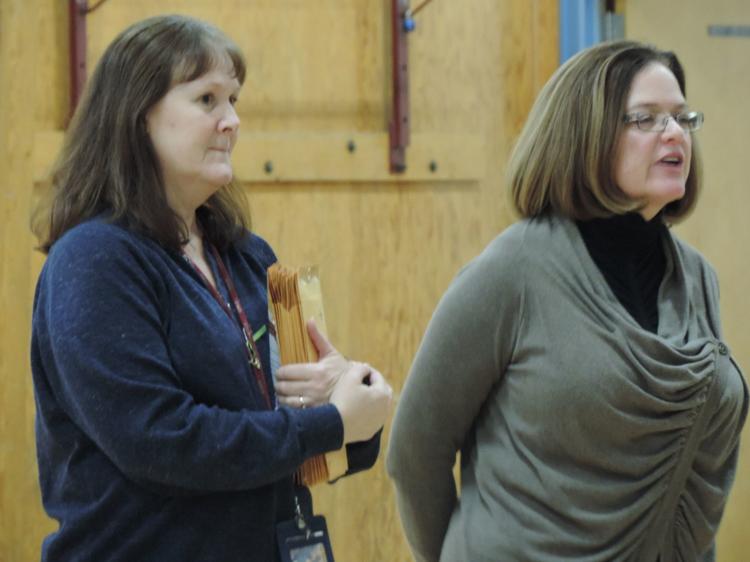 Thomas explained that the grant will provide funds for motion detectors and photogate timers so students can create their own motion graphs.
"It's going to be super exciting to add this to our program," she said. But, she said she couldn't take credit alone. She noted teachers Jeremy Muir, Kathy O'Leary and Erin Hunt all contributed to the grant and the program. The grant was sponsored by Morrison Maierle.
Cleary's grant, sponsored by The Family of Helen Christensen, will provide new software to music students.
Cloninger's grant will provide wearable technology to students for an individualized approach to health and wellness that extends beyond gym time. It is sponsored by Allegiance Benefit Plan Management Systems.
Selvig's grant will provide additional technology, including iPads and apps for coding and video editing, to Capital High's FABLAB. The lab provides students with hands-on technology experience in real-world applications. The grant was sponsored by the Crowley Fleck PLLP law firm.
For years, the Helena Education Foundation's Great Ideas Grants have provided funding for programs and projects throughout the Helena school district. Grants range from a few hundred dollars to $5,000. To date, the foundation has awarded more than 340 grants totaling $678,584.