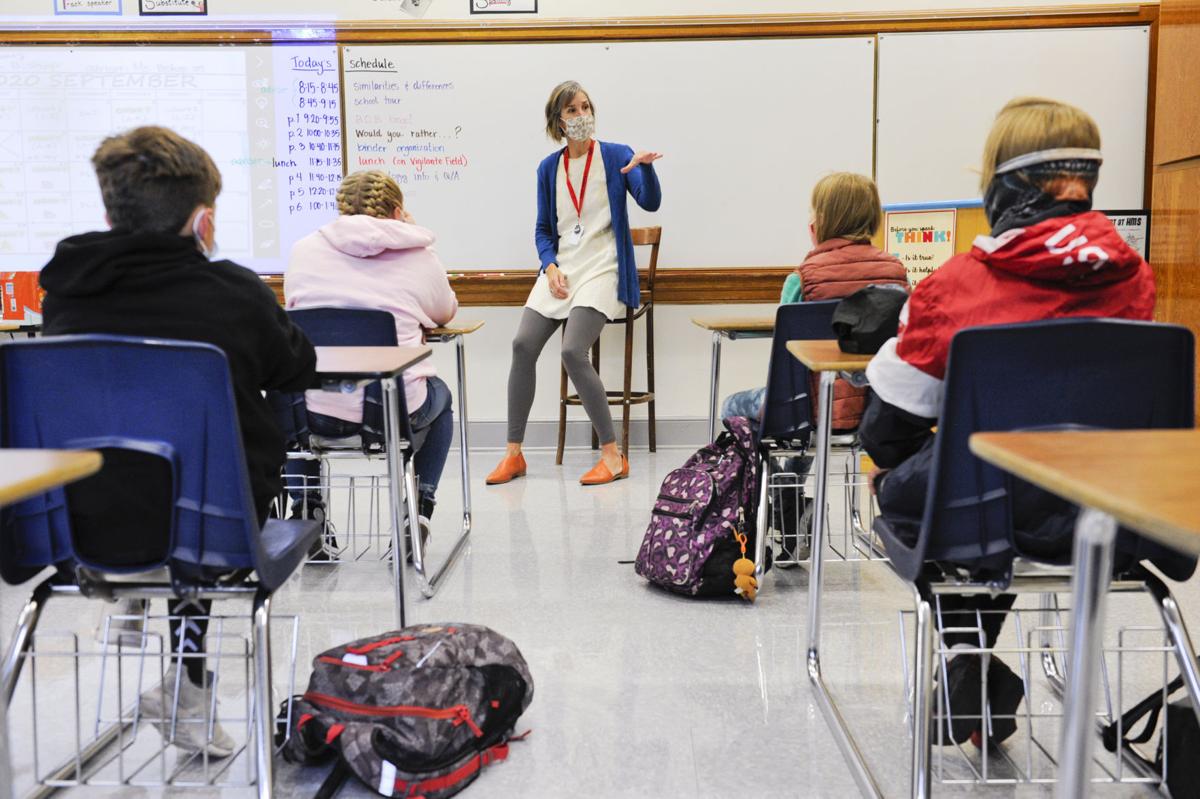 Helena students will soon return to the classroom four days a week.
On a 6-2 vote Tuesday evening, the board of trustees approved Helena Public Schools Superintendent Tyler Ream's recommendation to bring students into the classroom Monday, Tuesday, Thursday and Friday each week. Trustees Libby Goldes and Terry Beaver voted in opposition to the recommendation. All other trustees voted in favor.
The tentative start date for the new schedule is Feb. 22 for kindergarten through second grades, March 1 for third through fifth grades, March 8 for sixth through eighth grades and March 15 for high school students. However, these recommended dates are subject to change based on the implementation of the overall plan.
"I know this will come as a disappointment to some," Ream said. "But we have students who are struggling socially and emotionally and struggling academically."
Ream said officials have to ensure that the global COVID-19 pandemic doesn't turn into a lifelong pandemic for the students who are struggling with the current school model. Ream made his recommendation in conjunction with a committee who came to this conclusion.
The district has been in phase 1, a hybrid model that sees students in class two days per week, since the beginning of the school year in the fall. Talks of moving to phase 2, a precautionary model where students spend the majority of time in class, came amid significant public comment and concerns from parents over the course of the school year.
This came to a head during the January meeting of the district's board of trustees, where the public spent more than an hour making comments urging the schools to phase up.
"We had not spent a significant amount of time looking at phase 2," Ream said. "So we needed a team that could come together very quickly and look at that."
Members of the working group were good about not letting their own personal ideas interfere with objectively looking at what potential phase-ups would look like, Ream said.
"I know they had their own opinions about whether or not we should phase up," Ream said. "But we needed a group of problem solvers and I think they did an exceptional job coming in and doing that."
The current model is considered to be "overly restrictive" based on new guidance from Harvard Global Health Institute, according to Ream. Theoretically, he said, the schools should have closed in October given outbreaks in the community. However, Lewis and Clark Public Health never cited schools as a source of transmission. 
Ream said phase 2 will keep students out of the classroom Wednesday based on potential staffing issues. He said it was also important that the district look at all options and consider the needs of students, including students who would continue online learning.
Ream also emphasized that Wednesday would remain an academic day. However, the day would most likely be a remote learning day for students. A modified bell schedule could also be implemented to help facilitate the transition to this phase.
For health and safety reasons, universal masking, physical distancing, hygiene practices and exposure protocols will all remain in place as more students attend classes together. However, this will have to be handled on a case-by-case basis as not all schools and classrooms are built equally in the district. 
In a recent survey, approximately 58% of parents/families indicated the hybrid model was not meeting the social/emotional needs of their students. Ream said this was a very important data point to look at and he is thankful for the feedback.
Data released by Harvard Global Health in late December showed that when looking at schools from the fall semester, in-school transmission was one of the largest factors in how schools should operate. Ream said according to local health officials, Helena Public Schools were not a significant source of transmission by any metric. The data provided by this group was never used as an "on-off switch" for opening and closing, Ream said.
Public comment on the prospect of potentially phasing up varied widely. Many parents praised the recommendation to have students in class four days a week despite wanting them there five days a week. These parents and family members expressed concern about students falling behind or missing out on the "high school experience" due to the hybrid model.
Meanwhile, teachers, para-educators and many students voiced their opposition to implementing phase 2. Many teachers said they simply don't feel safe phasing up and the district's recommendations for health and safety guidelines didn't do much to dissuade this fear. This was the most common sentiment expressed by teachers to Jane Shawn, president of the Helena Education Association. Other educators like Capital High School teacher Adam Clinch felt the data from the Harvard Global Health Association had been misinterpreted and that the district had been successful so far in preventing the spread of the virus because of the hybrid model.
However, these examples are only indicative of the majority and there were parents and teachers on both sides of the argument.
Ream said the only way the district would consider returning to a phase 1 model would be if conditions dictated that this was the only way schools could remain open. Additionally, the district will continue posting all metrics related to tracking the virus within the school system throughout the phase-up.
Ream stressed that despite a phase-up, school would not be returning to "normal." He said that as long as there is a virus and a pandemic there will be no "normal" for schools. Ream said he understands parents want to know when schools will be "normal" again and the only answer he could provide was "at what point will everyone be vaccinated."