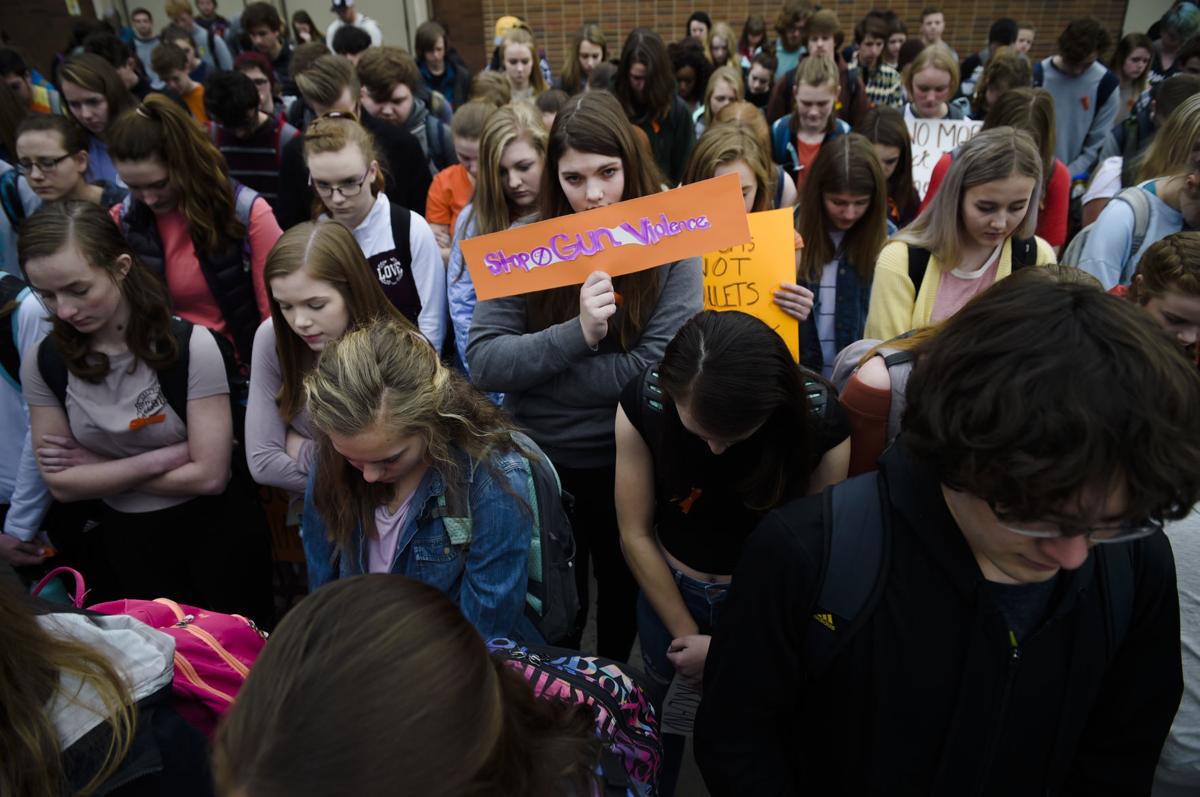 In conjunction with a national observance, hundreds of students in Helena walked out of class for 17 minutes on Wednesday to protest gun violence. 
About 300 Helena High School students stood on the steps of their school and listened to their classmates read over a megaphone something personal about each of the 17 victims who died in the Parkland, Florida, school shooting last month.
"Mr. Beigel was a geography teacher and a cross-country coach at (Marjory Stoneman) Douglas High School. He was shot while trying to usher students into a nearby classroom," a Helena High student read. 
"Nicholas was a senior. He was recruited for the University of Indianapolis swim team and would have started as a freshman there this fall," a student said about Nicholas Dworet, who was 17.
After honoring each victim, the organizing students asked for a moment of silence. Alana Kranich, a Helena High sophomore who helped organize the walkout, offered other students a chance to say something related to gun violence.
"This isn't a political view party, this is just wanting to be safe in our schools," she said. 
Freshmen Emma Hoober and Maddisen Bummer said they left their second period geometry and choir classes because students are the ones affected by gun violence and should be making their voices heard. Some students referred to their age group as the lock-down generation.
"We're the ones that need to be protesting this," Bummer said. 
A handful of adults joined from across the street, and several administrators and school board members came to offer their support as well. 
The students were joined on the steps by the school district's Superintendent Jack Copps, who said he celebrated students taking action.
At 10:17, students started to file back into their classroom. While walking back into the building, student organizers said more people walked out than they expected. They also said they were happy it was quiet and respectful.
"We're just really proud of everyone who stood up and did this with us," Seely Garrett, a sophomore at Helena High School, said. 
Garrett said she talked to some students who didn't want to walk out of class because they thought it wouldn't accomplish anything. But the organizing students said they didn't want to let Parkland students be forgotten, or Helena High to be the next school to experience a shooting. 
"We don't want to be killed going to school," Brooke Hathaway, a Helena High sophomore, said.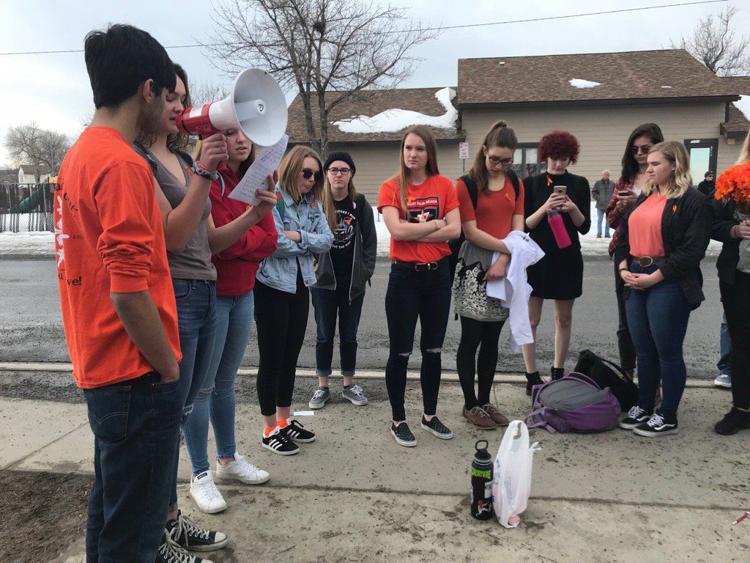 Helena High Principal Steve Thennis held orange flowers, a color associated with gun violence prevention, and stood with the organizing students for a photo. As they walked back into the building, he reminded students they should be in their third period class. Thennis spent the last couple weeks meeting with students to make sure the observance was respectful and safe.
"I thought it was great. They handled it how I expected them to," Thennis said.
Thennis said he'd been thinking about the saying "stop acting like a child" since kids across the country started calling for an end to gun violence, calling for legislators to act and organizing national protests. 
"As an adult, maybe we should start acting like our kids because something needs to change," he said. 
You have free articles remaining.
At Capital High School, students gathered outside the entry where 17 students read something for each Parkland victim. The students emphasized that they don't want guns to be taken away, but want better regulations and to feel safe at school. Students said Wednesday's observance wasn't a call for gun control, but a memorial for all gun violence victims since Columbine.
"It's just for the victims," Nathan Hartnett, a senior at Capital, said. "We grieve their losses."
Mariah Thomas, a junior, said she was in middle school four days after the Sandy Hook shooting when her school was locked down due to a threat of an armed gunman. 
"For me, that was the start of my problem with the gun violence we have in here in America," she said. "When I saw the Parkland kids take an initiative, I felt like I had to do the same."
The students said they'd been talking with their elected officials, asking their teachers about lock-down protocol and talking to each other about what they would do in a school shooting. 
"We would rather run than be a sitting duck for a bullet. Those thoughts have been going around in our heads," Thomas said. "We are truly the lock-down generation and it's time for it to be done."
About 75 East Valley Middle School Students also participated in the walkout, East Helena Public Schools Superintendent Ron Whitmoyer said. The student-led observance was supervised by a teacher on break and the school's principal, he said. 
Whitmoyer said the observance was "very peaceful."
"Kids are entitled to their constitutional rights and so we tried not to make a big deal out of it," he said. 
Public school administrators in Helena and East Helena said any participating students who were not excused by a parent would receive an unexcused absence.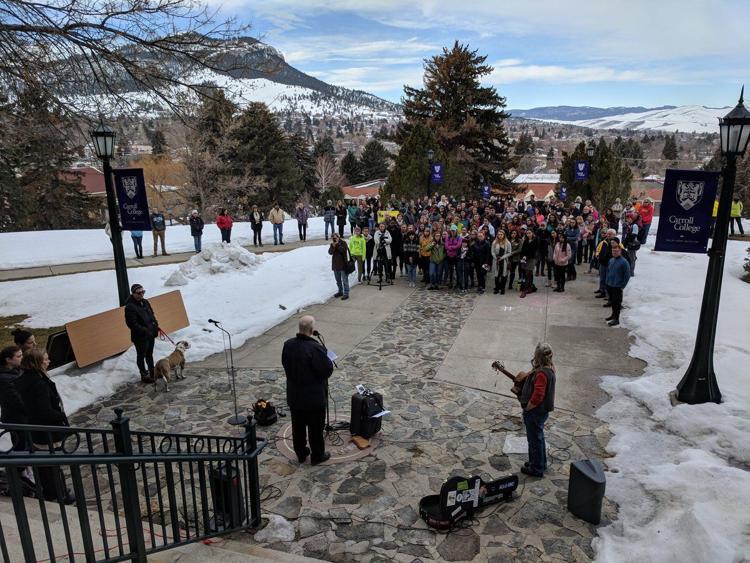 At Carroll College, around 100 people from the community and the school showed up at the front steps of St. Charles Hall for the Enough Walkout to protest gun violence.
Emily Larson, a junior at Carroll from Portland, Oregon, was the main organizer of the event.
"I talked to one of my friends about how we didn't think this was happening here at Carroll and we knew something like this needed to happen here at Carroll," Larson said.
"I'm really proud to be standing here today doing this," she added. 
Social justice was the theme of Carroll's rally, as solidarity with the vulnerable is a core tenet of the Catholic Church's teachings. Father Stephen Rowan, Caroll's interim president, spoke during the rally. 
"The violence against the young, the innocent and the powerless is a sure sign that we live in what Pope Francis calls a 'throw-away' society," Rowan said. 
"Blessed are those who mourn the killing and the irreparable loss of the young lives we remember today -- who mourn the loss to their families and friends and to society itself," Rowan said.
Rowan was followed by Izzy Geraghty, a Carroll student from Las Vegas who spoke of the horror of learning about the Las Vegas shooting that killed 58 people and injured hundreds more.
After Geraghty, students read short pieces written by Parkland students who survived the shooting, leading to a minute of silence for the dead and injured.
Emily Larson ended the rally with a speech calling for action and compassion.
"Carroll students do not sit silently by while we see injustice," Larson said. "You're here because it's the right thing to do."
Independent Record Editor Jesse Chaney contributed to this report.
Get local news delivered to your inbox!
Subscribe to our Daily Headlines newsletter.