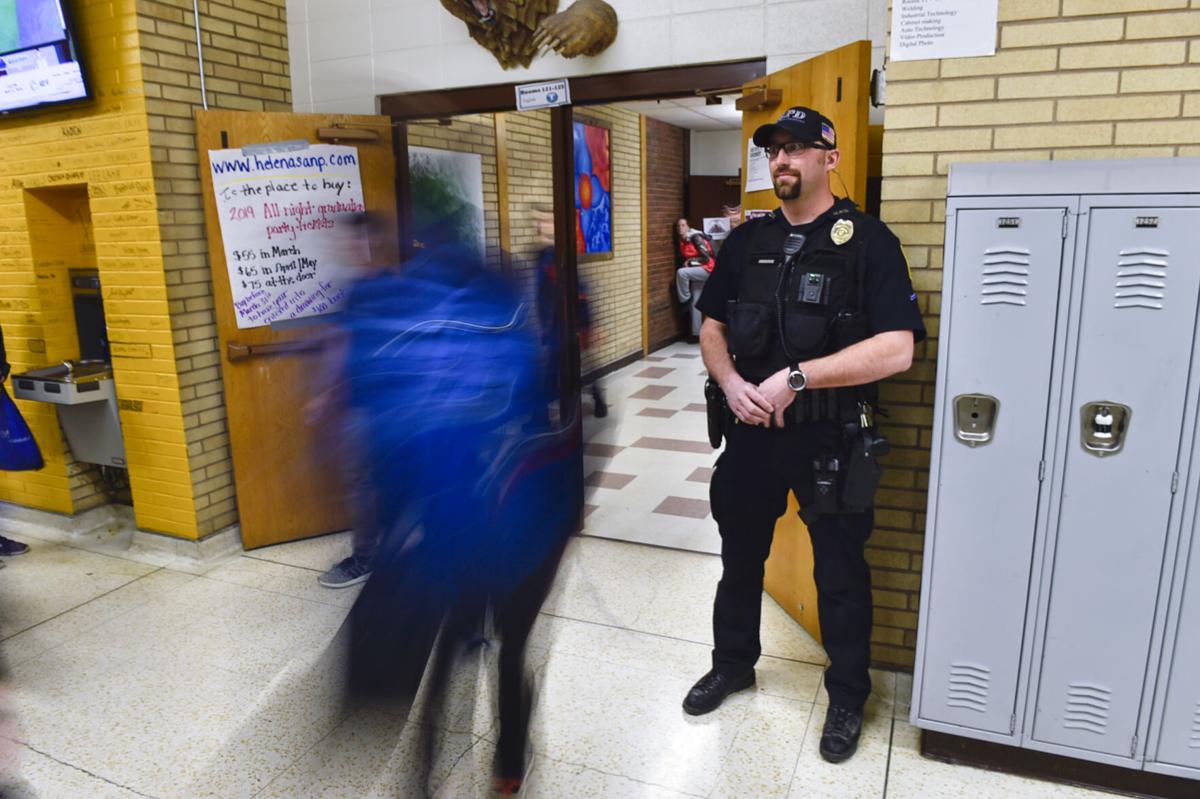 With talks of the Helena City Commission potentially cutting school resource officers from its budget, questions have been raised regarding the need for law enforcement officers in schools.
On June 30, the commission voted 4-1 to  freeze about $300,000 from the Helena Police Department budget until a July 9 public hearing where further discussion is expected on potentially reallocating the funds currently dedicated to SROs. The vote came amid a national debate about police funding with pushes from some people and groups to shift funding from law enforcement, including SROs, to social services, although such proposals have been controversial.  
S.K. Rossi, policy and advocacy director with ACLU of Montana, applauded the city commission for being open to future discussion at the June 30 meeting.
"Police don't belong in schools," Rossi said. "Instead, students need access to well-trained mental health professionals to guide and support them through tough times. Responding to student misbehavior by criminalizing it only harms students, their families and our communities. There are better, research-based ways to keep our students safe."
When asked about the potential of SROs no longer being in Helena schools, many school officials said they were open to learning about other options, but not without significant discussion and a robust transition plan.
"Across my career I've generally had good experiences with SROs," said Superintendent Tyler Ream. "Maybe there is a better model and if there is a better model, let's explore it. Let's see and develop a possible comprehensive plan."
Ream said that SROs are an integral part of school safety and that requires a comprehensive plan to work. Ream said SROs aren't just there for physical safety, but also social and emotional safety. He said they also play a significant role on the front lines if an unfortunate incident were to occur.
"Law enforcement officers have that training," Ream said. "They are trained to engage that person, while everyone else is going the other way."
According to Ream, while social and emotional safety is a big part of what SROs do, it is important to not downplay the importance of the actual physical safety net they provide. Ream said that policing students is a very small part of what SROs do, and student arrests and citations are not the goal. However, Ream acknowledged that this differs greatly from district to district.
"A good amount of SRO work is proactive," Ream said. "Many SROs see it as an opportunity to change how a child feels about law enforcement."
One of the biggest challenges facing the district is the seemingly immediate timeline of these discussions. The Helena School District is a little less than two months away from the start of school and making drastic changes to their school safety plan on such a short timeline is problematic, according to Ream.
"It's getting later. The timing is really tough on us," Ream said. "I'd be more comfortable with more time, months for instance, to align a plan with research."
This is a sentiment that Helena Public Schools Board of Trustees Chair Luke Muszkiewicz agrees with. He hopes the city of Helena will continue to invest in the health and safety of Helena students, teachers and volunteers. He said over 8,000 students and hundreds of educators spend about half their waking hours in school during a typical academic year. He also believes that the city is well within the purview to focus resources within the schools to promote health and safety.
"SROs have played a role in our schools for a long time," Muszkiewicz said. "And just as we had a rich community conversation when we began the program, I welcome such a conversation around whether or not we should amend the program, and that includes redirecting resources towards mental health, social work or counseling professionals."
What worries Muszkiewicz is not that the public have a conversation reevaluating SROs, but that the short timeline risks leaving the schools without the resources and personnel needed to reopen schools.
Board member Sarah Sullivan shared similar views. She said it's not that the schools simply need uniformed officers, but that people "beating the drum" to have them removed haven't taken into consideration who the SROs are, nor the training they receive.
"This isn't about police officers throwing kids up against lockers and writing citations," Sullivan said. "For the most part, their job involves building relationships with kids who are struggling to stay out of legal trouble and stay in school."
Sullivan believes SROs have been effective in this role. Specifically, she called attention to the role SROs play in issues of custody disputes and a foster mother who testified to the city council the role they played in helping her children graduate.
Like Ream and Muszkiewicz, Sullivan isn't opposed to further discussion about potential mental health workers taking the place of SROs. However, she said the schools are desperately underfunded in the area of mental health and are open to discussions with anyone who is offering to fund this area.
"I can't see how arbitrarily slashing budgets without robust data-driven discussions with affected stakeholders and the general community will help," Sullivan said.
This is a sentiment backed up by Ream. He said he expects to hear many diverse opinions at the July 9 meeting. However, it's those who work the closest alongside SROs who have the ability to provide context into the work they do.