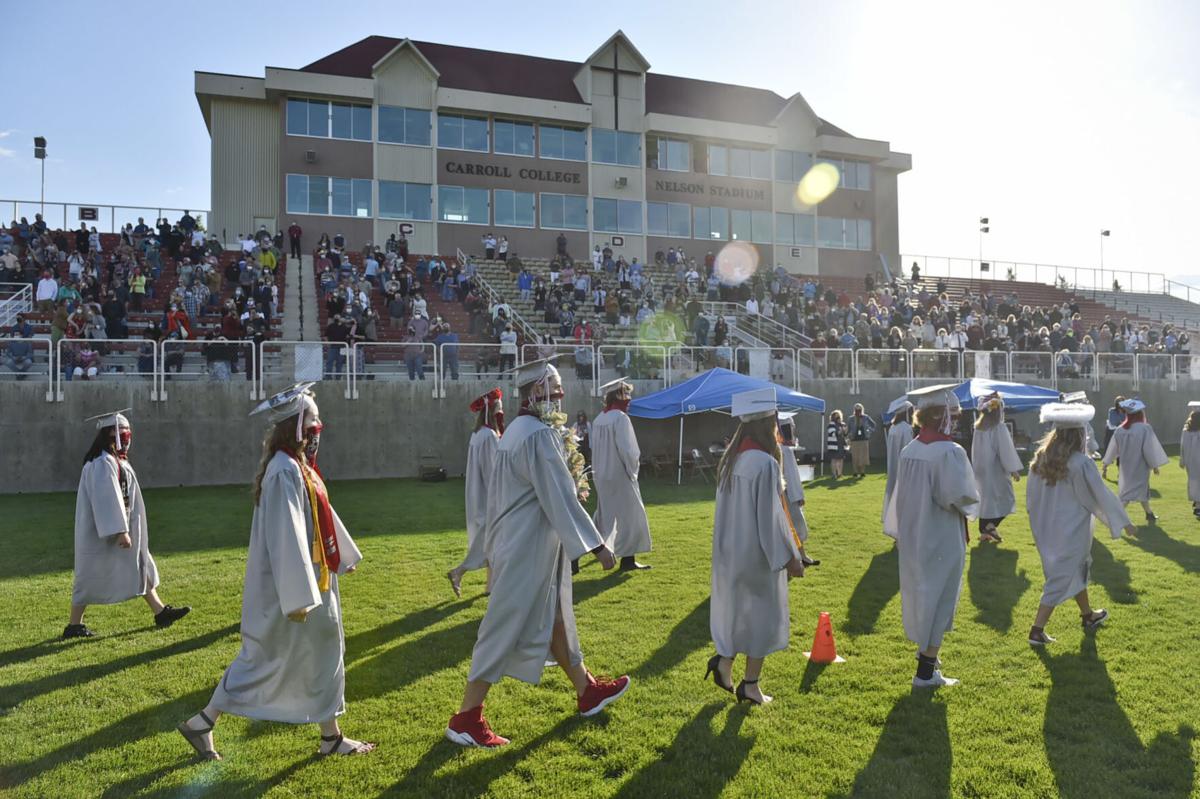 Helena Public Schools has released plans for this year's high school commencement ceremonies, which will likely have a much higher attendance cap than last year's events. 
All ceremonies are set to be held at Carroll College's Nelson Stadium. On June 4, Access to Success is scheduled for 3 p.m. and the Project for Alternative Learning is set for 5 p.m. On June 5, Capital High School is scheduled for 9 a.m. and Helena High School will be at 1 p.m.
These dates and times could be adjusted due to weather. There are plans for various contingencies including keeping the dates but shifting the times, shifting to the following weekend, and moving the ceremonies indoors. Superintendent Tyler Ream said he'd rather move the ceremonies to a different weekend than move them inside, which would help keep them "closer to normal."
The district is anticipating an allotment of 10 tickets per graduate at the CHS and HHS ceremonies, which would bring the venue to 75% of normal capacity. If the ceremonies move inside, that number would go down to two tickets per graduate, which is the same number of tickets issued for last year's ceremonies due to the COVID-19 pandemic. 
Officials do not anticipate that tickets will be needed for the Access to Success and PAL ceremonies.
Ream said the increased capacity was a big goal for the team that planned this year's ceremonies.
"Any return to normal is good," Ream said. "Last year was really tough on families. Siblings, grandparents and others weren't included, unfortunately."
Ream said the 75% capacity would allow the district to open the ceremony to more people while still providing for social distancing. While distancing won't be enforced in the same way it was last year, the school district is asking families to sit with their own cohort and keep their distance from other groups. 
"At this point we know what distancing looks like," Ream said. "We know what is comfortable and what is not."
The ceremonies are expected to be somewhat abbreviated, at approximately 90 minutes for both CHS and HHS. The ceremonies will include a non-masked student processional, and band/choir performances will be included. Students will be seated approximately three feet apart.
According to Ream, this year's ceremonies did not require as many meetings to plan. However, there was a lot of discussion with Lewis and Clark Public Health.
The primary concern is planning around weather. According to Ream, it's the one of the primary risk factors officials are watching, as it could greatly disrupt plans.
"We ask families to stick with us as we keep watch on it," he said.
Additionally, students will be allowed to throw their caps after being announced as graduates this year.