Helena's schools have recently seen a significant increase in conditions such as autism that can cause emotional disturbance and affect formal speech and language skills.
According to data collected by the school district's special education department, autism in particular has ballooned by 109 percent over the past five years. The number of diagnosed students district-wide grew from 69 in 2013 to 144 in 2018. 
Sean Maharg, special education administrator for middle school/high school, and Sean Morrison, special education administrator for pre-kindergarten/elementary, have been working on new programs to help better address the increasing needs of children with autism.
"The tools to identify autism have gotten way better, but the category is very broad and ranges from high IQ/low social cognition to students with low social abilities and poor communication skills," Maharg said. "We as a district have gotten better at identifying autism, but the frequency of impacted students has increased a lot since 2000."
Shelley Burbank, a board-certified behavioral analyst with the district, said that while awareness of autism is up, the overall number of affected students is also up in all races and classes in society.
According to autismspeaks.org, the condition affects an estimated 1 in 59 children.
"When the state identifies that a child fits into a disability category, the district is obligated to meet that need," Maharg said. 
An education, including special needs care, is guaranteed to children in Montana by law.
A child's needs are determined through expert evaluations. Programs are generally tailored to enhance strengths and address each child's individual needs, according to Morrison.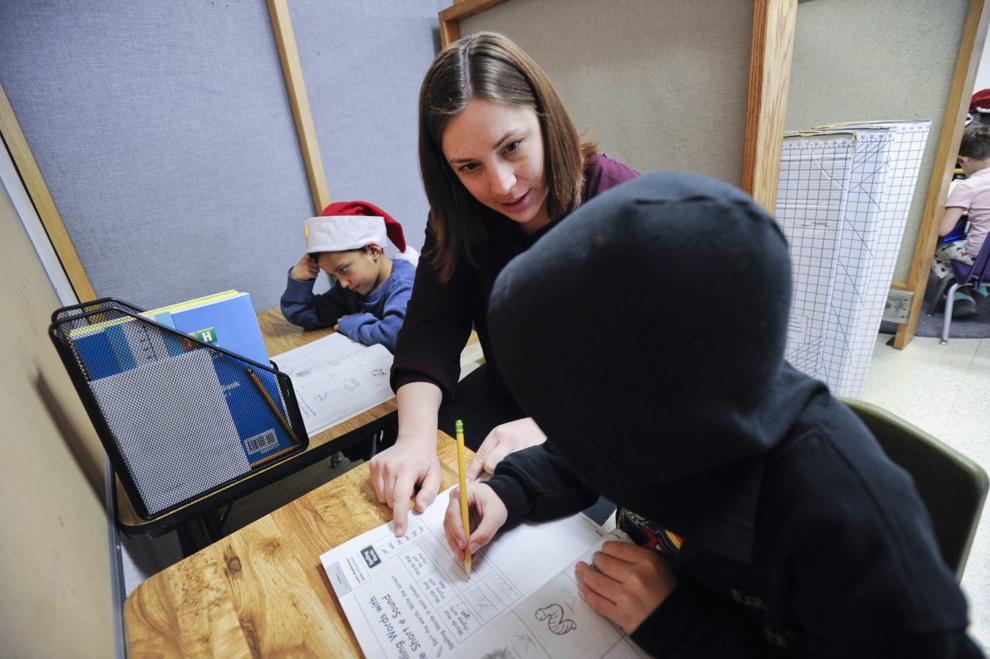 Individual plans are created for each student, which could place them in one of the school district's various programs, each of which addresses different levels of need and different disorders and disabilities.
One of the newest programs, Trailhead, is intended to serve as a first step for students with autism to receive behavioral and academic supports that will prepare them for a successful journey through school and in life.
Trailhead is one of two programs started with the resources the district already had available, Maharg said.
The program largely focuses on the communicative skills of students with autism. The program is semirelated to the district's Functional Life Skills program in that it also teaches the functional skill of communication. Trailhead's focus is on teaching kids the basics of how to function within a typical classroom by addressing adaptive, communication, social/emotional and cognitive needs. 
"How they struggle with environmental impulses. How they handle being put into an adaptive situation. How they adjust," Maharg said. "It's a skill we all take for granted."
The program's overall goal is to get students to the point where they can re-enter a traditional classroom setting.
The Functional Life Skills program at Four Georgians Elementary School focuses on students with intense physical, medical or cognitive needs. The needs addressed at Functional Life Skills are low-incident disabilities.
"We have an incredible staff over there and amazing teachers," Maharg said. "They expand the capabilities of those students."
The Trailhead program was created to address the intense needs of students with autism in pre-kindergarten through first grade. Miranda Parisi, the Trailhead teacher, described the program as "very intensive with applied behavioral analysis focused on every aspect from math to social skills."
Parisi has been a special education teacher for 10 years, having previously worked with preschool and Head Start. She is the only teacher in Trailhead since its start in August.  
"We often know the students don't have those social skills, so we want to set up those skills," Parisi said. "Students with autism, for instance, don't observe their peers for behavioral patterns, so they are often taught in one-on-one situations."
The program is in large part based on teaching students basic communications skills. Burbank said many students in the program struggle to understand even basic concepts like "asking questions to get what they need."
"This is a research-based intervention program," Burbank said. "Best practices proven to be beneficial for students with autism-like symptoms."
"Skills that come easy to other kids require a lot of work with Trailhead kids," Parisi said. "Once they learn a skill, they are immediately bumped up to learning another skill."
Trailhead tries to keep students in the program constantly moving forward and learning. Each student has goals set for them based on their needs. Each week they meet goals and their next week's goals strategically adapt to how they are growing socially and academically.
"We constantly want to push the kids and challenge them to accomplish more goals," Burbank said.
The staff, who all receive intensive autism training, hope to help the students be able to generalize in all different settings and interact with their peers. This is why Trailhead operates as a classroom rather than solely one-on-one interaction.
The program is already enjoying positive results, according to Erin Maxwell, coordinator at the Ray Bjork Learning Center.
"I think what is important is that the district is meeting these needs," Maxwell said. "The program isn't necessarily doing anything better, but it is doing things different in addressing a different set of needs. It's one of many approaches to addressing needs in the district."
Parisi said all of the students in the program are doing so well that what they work on changes every single day.
"I love it," she said. "Everyone is so dedicated because we love what we do."
Staff is looking to add more students who fit the program. Burbank hopes that in the future they will get to add a second classroom.
If the parents have any say, the program will expand as much as possible," Parisi said. "Our parents are a big part of this program. We learn a lot about our students from their parents and they observe class and undergo trainings with the program. We have a strong relationship."
Morgan Welker, the parent of a Trailhead student, said her son is excelling after joining the program and it shows in her home.
"He is a completely different kid," Welker said in a testimonial to the school board. "He communicates with us and tells us what he did at school and tells us how he is feeling. It's amazing, and I can't even put into words how impressed I am with how well he is doing."