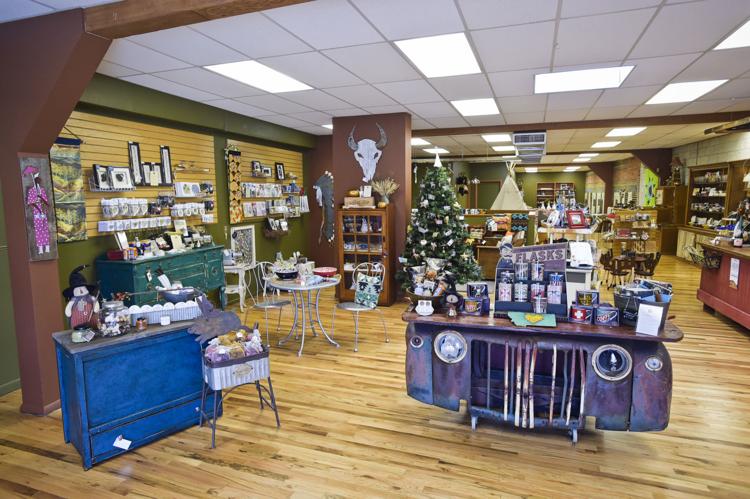 Wander into Sage & Oats Trading Post in Helena and the scents percolate feelings of warmth, comfort and nostalgia.
Shelves, tables and even wagons are decorated with beautiful displays of gifts and goods that celebrate all cultures.
The space at 330 N. Jackson St. is laid out to allow shoppers to flow in every direction and discover items from Native American artisans, Made in Montana craftspeople, imports from Scotland, Ireland and more.
Sage & Oats is the combined effort of owners Major and Michelle Robinson. Major is Native American and registered member of the Northern Cheyenne Tribe. Michelle is Scotch Irish and from Florida.
Twenty years ago they both worked at Universal Studios; she was in retail design in Florida and he was in architectural design in Los Angeles. Her studio sent her to L.A., where they met.
Several jobs and moves later, one of which saw Robinson appointed by Gov. Brian Schweitzer as acting director of Indian affairs and her working in labor and industry for the state, they landed in Helena (for a second time) to settle down and allow them to pursue the retail store.
The store is a dream 10 years in the making and was born from a desire to combine their talents and share their love of travel and culture. They kept a dream book and jotted down ideas and added images to develop a unique store concept. The name, Sage & Oats, is a combination of his Native American and her Scotch/Irish heritage. 
They said, let's delve into this and find all the different cultures in Montana. The couple began their research with the book "Montana, A Cultural Medley."
"We are trying to celebrate the cultures relevant to Montana," Michelle said.
Because the store is a cultural mix, not everything is made in Montana. Some of the items Michelle selected are because they represent a part of the state or because they are a cultural import to the state.
There are Japanese obi belts that have been repurposed into wall hangings and table runners by Hiiragi Asia in Missoula. The materials are from Japan and represent the Japanese culture alive in Montana.
Irish and Scottish home décor items are intermingled with Native American beadwork jewelry and other crafts.
Handmade soaps and candles have been created by local craftspeople especially for the shop in scents that remind Michelle of her time spent living on the reservation with the family. Soap scents include Indian frybread  and honey, braided sweet grass, and the store exclusive, Sage & Oats.
Major is the creative design for the overall space of the nearly 2,500-square-foot store. Michelle's retail design background from the theme park gave her the expertise to decorate the space.
For more than 40 years, the shop space housed a children's store. Then it was a children's clothing consignment shop and, previous to Sage & Oats, was the second floor for Montana Book Co.
The Robinsons moved in and promptly removed the carpeting and refinished the existing wood floors. They discovered one of the most preserved ghost signs in the area on an interior wall, which is the exterior wall to The Painted Pot and the original wall to Eybel's Café.
The wall, which reads "cafeteria," is in the area of the shop that will eventually become a working art studio, complete with art classes.
You have free articles remaining.
The Robinsons have two daughters, Jorian, 18, and Kyra, 15, who are each artists in their own right. Kyra may eventually help teach art classes and with Major's contacts at Disney and Universal Studios, the shop hopes to live stream in other artists. Area artists also will be invited in to teach techniques.
The back also is office space for Major's personal business, Redstone Project Development, a design consulting business. When he is not designing for theme parks around the world, he is available for local projects.
Longtime visitors to the shop space will be happy to know the Robinsons kept intact the child-size entry door from Jackson Street.
The trading post's exterior makeover was partially funded by the Montana Business Improvement District. Major used his talents to create a building facade that was attractive and different from anything else.
"We wanted something that people would see, come up, and say, 'hey, what's going on in here,'" he said.
The signage outside is hand-carved by a Little Shell tribal member who lives in Montana City. He is the same artist who carved the CM Russell interactive piece that sits outside the Montana Historical Society museum.
The couple opened the store using their own savings and didn't want to go overboard with purchases that might not sell. They purchased some product outright and consign with artists on other wares.
"It can be pricey to put a lot of stock in that much space," Michelle said. "It's a good way to test if the product will sell in the store."
The same soap maker who designed the shop specialty scents, Studio B Soapworks of Anaconda, put out a Harry Potter influenced line of soaps that inspired Michelle to create a Harry Potter-themed display cabinet including a Golden Snitch Bath Bomb, chocolate frog soaps, Floo Powder bath salts, Skelegro Bubble Bath and Polyjuice Potion lotion.
Michelle went to her son, Colton, 10, for a few additional Harry Potter props to round out the theme-park worthy display.
Kamut, a Made in Montana snack food, sits on a shelf next to Irish and Scottish candy and by the Guinness chips. Scottish and Irish soda is available to wash it all down.
Drums made by a Blackfeet tribal artist are surrounded by a display of Greek Turkish bowls and native fleece blankets and pillows. Upcyled faucet lamps and teepee lights work well next to each other.
Finding the artists was luck, but intentional, Major said.  Working in the office of Indian Affairs plugged him in to the Montana tribes. He knew the artists were out there, knew some of them personally, and inquired within the Native artistic community.
If there's one thing Major hopes to come from this venture is to encourage artisans to keep doing what they are doing.
On a more personal level, he wants to encourage other American Indians to not only do their art, but to get out there and take a chance with having their own business.
"Take that step," Major said. Even if that means doing business out of your garage. I really, really believe in entrepreneurship, especially American Indian entrepreneurship. I really believe and hope this encourages other tribal members to invest in their dreams."
Michelle doesn't want to compete with other stores that sell Montana products and so she and other store owners in Helena visit each other's stores and get an idea of inventory so they don't copy each other. This also enables them to send shoppers from one store to another who are looking for a specific item.
"This is too small of a town to compete," Michelle said.