Although the global United Methodist Church is reiterating its opposition to LGBTQ weddings and clergy, the pastors of Helena's Methodist churches want the community to know their doors are open to everyone. 
During the three-day United Methodist General Conference last week in St. Louis, delegates voted 438-384 in favor of the Traditional Plan, which maintains a ban on same-sex weddings and ordaining LGBTQ clergy, instead of converting to a One Church plan, which would give flexibility to congregations and pastors on how to handle those issues.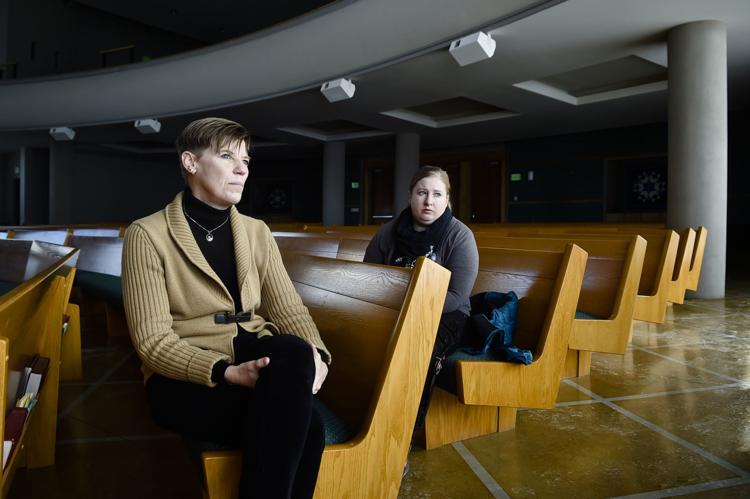 For Helena's Methodist pastors Patti Agnew and Sami Pack-Toner, the decision and the process were disheartening. 
"It was heartbreaking," Agnew said. "I think I was as disappointed by how people treated one another as how the actual decision came out. In my opinion, we put the worst side of the church out there for everybody to see."
Pack-Toner echoed Agnew. "It was pretty painful for me and made me angry," Pack-Toner said. "I believe that the Holy Spirit moves through everyone, and to be denied a call to ministry because of that is heartbreaking."
Pack-Toner grew up in Sheridan and attended college in Great Falls before she went east to study to become a Methodist pastor. Previously stationed on the Rocky Mountain Front, she relocated to Helena in 2017, the same time as Agnew arrived.
Agnew, born and raised in Los Angeles, moved to Colorado in 1993 and was ordained in 1994. She spent 25 years in Colorado before moving to Montana.
Agnew and Pack-Toner tend to about 700 souls combined at St. Paul's United Methodist Church on Logan Street and Covenant United Methodist Church on Broadway Street.
Both churches have joined the Reconciling Ministries Network, which is committed to reaching out to the LGBTQ community. A vote of each congregation was required for them to become Reconciling churches, and they have added a statement of purpose and rainbow accoutrement to their signage.
"Since the vote, there have been 900 new Reconciling churches across the United States," Pack-Toner said. 
The three-day conference in St. Louis was essentially a special legislative session, according to Agnew, and dealing with both same-sex marriage and LGBTQ pastors was the only issue on the agenda. 
"It is worth noting that part of the Western Jurisdiction (which oversees both Helena churches) has actively been ordaining gay clergy," Agnew said. "There's a large portion that is actively disobeying the book of discipline."
"Our legislative delegates and bishops were hopeful," Pack-Toner said. "They thought it was going to be more inclusive rather than less inclusive."
During the session, the Helena congregations held prayer vigils with story-telling and communion and attempted to prepare for the fallout from either decision.
"It was tricky to prepare," Agnew said. "It could have gone one way where it wouldn't impact us much, and we didn't want to raise anxiety."
The United Methodist Church functions something like the U.S. House of Representatives, where population determines representation.
"Our Western Jurisdiction has low representation," Agnew said. The Mountain Sky Conference, which Montana is a part of, covers four Western states and has about the same number of representatives as the conference in northern Georgia. 
But after the decision to ban LGBTQ pastors and same-sex marriage, both Pack-Toner and Agnew decided the church needs to be bolder in the community.
"We need to love more boldly," Agnew said. "We need to be more intentional and speak out more about our need for inclusivity."
"That's a passion of mine," Pack-Toner said about fighting for inclusivity in the church.
She felt called to fight after she was ordained by Bishop Karen Oliveto, the woman who ordained her in 2016 and the first openly lesbian bishop in the United Methodist Church. "I was called to fight for it, to fight for the church that I want," Pack-Toner said. 
Agnew developed feelings about the church after a worship leader came out to her as gay in the early 2000s and said he was willing to step down from his position because of his sexual orientation.
"It made me wrestle through the issue," Agnew said. "I've been encouraging him to live out his giftedness, and one day found out he's gay, and I can't deny him all that," Agnew said.
So she kept him on. But at another church, he and his partner were kicked out when people found out they were a couple.
"That's when it became more personal," Agnew said. For her, the decision by the greater United Methodist Church is not one that fits at St. Paul's.
"The message St. Paul's and Covenant want to get out to the community is we are not that hateful United Methodist Church," Agnew said. "We want everybody to know that they are loved by God, valued by God."
"They're the life of the church," Pack-Toner said.
The Associated Press contributed to this story.