Students in Helena's PEAK gifted and talented program are hoping their recent project can change people's perception of what it means to be homeless. 
High school students from the "Real Authentic World" unit spent a day with residents of God's Love homeless shelter in early February. Residents were given complimentary makeovers, enjoyed lunch with the students and shared meaningful conversation about their situations.
After several months of research into the project, the students gathered at the Capitol building last week to present their findings to legislators. According to teacher Marianne Baumeister, the students aimed to show lawmakers the people their decisions impact the most. 
Remigio Mouledous, a Capital High School freshman, said students had prepared for the project by watching videos about homelessness that opened them up to new ideas. However, they could never have prepared for how the interviews would change their entire perception of who winds up being homeless.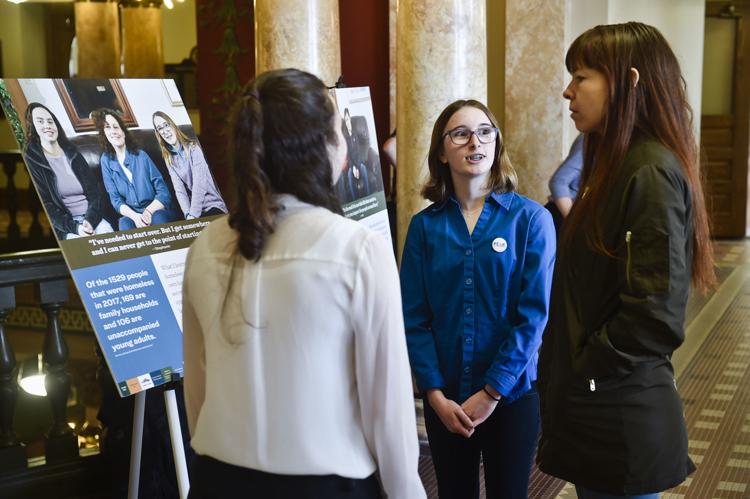 Mouledous interviewed a man he referred to as "Jodie." 
While interviewing Jodie on what the public can do to help the homeless, Mouledous said Jodie kept shifting the conversation to helping veterans. Jodie himself is not a veteran. 
"Jodie is really big on helping other people," Mouledous said.
Previously, Jodie had taken it upon himself to provide showers and food to fellow homeless people. 
Mouledous said Jodie's willingness to help others, when he had so little himself, drastically changed his view of homelessness. 
"Most people see homeless as drug offenders, but that is not the majority of them," Mouledous said. "Most are people who are just at the wrong place at the wrong time."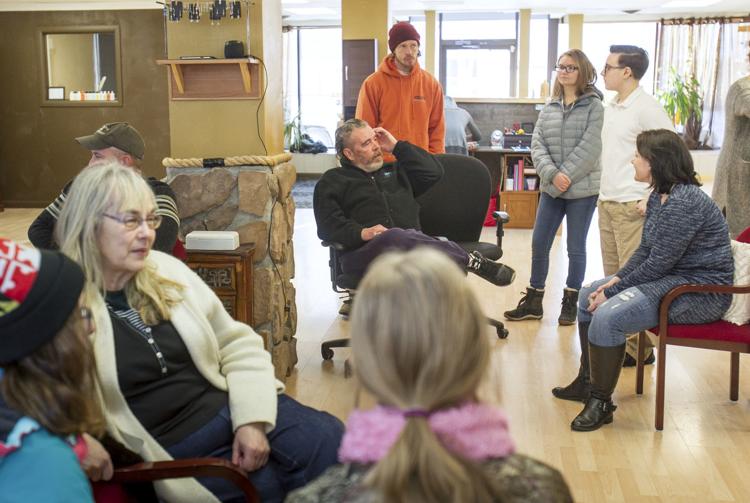 Jodie told Mouledous that his biggest regret was dropping out of high school many years ago. He had dropped out to take a job and help raise his newborn son. This story shattered a lot of the stereotypes around homelessness for Mouledous. 
For Ella Rowland, a Capital High freshman, her research left her shocked.
"I didn't realize how many homeless people suffered from mental illness," Rowland said. "It is kind of unbelievable that these people suffering are just dumped on the streets. I thought there would be more care for them."
Rowland noted that Helena has God's Love, which does a lot for homeless people who suffer from mental illnesses or drug abuse. 
"I originally thought homeless were just people who couldn't afford a house," Rowland said. 
According to Baumeister, the end goal of the project was for the students to share the stories of the people they met. The hope is that they raise awareness of homelessness and improve the lives of those in the community. 
By putting a face to the idea of homelessness, and using their own words, the project aims to humanize the homeless so the public can see beyond their condition. 
"Before this project I thought that homeless people had done it to themselves," said Emilee Mollet, a Helena High School freshman.
Post-project, Mollet said she now knows that many homeless people are victims of circumstance, and that it might not always be their fault. 
"I hope people take away the same thing I did," Mollet said. "It's not always their fault."
Rowland believes that showing these people's faces to others gives a window into their lives.
"The lady we interviewed looks like she could be my friend's mom," Rowland said. "She has multiple nursing degrees. These are human beings, you can't just assume things about them."
The students believe that the homeless people of Helena deserve the public's attention and help. That's why the Legislature was just the first stop.
The projects illustrating the students' work are on display at Staggering Ox. Then they will move to another, yet-to-be determined home, where they will hopefully provide more insight for the general public.
"This project has touched the lives of everyone involved," Baumeister said. "The high school students were able to share this meaningful experience with residents to show that they are listening, they care and they are advocating for positive change that will truly benefit them and those who truly need some help."