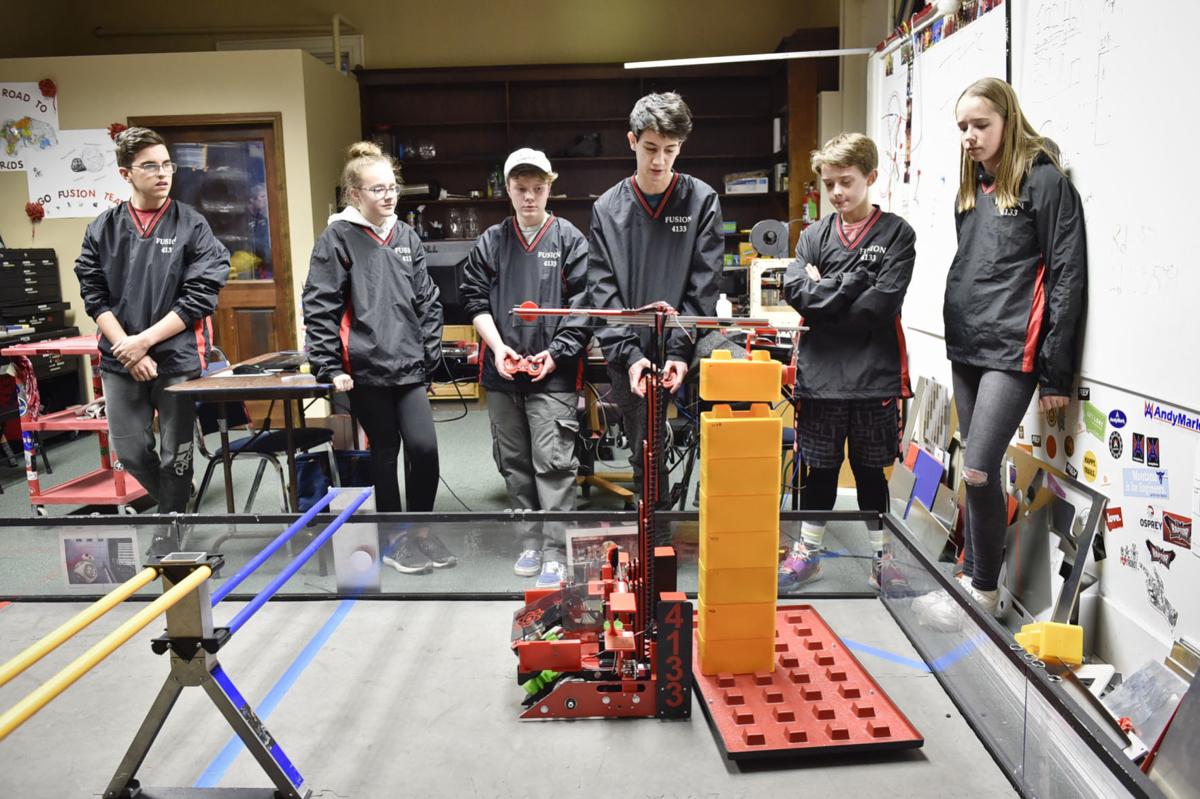 For the third year in a row, and the fifth time overall, Helena's Fusion Robotics will once again represent Montana in the First Tech Challenge robotics world championship this spring.
The team recently returned from the Montana and Wyoming state competition, where they secured the first place Inspire Award. This award represents a combination of everything a robotics team does and is typically awarded to the most well-rounded team at a competition. The award accounts for everything from the build of the robot to the professionalism of team members. 
The victory secured Fusion's chance to compete among 160 of the best teams from around the world in Houston, Texas, starting April 15. Out of thousands of teams, the best of the best are chosen to compete to represent their state or country on the world stage. Last year, the competition had teams representing 13 countries from around the world.
This year, the team's robot, dubbed "Oracle," is tasked with collecting and stacking blocks as high as possible on the opposite side of the playing field. It is aided by a conveyor belt-type mechanism and a crane. Oracle also has a camera on it, which can quickly identify the "skystone," a block with a black sticker design on the side. 
Oracle will compete in multiple autonomous and operator-controlled competitions. It is one of the most sophisticated robots the team has ever built. 
Lead builder and co-captain Jaden Ellis said Oracle only borrows slightly from the team's previous designs. 
"It's mostly a completely new robot," Ellis said. "We try not to cannibalize our old robots."
Lead programmer and co-captain Bryson Jones explained that the team's building materials are evolving every year. Jones said some of the code from past years is reused in order to get the project going faster. However, he spent nearly 100 total hours programming new code for Oracle this past season. 
Jones has been the lead programmer for the team for approximately five years. Jones said he and Ellis both had to step up once they hit the eighth grade. 
"I kinda got thrown into it," Jones said. "Once your seniors leave, that's when you really have to do a lot of the work." 
Ellis, who has been on the building side since seventh grade, had a similar experience. However, former captain Ethan House was also there helping facilitate the building until last year. 
One new skill Ellis picked up this year is the Computer Aided Design of the parts used for the robot. Ellis designs parts on his computer and then 3D prints them. It's a different skill set that Ellis had a lot of fun learning this season. 
Ellis graduated last spring and Jones is a senior at Capital High School. This means they'll be leaving Fusion behind after this season and they've been spending time preparing the future leaders of the team. 
Jones said he has always enjoyed helping kids. In the past, he has done many projects with ExplorationWorks. This year he has spent the majority of his time prepping his younger team members. 
"Experience is the best teacher," Jones said. "And going to worlds is an experience that can't be conveyed through talking." 
The co-captain roles were a natural fit for Ellis and Jones. The two have been best friends about seven years, so working together comes naturally for them. 
"We have to step up and teach these youngins what to do for next year," Ellis said. "I want to see them make it to worlds next year once we are gone." 
Though Ellis will move on from Fusion after this season, he said one of the benefits of going to Montana State University is being able to come back and coach semi-regularly. 
"Ultimately, I think they'll be fine," Ellis said. 
Fusion is raising funds for its trip to the FTC world championship. Funds raised will be used to cover the costs of airline tickets, hotel rooms, registration and shipping costs. Their goal this year is $25,000. 
To donate, visit the Fusion website at www.4133fusion.org and donate via GoFundMe or PayPal. Additionally, you can mail a donation to Fusion Robotics at 316 Fuller Ave. Helena, MT 59601.
Fusion Robotics is a 501c3 non-profit and all donations are tax deductible. 
The Fusion Robotics team is: 
Bryson Jones, lead programmer and co-captain
Jaden Ellis, lead builder and co-captain
Miranda Sheafor, outreach
Willa Bishop, builder
Rhett Quinn, builder and programmer
Zach Heller, builder
Kathleen Cook, builder and social media
Jaret Dushin, social media lead
Mike Ellis, coach
Dan Jankowski, coach
Get local news delivered to your inbox!
Subscribe to our Daily Headlines newsletter.