Around 100 people gathered in the Capitol Rotunda Tuesday afternoon to celebrate the 232nd anniversary of the signing of the United States Constitution. 
With Helena's Daughters of the American Revolution coordinating the event, color bearers dressed in Revolutionary War garb posted the United States flag at the beginning of the ceremony.
Warren Dupuis, the president of the Guardian Chapter of the Sons of the American Revolution, presented a history of the Constitution, calling it an "artfully crafted document" built through the spirit of compromise.
"George Washington was the first to sign it," Dupuis said, and he described how after the 1787 Constitutional Convention, states and people battled over how the country would be created to form a more perfect union.
"The three most important words in the Constitution are 'We the people,'" Dupuis said.
Deputy Secretary of State Christi Jacobsen reflected on what the Constitution means to her personally, calling it a "God-inspired document." She said she believes the Constitution "has never been more challenged" by globalization and social media, and added that English was the "founding language" of the United States and that immigrants are welcome here if the follow "proper" channels and do not try to "change it."
"The Bible and the Constitution are the most important documents of our day," Jacobsen said.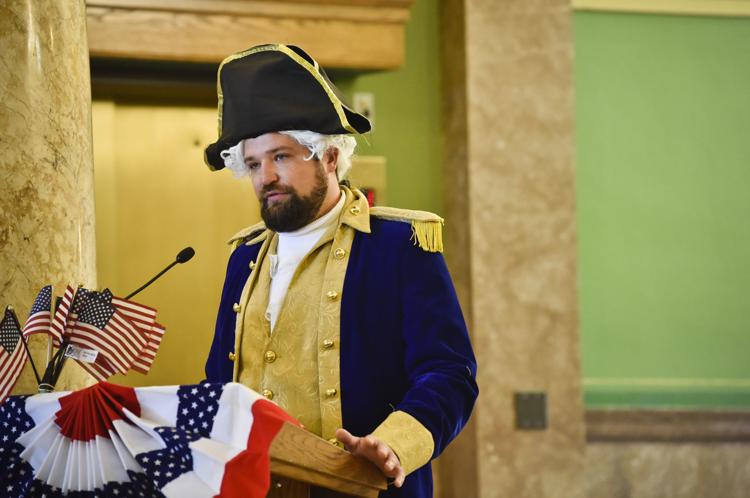 Gov. Steve Bullock shared a statement on the Constitution through his citizens' advocate Tyler Campbell, who came dressed in full George Washington regalia. 
You have free articles remaining.
"We gather to honor the perseverance and wisdom of the founding fathers who worked so diligently to draft the Constitution and establish the original framework of the American Republic," Bullock wrote. "It will continue to be our moral compass as we sail into the uncharted waters of the future."
Jane Lee Hamman, the Daughters of the American Revolutions's Constitution Week chairwoman, said celebrating the Constitution was an important part of keeping its history alive.
"We perpetuate the history of all those who created our independence," Hamman said. 
"Their spirit is what we try to convey."