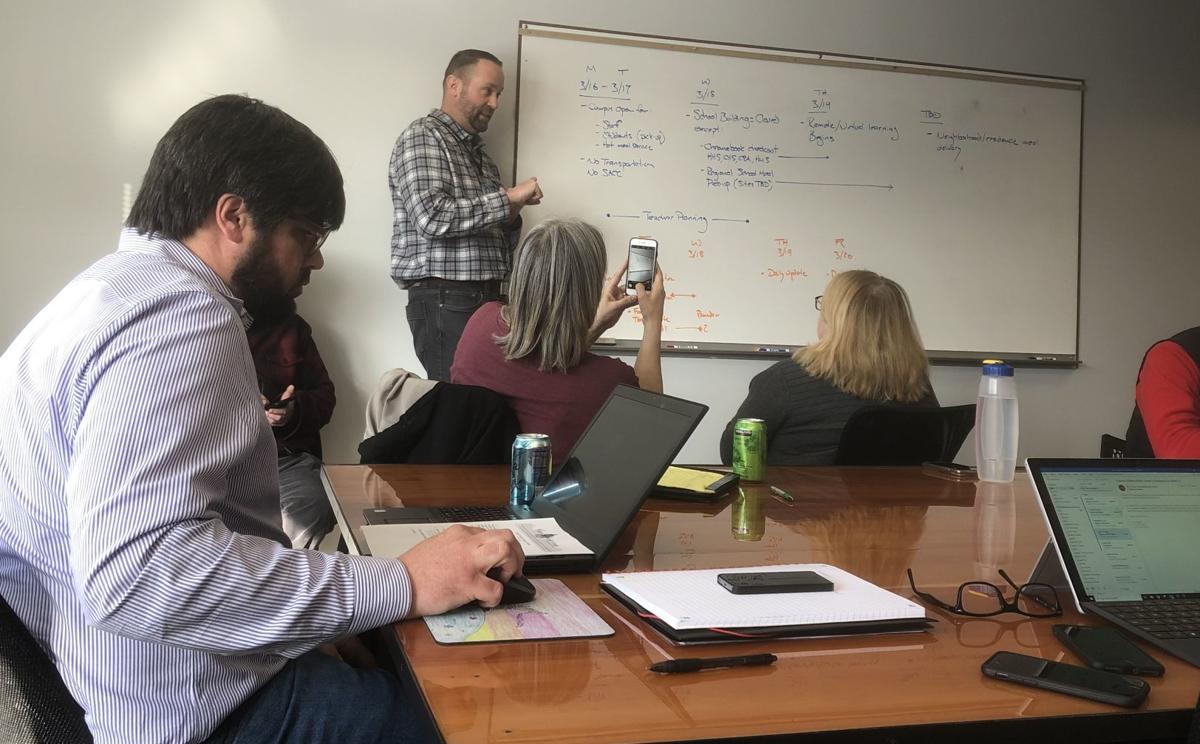 Helena Public Schools plans to implement remote learning programs for all students beginning Thursday, following Gov. Steve Bullock's decision to close all public schools in Montana for the next two weeks because of concerns about coronavirus.
Helena students will not be expected to participate in any form of instruction until Thursday, the school district's Superintendent Tyler Ream said during an emergency school board meeting Sunday evening. However, some students might need to pick up items like handouts, books, Chromebooks and other supplies early this week.
Students and their families will receive specific instructions from their individual schools during the coming days.
All school district buildings will be open until 4:30 p.m. Monday and Tuesday for staff and any students who need to pick up items. Hot breakfast and lunch service will also be provided at the regularly scheduled times on Monday and Tuesday, but transportation and after-school programs will not be provided until in-person classes resume.
On Wednesday and Thursday, school district buildings will be closed to everyone except middle school and high school students who need to pick up Chromebooks.
The school district plans to begin offering meals available for pick-up on Wednesday, but the sites have yet to be determined. School district officials are also considering implementing a neighborhood meal delivery service, which Ream said would require "an army of volunteers."
The remote learning programs will begin Thursday. While instruction for middle school and high school students will be provided mainly online, the elementary schools might incorporate more printed resources into their curriculum.
Many resources will be available to download. The school district is looking into the possibility of providing mobile hot spots to students who do not have internet access.
"All of this will be predicated upon obviously having a teacher who is well enough at home to be able to provide this learning environment," Ream said. " … There isn't a great substitute option for a virtual learning environment."
The two-week closure will continue until March 27 and Helena's spring break is the following week, so April 6 is the earliest that Helena's in-person classes could resume. However, Ream said that date might be too optimistic and the closure could last even longer.
Although Helena students will miss three days of instruction this week, they will not be required to make up that time due to the governor's proclamation.
"The absences are excused," Ream said.
All school sports, including practices and organized workouts, will be canceled for the duration of the closure. All club meetings and other student gatherings have also been called off.
"Students are free to go for a run, by all means, but we are not going to be convening any sporting teams together, any clubs, any theater for any reason in association with school," Ream said. "We certainly, in accordance with the governor's decision, we want to have that social distancing."
Ream said the school district's administrative staff will be working remotely, and he believes it would be irresponsible to hold an in-person meeting that could be conducted virtually.
"I will not be requiring anybody to be here," he said. "I know our team has worked very hard for the last few weeks running the school system and preparing for what we believed might be this reality that we're in now. But what we have learned over the last few weekends especially is that we can be pretty effective from afar."
Ream said the governor's proclamation requires all faculty and staff to be paid for the duration of the closure.
While relatively few people have been tested for coronavirus, Ream said there are currently no known cases associated with any Helena students or staff members. He said the school district is following the guidance of public health officials when cleaning buildings, and extra precautions will be taken if any cases associated with the school district come up.
"If we fogged all 18 sites – we could do it right now – but then we would put a pretty big dent into our disinfectant," he said. "So at this point we've only been doing it on a precautionary basis."
Ream also noted that because all buildings will be closed for nearly three weeks, "It's my understanding that this particular virus cannot live on surfaces at that time."
Concerned about COVID-19?
Sign up now to get the most recent coronavirus headlines and other important local and national news sent to your email inbox daily.