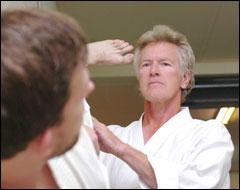 When Debi Corcoran began searching for a martial-arts instructor for her children, she didn't worry about picking one discipline over another. She wanted an ethical teacher, one who would be a guiding force in her kids' lives.
"He has been a huge influence on their lives as far as teaching integrity, teaching discipline," Corcoran said. One son has taken lessons for 21 years, and she's attended classes for more than a decade.
Dallas, a modest, tall man with intelligent eyes, quiet confidence and deliberate speech, recently celebrated his 25th anniversary teaching Taekwondo, Judo and Hapkido on Last Chance Gulch at the Helena Karate and Judo Club.
A master in the three disciplines, he's helped hundreds of students build strength of body, mind and character. He's called to assist at camps for students throughout the West. And his Helena charges swear by him.
"He's been a very big guiding force ... he's taken my life in a very positive direction," said Lance Clifford, a 22-year-old Carroll College student who's studied with Dallas since age 4. "He's ... into developing the mental and character-developing aspects ... and practicing that way so you can use it your whole life."
Another student, Christal Anderson, began taking lessons after her daughter became a student and her husband joined. Lessons at Dallas' dojo often become family affairs, she said.
"You'll see that a child will start and that a parent will come in," Anderson said.
"I can't say enough positive things about Dennis," she added. "His ethics are unquestionable, and his expertise is marvelous."
As a shy sophomore wrestler at Rocky Mountain College, Dallas was looking for a way to stay in shape after school. He found martial arts and soon learned it was about more than staying fit or subduing an opponent.
The arts have given him more confidence and broken him out of his introverted shell. Nearly four decades after he took his first lesson, Dallas has had a number of what he calls "little victories" over himself.
"It changes your personality," Dallas said. "I just feel like I'm more of a whole person, without all of these little holes in my character."
The three disciplines he teaches differ in technique but hold similar philosophical lessons.
"They're more concerned with how do we live our lives, rather than how do we hurt someone," Dallas said. "How do we overcome ourselves? How do we conquer our own limitations?"
He holds a fifth-degree black belt in Judo, a sixth-degree black belt in Hapkido and a seventh-degree black belt in Taekwondo. The difference between each degree of a black belt is the same as between someone taking a first lesson and someone attaining a first-degree black belt, he said.
Karlo Fujiwara, who taught him for 12 years in Billings before Dallas moved to Helena, noted his pupil's well-developed skills. But more important are his patience and brand of one-on-one instruction, Fujiwara said.
Dallas holds an education degree and taught for several years before becoming a full-time martial arts instructor. People learn in different ways, Dallas said, and his background allows him to pick up on individual cues and tailor his instruction.
"I think that the students that study with him are going to be well-rewarded for their efforts," said Fujiwara, who also serves as president of the International Dae Myung Moodo Federation-USA.
At one point, Dallas moved in next door to Fujiwara in Billings.
"I don't know whether he adopted me or I adopted him," Fujiwara said.
"My whole family remembers Dennis and wishes him the very best that he can reach for," he added. "I think Dennis is always reaching for that gold ring, reaching a little higher, working a little harder."
Get local news delivered to your inbox!
Subscribe to our Daily Headlines newsletter.