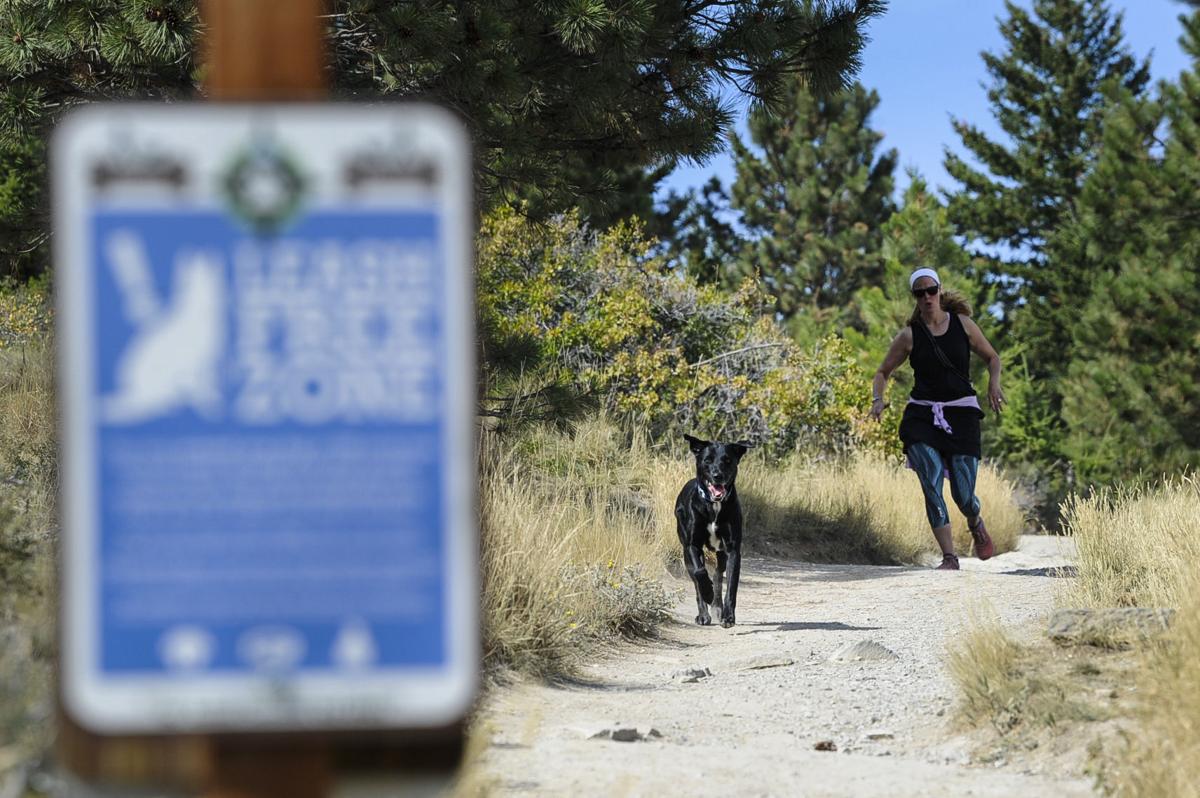 Helena's Parks, Recreation and Open Lands Department on Wednesday proposed a phased approach to more restrictive dog behavior and leash law enforcement on the city's open lands.
"We are not intending to make large changes," City Manager Rachel Harlow-Schalk told city commissioners during Wednesday's administrative meeting. "This is just the beginning of our conversation."
According to a memo from Parks, Recreation and Open Lands Director Kristi Ponozzo and Natural Resource Coordinator Brad Langsather, the staff proposes a move to more restrictive laws regarding dogs in three phases.
Phase one is currently underway and involves the creation of an educational video the staff intends to share via social media that informs viewers of requirements for dogs on and off leash on open lands.
Phase two would begin in 2023 and implements a quiz on that video that residents seeking to acquire the city's required dog license would have to pass before being sold that license.
Phase three would not be put into place until late 2024 at the earliest and is dependent on the success of the first two phases. Phase three would implement "more strict leash requirements for dogs on open lands, such as no off-leash," the memo states.
The city also intends to institute a tag requirement for pets that would differentiate between local and out-of-town dogs.
"Once the city implements a tag requirement, out-of-town trail users would need to leash their pets when visiting Helena's open land properties," the memo states.
Additionally, the Helena Police Department was granted an increase in its budget during this summer's budget process to hire another animal control officer who is expected to dedicate some time to patrolling open lands.
The parks department also offered an alternative approach that would merely emphasize enforcement of existing laws and ticketing of non-compliant dog owners.
Ponozzo told Helena Mayor Wilmot Collins that the Helena Open Lands Management Advisory Committee, HOLMAC, was informed of the work being done, but the committee's input was not solicited.
"They should be involved," Collins said.
City Commissioner Emily Dean said she is more in favor of the educational components of the proposal.
"I don't think I'm in favor of phase three," Dean said. "We simply don't have an issue impacting a majority of users."
City Commissioner Sean Logan, who has long pressed city leadership to take up the issue, said that although he understands some trail users' concerns over unruly dogs, for every one email he received in favor of more restrictive laws, he received 15 opposed.
City Commissioner Andres Haladay highlighted the need for further consideration.
"We have trail pressure; we're a growing city," Haladay said. "So working on this now is important."
The commissioners heard from about a half dozen members of the public during the meeting.
State Sen. Terry Gauthier, who is not a Helena resident but said he is a heavy user of the city's open lands, opposed any restrictions on off-leash dogs.
"It would be detrimental to the city of Helena," Gauthier said.
Helena trail user John Miller said encounters between dog owners and their dogs on open lands is typically handled without issue among those involved.
"To create a law for a problem that doesn't exist is an overreach," Miller said.
Still others are concerned.
Helena resident Polly Pfister wrote in an email to the mayor and commission that city leadership needs to act now, starting with greater enforcement of existing laws and pass a universal leash law for all dogs on city property.
Pfister asserted that the parks department recommendations are "remarkably devoid of any actual solutions to this immediate public safety problem."
"It won't be long before some small child's face is ripped to shreds by one or more uncontrolled dogs if the city fails to act now," she wrote.
Helena Police Department Animal Control Officer reports on calls for service from 2019 to May of this year show little increase over the years regarding dogs.
Calls to HPD regarding dogs at large totaled 17 in 2019, 25 in 2020 and six in the first about 17 weeks of 2021.
Calls regarding dog bites totaled 57 in 2019, 57 in 2020 and 16 in early 2021.
Calls involving dangerous dogs totaled 5 in 2019, 10 in 2020 and no such numbers were available for 2021.
It is unclear how public input on the matter will be solicited, but the commissioners largely agreed there needs to be more.
No action was taken by the commission during the administrative meeting. There is no timeline as to when any item related to the matter would come before the body in the future.