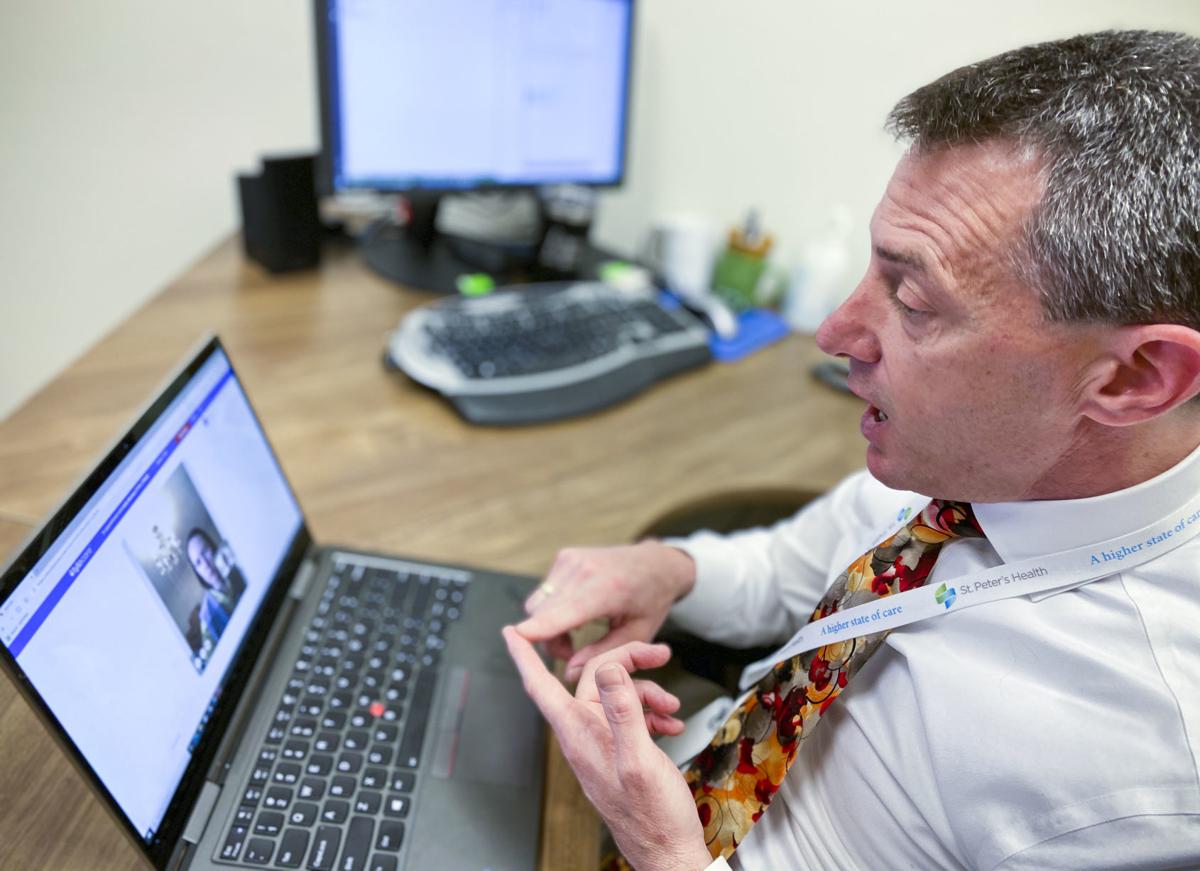 Doctors at St. Peter's Health in Helena have had more than a thousand "virtual visits" with patients using a digital platform that doctors and Blue Cross and Blue Shield of Montana were going to start testing this month but instead rapidly implemented as COVID-19 hit Montana.
The Helena hospital and BCBS planned to roll out a pilot project April 1 using devices from a company called Tyto Care to first set up a virtual clinic at the insurer's headquarters in town and then send hand-held medical devices home with employees of both the hospital and insurance company to test a tele-medicine approach to care.
But then came COVID-19, and hospitals and clinics around the state canceled regular patient visits in an effort to both slow the spread of the coronavirus and free up capacity at health care facilities.
"We were in the process of inching forward with this project, making sure that everybody's comfortable, not going too fast, because sometimes people are slow to embrace new technology," said Dr. Todd Wampler, chief of staff at St. Peter's. "And now, enter the current COVID outbreak, and all of the sudden we for the safety of our patients and the safety of our population decided to shut down all nonessential clinic visits to try to keep patients out of the clinic and do our part to flatten the curve as best we could.… What we had planned on getting done in six or nine months, we ended up getting done in four days."
Bob Janicek, vice president of network operations at BCBS, said the adoption of tele-health in Montana before now had been fairly slow, in part because there weren't many good systems in place and also because physicians and patients were reluctant about distance visits.
David Lechner, chief of medicine for BCBS and former family practice doctor in Helena, said the insurance company funded the pilot to explore ways to increase the use of tele-medicine in a rural state where it's not always easy to get to a doctor. Even in Montana's bigger cities, patients with diseases like congestive heart failure could benefit from frequent at-home checkups that might keep them out of the emergency room, Lechner said.
In the first week and a half of using Tyto Care, more than 1,436 St. Peter's patients signed up for the program and 60 providers established accounts. Overall it's been successful, but not without challenges, Wampler said.
"We do have some barriers. If people don't have a smartphone they're not able to really embrace (it). … It's natural that any time we have a quick rollout like this, the technology isn't going to be perfect," Wampler said. "But there's been a lot of really great acceptance."
There are two kinds of Tyto devices. The smaller, hand-held one pairs to a mobile device and has a digital stethoscope and otoscope. There's also a clinic-type model, which would have gone into the BCBS headquarters, accessible by an office of people.
Given the rapid implementation, Wampler said most patients are using the service without a device right now. That means they're seeing a doctor over a smartphone, computer or other device. Montana Gov. Steve Bullock last month opened up options for tele-health in the state by lifting several barriers to access, and several private insurance companies including BCBS followed.
For now the focus is on St. Peter's providers seeing their regular patients while clinics remain closed, but Wampler said they're building plans toward being able to send people who come into the hospital with COVID-19-like respiratory symptoms but don't need to be hospitalized home with a Tyto device so doctors can check up on them.
Both St. Peter's and BCBS think the adaptations doctors and patients are making now to access care will continue beyond the acute emergency caused by COVID-19.
"People like the old way of doing things. You have the doctor with the white coat and stethoscope and you establish this routine of waiting in the waiting room. … That's what you've come to expect and you're comfortable with. It takes something to get people out of that comfort zone, like the inability to come to see the doctor, for instance. And necessity has been a great motivator. … I anticipate that going forward people are going to see what a great benefit this is," Wampler said.
Concerned about COVID-19?
Sign up now to get the most recent coronavirus headlines and other important local and national news sent to your email inbox daily.