It really was that hot in Helena on Friday.
Temperatures in the capital city hit triple digits Friday afternoon, along with a haze of smoke from wildfires and an uptick in fire danger through Saturday.
Shortly after 4:30 p.m., the National Weather Service recorded a 100-degree temperature at the Helena Regional Airport – about 2 degrees less than the Aug. 10 high of 102 set in 2003. Helena wasn't alone with triple digit temperatures in Montana, as Great Falls and Havre reached 105 and Missoula hit 104 degrees. The rest of the state reached the upper 90s.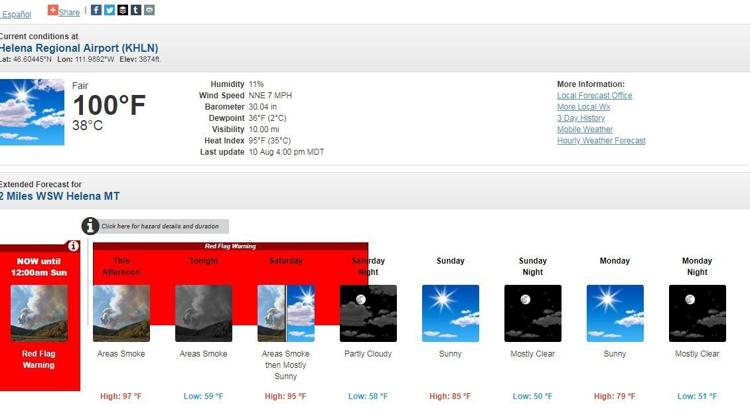 The brutal heat put much of the region under a red flag warning from noon Friday through midnight Saturday, indicating a high potential for wildfire. The tri-county area falls within the warning, including the Rocky Mountain Front, and the Lincoln, Helena and Townsend Ranger districts of the Helena-Lewis and Clark National Forest.
Along with the heat, including a predicted high of 98 on Saturday, NWS forecasts very low relative humidity and some potentially high winds on Saturday. Forecasts call for 10- to 20-mph southwest winds in the morning with gusts up to 30 mph, followed by 15- to 25-mph winds in the afternoon and gusts up to 40 mph.
A mix of wet and dry thunderstorms also is possible late Saturday afternoon.
By Sunday, temperatures should moderate with a high of 87, followed by a high of 80 on Monday.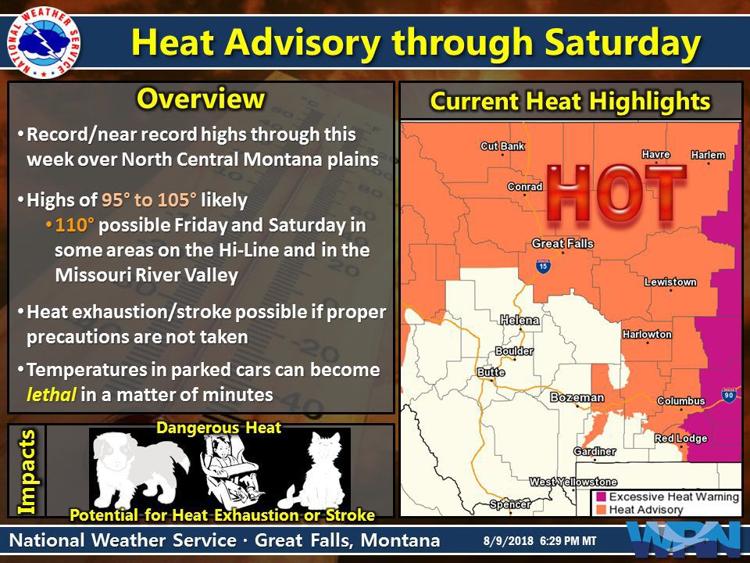 Due to wildfires in western states, smoke is impacting air quality in Lewis and Clark County, with moderate air quality in the Helena Valley and surrounding areas. The duration will depend on weather conditions.
Lewis and Clark Public Health recommends sensitive individuals limit prolonged outdoor exertion.
Visibility guidelines and other air quality information are available on the Lewis and Clark Public Health Department's website at: http://www.helenaAir.org, and the Montana Department of Environmental Quality's website at: TodaysAir.mt.gov.