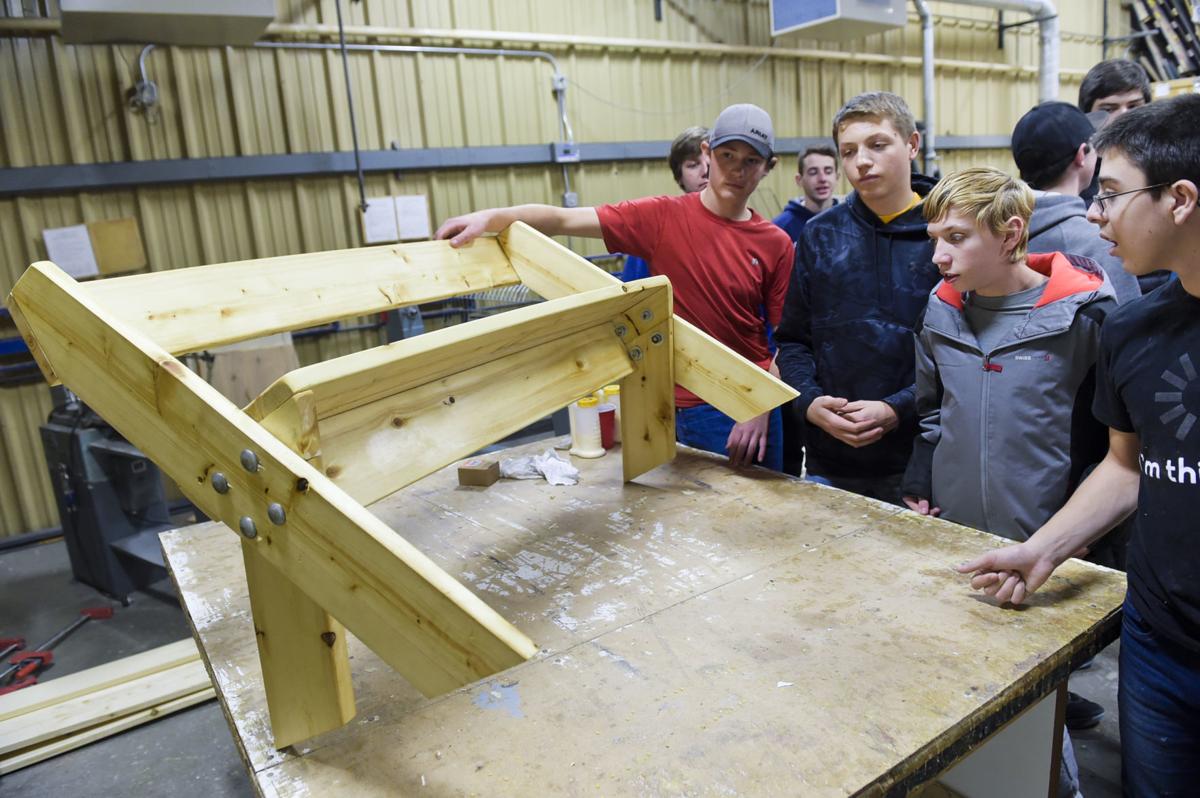 Over the last few weeks, the Helena High School woodworking class has been building benches for YMCA's Camp Child.
"The genesis of this project started last spring," said David Smith, chief executive officer for Helena Family YMCA. "The Kiwanis club took our old benches and sanded them down for refinishing."
Smith said those benches weren't exactly sturdy and Chuck Amdahl, of the Tombstone Kiwanis Club, told Smith he could probably build them a better bench.
"Kiwanis works on spring cleanup each year," Amdahl said. "We noticed the poor condition of the benches and asked David if he wouldn't mind me replacing them."
Originally, Amdahl had planned on building benches in his shop as a project for the winter months. However, he had worked with Greg Cejka, woodworking teacher at Helena High, on an Eagle Scout project the year prior and sought him out for advice.
"I figured Greg might want to involve his class in this community project," Amdahl said. "Greg is a great teacher, but is also involving his students in the community."
"I knew where his heart was," Amdahl said.
Cejka, who has taught woodworking for three years at Helena High and nine years total, said Amdahl came to him to bounce some ideas about what kind of wood to use and design tips.
"I thought it sounded like a good opportunity to give back to the community and get the students involved," Cejka said. "This is a great project and these benches will last a lot longer than anything the students make and just take home. These will be used by lots of people."
The woodworking class had 11 completed benches in their woodworking shop with the materials to build four more. Cejka said Skills USA would be building the last four benches. Skills USA is a club that gets youths involved in projects throughout their community.
Cejka said 40 students so far have been involved.
Three of these students were excited to talk about their experience building benches. "It was fun being let loose for a big project like this," Jake Hoover said.
"We started with a 20-foot piece of board and used the entire thing for each bench," said Hunter Cromwell. "We finished all of them with clear varnish so they will hold up well."
Both Hoover and Cromwell agreed that the project was actually very simple but efficient.
"It was super simple, we measured twice and cut once," Cromwell said.
The project was the first major project of the year for the woodworking class.
The benches are made of Alaskan yellow cedar, a resilient and sturdy wood, which will hold up to rainy or harsh summer weather.
Christian Wilkerson said it was his first year taking the school's woodworking class.
"I was pretty nervous about it," Wilkerson said, when asked about taking on the big project. "I thought I would mess it up. But now I know how to build a bench."
Cromwell said he has always liked working with wood. Over the summer, his father was building an office that he helped frame.
"I had an open class this fall so I jumped in," Cromwell said.
Hoover said, "I've always liked the idea of building something with your hands."
"It was a good learning experience for all of us," Cromwell said.
The new benches will go to replace the old and weathered benches at YMCA's Camp Child, the only YMCA resident overnight camp in Montana, according to Smith.
Camp Child was established in 1941 and features a zip line, climbing wall, lake, canoes, sleeping cabins, main lodge and bathhouse.
"There are lots of adults in Helena who went to Camp Child as a kid," Smith said.
Smith said a lot of people have a project and volunteer their time and efforts to Camp Child. All of the sleeping cabins are sponsored by local service clubs. Kiwanis sponsors one of these cabins and noticed the benches during this year's spring cleaning.
"This is a wonderful gift that shows the generosity of people," Smith said. "The fact that it's helping young people to learn skills makes it even more special."
Smith said this particular project exemplifies what the YMCA is all about: teaching youths skills that will last them a lifetime.
Smith called camping somewhere like Camp Child a uniquely American opportunity. Often campers come back the next year and want to be counselors in training, Smith said.
"The camp is 77 years old now," he said. "It's time to make some serious investments to prepare for the next 75 years."
The camp is often rented out by the YMCA for various activities such as weddings and family reunions. These events help fund the camp and the greater YMCA.
The YMCA hosts three weeklong camps per year. Additionally, the YMCA does one week of asthma camp, a week with D.A.R.E. and two weeks with a church group.
Smith said the YMCA will also provide scholarships for kids to go to camp if they can't afford it.
"Every kid deserves to go to camp," he said. "We want to make sure that happens."
Smith said most of the benches will move around the camp, going from the fireside to the porch of the main lodge as needed.