At first glance, 788 vertical feet may not seem like too much to handle.
But when you're breathing compressed air through a mask and wearing a big metal helmet, a Nomex coat, double-walled pants and heavy boots made of rubber and metal, the 800 steps it takes to get there can seem like Mount Everest.
Six Helena Fire Department firefighters are heading to Seattle this March to participate in the 28th Leukemia and Lymphoma Society's Firefighter Stairclimb. The fundraising event draws firefighters from all over the world to compete in full gear and see who is the fastest up the Columbia Center tower, which is the tallest building in Seattle.
Brad Patterson, Robbie Bennett, Brian Roberts, Mike Kauzlarich, JD Murphy and Dillon DeLaHunt will be working their way up the tower with hundreds of other firefighters next month. The Helena crew is training at the Capital City Health Club on stair-climbers, making an interesting sight some mornings as they suit up in fire-retardant clothes and start hiking in place.
The firefighters are training at Helena's elevation of 3,875 feet, which will give them an edge in the competition at sea level.
"We started seven years ago," Roberts said.
Roberts is one of the original members of the team and explained the best way to train is by incrementally adding gear. First, a firefighter should wear just a coat and a sweatshirt underneath to get a feel for how the Nomex keeps in heat while climbing. Second, add an air pack and breathe air from the tank. Third, add the pants -- the hottest part of the ensemble -- and climb, climb, climb.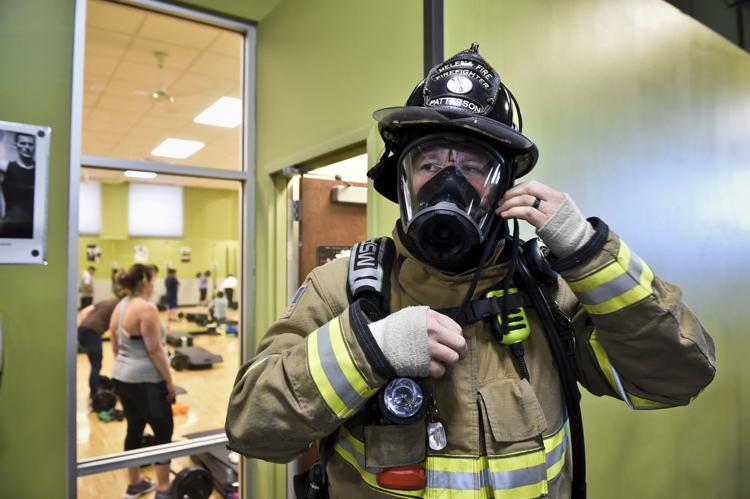 Patterson last climbed the stairs two years ago and finished in 30 minutes, a time he hopes to beat handily this year.
"They get you all psyched up with bagpipes and people cheering at the bottom," Patterson said. "I was going as fast as I could to the 10th floor before it hit me."
The fastest climbers finish in just around 15 minutes, and Patterson is looking to beat 20 minutes this time.
The most important part of the entire fundraiser is raising money for children affected by both leukemia and lymphoma. Roberts said part of the trip to Seattle involves a stop at a children's hospital in Seattle and Spokane, where they meet with children fighting those diseases.
"If there's a local kid, we'll visit them too," Roberts said.
This year, the firefighters are looking to raise about $1,000 each. The firefighters will hold a fundraiser at Lewis and Clark Brewing from 5-8 p.m. on Feb. 26.