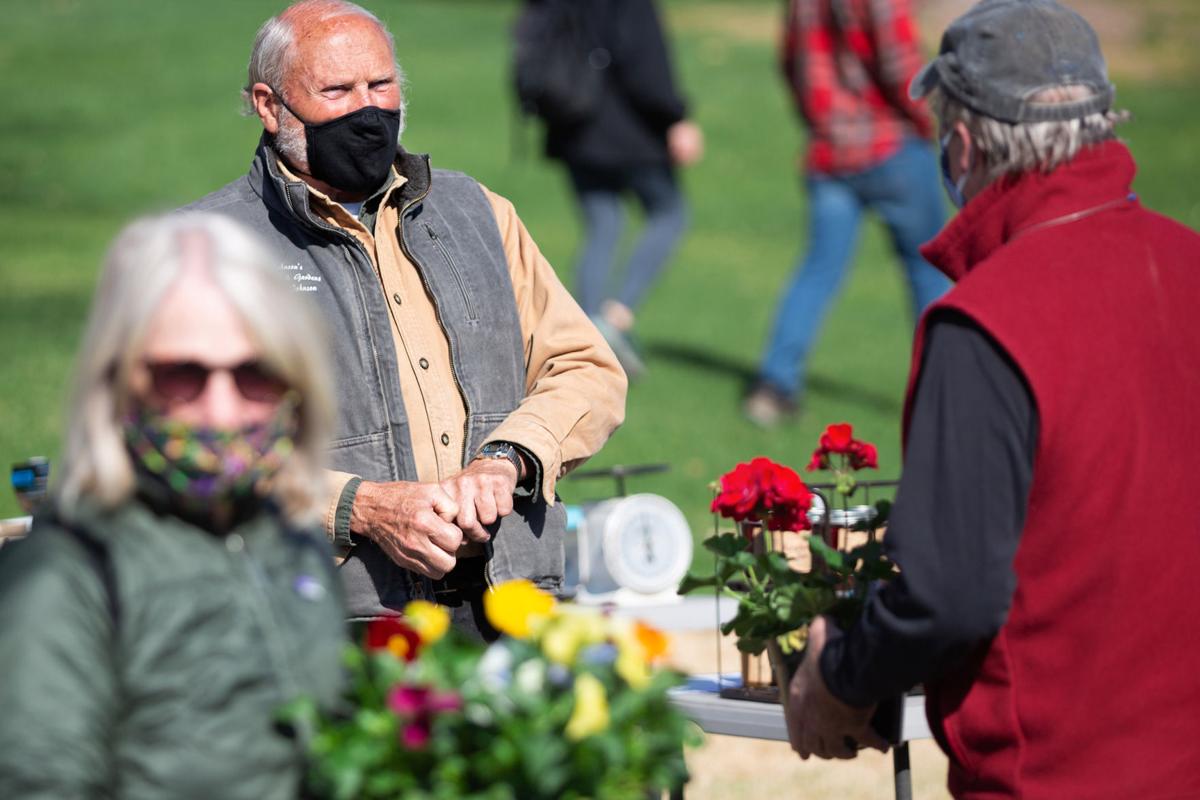 Although the Helena Farmers' Market recently lost several board members and its operating permit over concerns related to COVID-19, the president of the organization's board said the weekly event will continue. 
Lewis and Clark Public Health recommended that the city of Helena revoke the permit for the Saturday morning farmers' market on Fuller Avenue after the board submitted an inadequate plan to address new restrictions included in a July 8 order, Health Officer Drenda Niemann said. 
"They have a lot of work to do to come up with some form of environmental control," Niemann said.
Helena Farmers' Market board president Wayne O'Brien said he believes the proper precautions have been implemented to hold the event safely, and "the health department's concerns are so extensive that it would be absolutely impossible for us to open."
"We are indeed running the market," O'Brien said. "The police chief called and said that they weren't renewing the permit, and I said it's too late for me to do anything at this point without creating major chaos."
O'Brien said Helena Police Chief Steve Hagen informed him that officers would not be arresting anyone at the event, but they would write a report that would be taken to the county attorney's office for consideration. 
Hagen told the Independent Record two reports would need to be filed: one for the violation of the health order and one for blocking the street without a permit.
"Our primary goal is always education, but when a public health order is violated we report that," he said. 
Lewis and Clark County Attorney Leo Gallagher could not be reached for comment Friday afternoon. 
The county's July 8 order prohibits events with more than 250 attendees and requires the organizers of events with 50-249 people to submit a plan explaining how they intend to adhere to health guidelines. Lewis and Clark Public Health is asking for at least 10 days to review submitted plans. 
Any event organizer found in violation of the order may face a misdemeanor charge for each attendee at the event, according to the order.
"It would be great if they could find a way to hold this event in a safe manner," Niemann said, noting the important role the farmers' market plays in the Helena community.
Earlier this summer, five members of the farmers' market board resigned over concerns that other board members were not supportive of certain health precautions amid the pandemic.  
Former Secretary Kate McLean, former EBT manager Tori Blackburn, and former board members Micah Eller, Kevin Keeler and Gail Nickel-Kailing outlined their concerns in a July 5 letter to Helena's mayor and city commission. 
According to the letter, the board approved a plan in May that included hand-washing stations, a mask requirement for vendors, signage encouraging social distancing and mask wearing, and 10-feet spacing between each vendor. They wrote that many of those precautions were not enforced, and the majority of the board later voted to remove the mask requirement for vendors and rescind formal warnings that had previously been sent to certain vendors. 
The letter states that the COVID-19 committee's stance on compliance and public safety was "framed as anti-vendor and anti-local economy." It also says that any pretense of rule enforcement was dropped and bullying and harassment went unchecked, if not encouraged.
The former board members wrote that at the following farmers' market, the 10-foot distance between vendor booths was the only remaining safety precaution.
O'Brien said the board has every intention of following all safety precautions moving forward. He said it's unfortunate that every public event is somewhat controversial these days.
Niemann said she was aware of the resignations, and that the board members who resigned were among those working most closely with the health department on measures to prevent community spread of the disease. 
Independent Record editor Jesse Chaney contributed to this report.