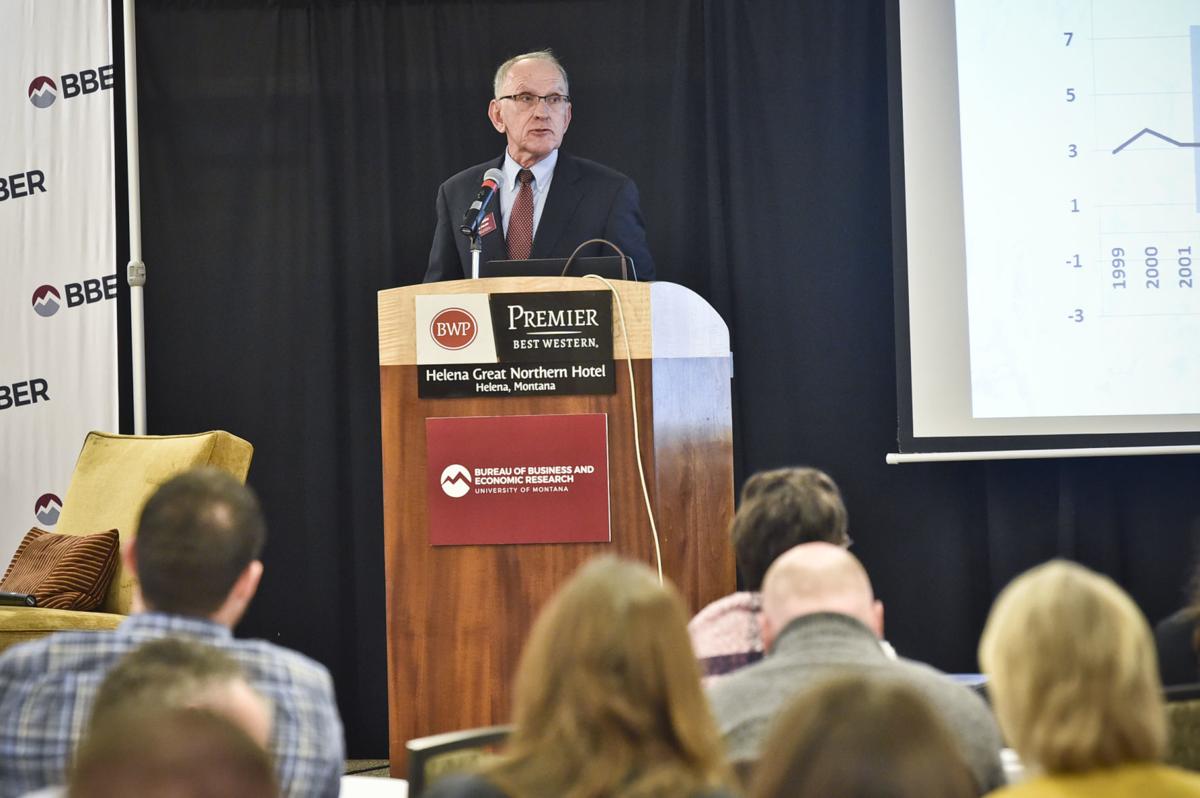 Montana's economic forecast continues to fare well despite global turmoil and economic uncertainty.
And Lewis and Clark County is among the counties looking toward expansion and progress.
The Bureau of Business and Economic Research at the University of Montana released its 2019 economic report at its 44th annual Economic Outlook Seminar on Tuesday in Helena, and it revealed Montana had a strong year of growth in 2018.
Lewis and Clark County is sitting comfortably with increases in both population and income growth, which are the results of a changing population and an increase in trade jobs.
Lewis and Clark County has a population of about 68,000, compared to 160,000 in Yellowstone County and 35,000 in Butte-Silver Bow. 
Per capita income in 2017 was $47,300 for the Helena area, $50,000 in the Billings area and $47,900 in the Butte area. Paul Pozin, director emeritus of the BBER, was surprised by how close the per capita incomes were to one another.
Pozin said researchers are finding that when one family moves out, the incoming family tends to bring with it a higher earning wage.
The Helena area economic base still relies heavily on federal and state government employment. However, construction jobs made up 13 percent and health care jobs accounted for 28 percent of the area's 2015-17 income growth.
A big challenge facing the area is housing availability. Home building was stronger than predicted in 2000-07, but much less than predicted in 2013-17, despite an increase in home prices.
"In Lewis and Clark County, construction rates were higher than the pre-recession boom than during the years before 2000, despite the fact that the price growth during the boom was more restrained," the report said.
Helena area housing is strong, but because prices have risen faster than incomes, the gap in affordable housing continues to grow. 
If prices are going up, said Patrick Barkey, BBER director, the alternative is to buy new. But with building regulations increasing, the cost of building new also increases.
"Then people are squeezing their budgets, there is less money to spend on other things we need," Barkey said. "This encourages sprawl, which undermines community and reduces labor availability. Housing is a national challenge with a local flavor."
The state is seeing strong real estate volume, steady price increases and an uptick in construction. However, Brandon Bridge, economist and director of forecasting for the bureau, said the risk of owning real estate is growing along with rising interest rates. 
The increase in debt to income ratios makes it more difficult to qualify for a mortgage. The risk has gone from 27 percent in 2013 to 41 percent in 2018.
As risk increases, the fist-time buyers tend to hold off on making a home purchase.
Price growth is more restrained in the Helena area at 16 percent, compared to 55 percent price appreciation in Bozeman.
The people moving in have more income than the people moving away, Bridge said.
The lower-priced homes are rising in price faster than the medium- to high-priced homes. The people who live in the mid-priced homes aren't selling. Many are choosing to age in their homes.
Part of the difficulty in building more is the lack of available lots and high cost of lots that could be available for builders.
There is no easy solution. On a city level, Helena is going after government grants to help create affordable housing. Most recently, Helena Rocky Mountain Development Council was awarded $750,000 to construct 85 units of affordable housing over the next two years.
Liz Mogstad, affordable housing program director for Rocky Mountain Development, said these rental units will help provide gap-housing for those with incomes that are neither low nor high.