Ember, the English Labrador raised in Helena by Kris Brewer, has graduated service dog training in Oregon and moved on with her partner Diane Kastama.
Since Brewer dropped her off at school in October, Ember spent every day training.
"She learned to pick up all sorts of items, no matter what they tasted like," Brewer said. "And she learned specific tasks that Diane would need her to do. Like picking up horse buckets and dragging bags of horse feed."
Ember was chosen from a breeder that has proven success with puppies that become service dogs. English Labs are smaller and stockier than the more common Labrador retriever. This makes them more suited for the kind of work Kastama will ask of her service dog.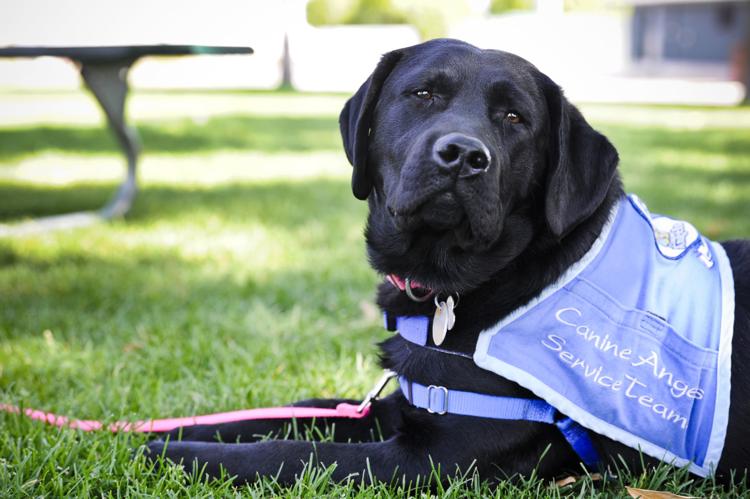 Kastama, who resides in California, is a para-equestrian and participates in horse driving competitions around the world. She competed in the 2018 FEI Para–Equestrian World Championships for Single Drivers, hosted in Kronenberg, Netherlands, where she finished seventh place overall and was the top American.
Kastama is a lifelong equestrian. A car accident after college left her in a wheelchair but never slowed her down. She has six Para-Equestrian Driving medals in Combined Driving — one gold, two silver and three bronze — and is president of United States Driving for the Disabled.
Training took place at Canine Angels Service Teams headquarters in Oregon for specialized service training. Ember is the sixth dog Brewer has worked with and sent there to become a service animal. While Canine Angels mostly trains service animals for children, Kastama's situation was special in that she purchased Ember and sent her to the program.
Ember is service dog No. 4 for Kastama.
"Diane was there for one-and-a-half weeks to finish training with Ember," Brewer said. "Even though she's done it before, she still had to go through the class."
You have free articles remaining.
In about six months, Kastama will retire Pepper, her current service dog, and Ember will be on the job full time.
Ember comes from a long line of service dogs. She was purchased from Ravenwood Farm Labradors in Virginia.
"I love seeing my dogs change people's lives, by providing them with more independence," said Kim Maddox of Ravenwood Farm Labradors.
In the August 2018 story about Ember, Brewer said Ember had to learn not to show her tummy. Alas, that is Ember's favorite position and there are photos on her website during training that reveal the habit hasn't been broken.
Brewer said that Ember made it through training without any big hurdles.
"I heard she was a pleasure to have in class," Brewer said. "The class clown, actually."
One weekend after graduation, Ember was on her way to her first horse show with Kastama.
Brewer was there to see her off and said, while Ember recognized her and said hello, she and Kastama had bonded.
"I wouldn't trade it for anything," Brewer said of each of her service dog experiences. "It's the best experience of my life."