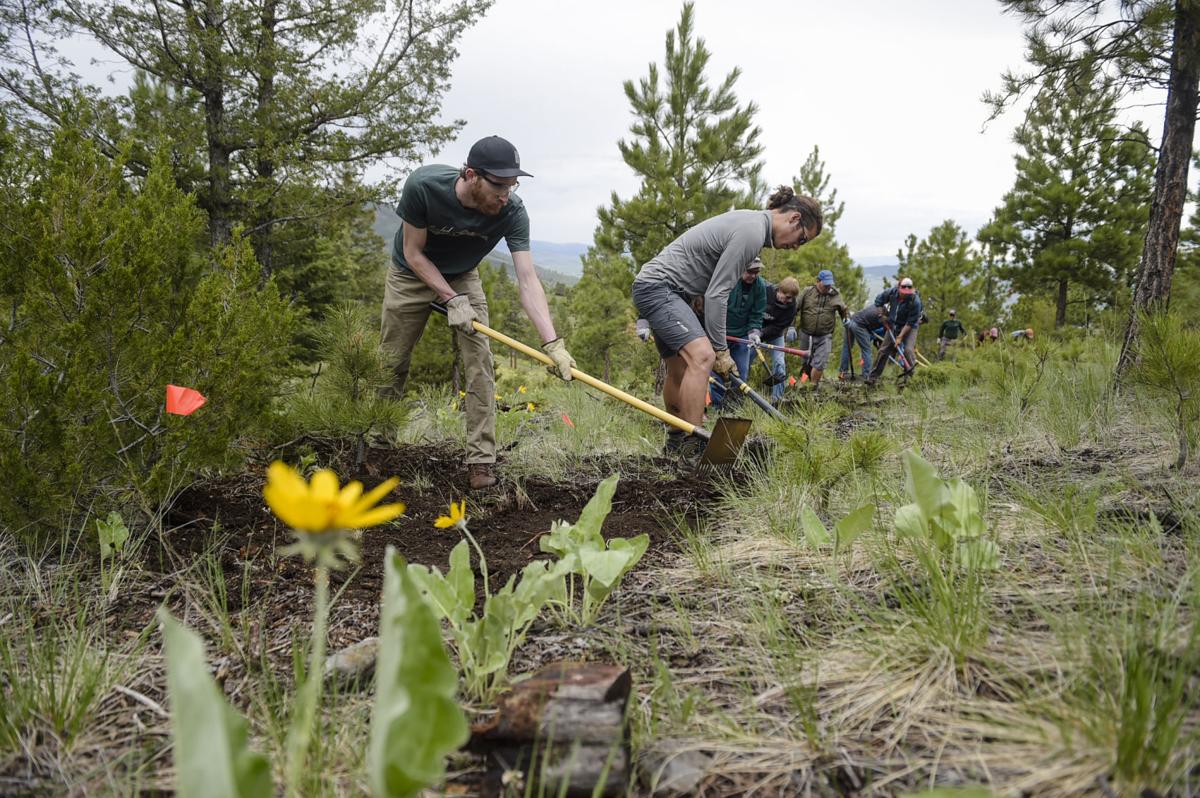 City commissioners came to a consensus Wednesday to lift the construction moratorium on the nearly-complete directional bike trail in Helena's South Hills trail system.
The trail, previously estimated by city open lands manager Brad Langsather to be 95 percent complete when construction ceased, runs in two loops between Eddye McClure West and Arrowroot Drive on the southeast face of Mount Ascension. One loop, referred to as the "flow" trail, runs at a lower angle than a steeper, "advanced" trail.
The city placed a moratorium on new trails Oct. 10 after a letter from commissioners Andres Haladay, Heather O'Loughlin and Ed Noonan called for one while city staff developed new framework for vetting of trail projects and an update of the city open lands management plan. The moratorium allowed for ongoing projects to be considered on a case-by-case basis for exception by the commission.
O'Loughlin was the only commissioner absent from Wednesday's meeting.
A Nov. 21 memo from Craig Marr, interim city parks and recreation director, to interim City Manager Dennis Taylor requested permission to finish construction of the directional trail. Marr mentioned in the memo that the incomplete trail was already being used, which posed a safety hazard as cautionary signage had not been installed.
Marr told commissioners Wednesday that the remaining work consists of signage installation, some raking and compaction, woodwork and removal of a "hazardous" tree stump. The drafted signage presented at the commission's Nov. 14 meeting included warnings of jumps and the trail's advanced difficulty as well as a requirement for pedestrians to yield to bikers. Signs at the top and bottom of each loop will also show the trail's intended direction.
Marr didn't have a timeline Wednesday for construction to resume, but said the finishing touches should begin soon.
"We'll have to coordinate with the Bicycle Guild on that," Marr said. "I think that they'll probably be out there within a few days, I would think, doing some of the raking and compaction."
Trail signage is also yet to be ordered, Marr said.
Letters favoring and opposing a continuation of the moratorium flooded the commission in the lead-up to Wednesday's meeting. Mayor Wilmot Collins told the dozens of residents in attendance that the letters he received would add up to the size of a "book" when put together.
"I was just telling someone the other day," Collins said. "I said, 'I've learned a valuable lesson.' And they said, 'What's that?' I said, 'Don't mess with Helena trails.'"
Much support for the moratorium came from residents concerned about encroachment of directional trail users with hikers on the nearby Eddye McClure trail. Tony Jewett of Helena Hikes presented commissioners Nov. 14 with a suggested list of steps to mitigate "impacts" the directional trail could have on Eddye McClure.
"If you decide today to move forward on the directional trail and complete that 5 percent, I think you'll have lost an opportunity," Jewett said Wednesday. In an Oct. 14 letter to commissioners, he said the moratorium was "absolutely" needed while the city developed a better plan for vetting trail projects.
In contrast with Jewett's concerns, Tony Zammit of the Montana Bicycle Guild told commissioners that he believed a "majority" of mountain bikers would access the directional trail from Arrowroot Drive rather than Eddye McClure.
In their 2018 work plan, the Helena Open Lands Management Advisory Committee said the directional trail's area is "uniquely suited for this use as there are no current social trail crossings and uphill access from the bottom is limited to a single point (wooden bridge) to which warning signs can be affixed."
For residents on both sides of the issue, the process by which city trail projects are vetted and communicated to the public came under much scrutiny throughout public comment on the moratorium. In his Nov. 21 memo, Marr said the city is looking to "improve public participation and outreach to community stakeholders" within the trail planning process.
"If these directional trails actually sparked this improved process, then I'm happy and very encouraged that this has actually occurred," Zammit said. "Because if we end up with a better process by which people are engaged in their community, then this is a better city for all of us to live in."
In the same memo, Marr said the city will continue to draft a request for proposals to update the recreation plan of the city's 2004 open lands management plan. A final draft is expected for presentation at the city commission's Jan. 23 administrative meeting.
"We'll have everybody involved in making sure the scope of work addresses the concerns that had been raised through the last year on the Beattie Trailhead as well as on the directional trail," Taylor said. "Or a plan [from] 2004 can use an update just in general. Things have changed on the ground, things have changed in terms of user groups."
"I was just telling someone the other day," Mayor Wilmot Collins said. "I said, 'I've learned a valuable lesson.' And they said, 'What's that?' I said, 'Don't mess with Helena trails.'"
Get local news delivered to your inbox!
Subscribe to our Daily Headlines newsletter.