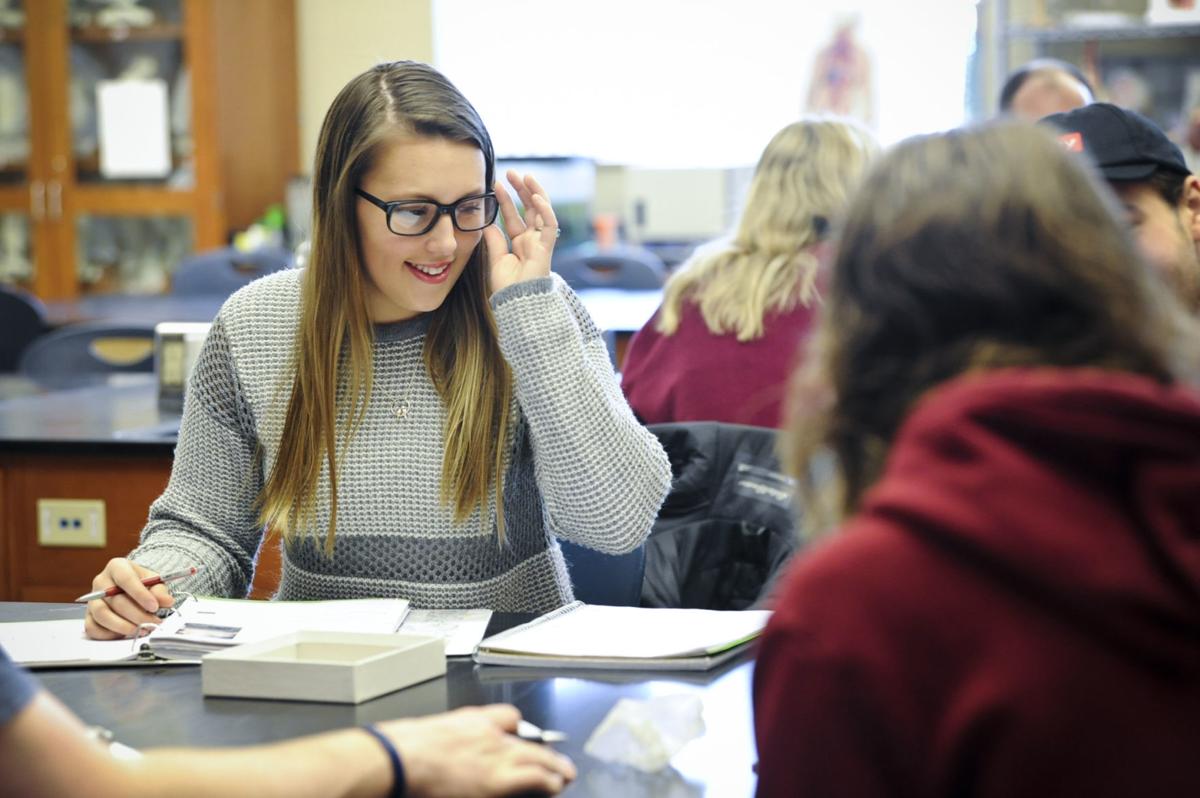 Helena College saw a large spike in dual enrollment of high school students during the fall 2018 semester, and the increase seems to be a direct result of the state of Montana's One-Two-Free program.
"Dual enrollment numbers have trended up in the past few years, but never this dramatically," said Sandy Bauman, associate dean of academic and student affairs for Helena College.
The program was announced last August by Gov. Steve Bullock and commissioner of higher education Clay Christian. It allows Montana high school juniors and seniors to take up to two classes for six college credits free of cost.
Near the end of the fall 2017 semester, Helena College had 392 dual enrollment students. One year later, the school has officially counted 566.
Bauman called the increase of 160 students a dramatic increase over last year.
Most dual enrollment classes happen at area high schools, Bauman explained. However, some students travel to Helena College for class in the evening. Some of the available dual enrollment classes are offered online, which is helpful for students in rural areas.
"What is really nice is that it expands course options," Bauman said. "We have more options in bigger towns where options are limited in rural areas. So it's nice when they can supplement their college courses with online classes."
Students aren't limited to local institutions like Helena College. Bauman said a statewide agreement allows colleges to serve high school students in their specific area. However, if the class a student wants to take necessitates it, they can enroll online with another school for that course.
"It often deals with format. People often want to take specific classes online," Bauman said. "Class size also plays a major factor as class sizes trend smaller (about 25 students) at Helena College."
There are also pathways for students to transfer these credits to any university in the Montana system.
"Colleges in Montana work well together to align transfer pathways," said Robyn Kiesling, division chair of general education and transfer at Helena College. "It's often cost-effective to start at Helena College."
In addition to these offerings,  a program waiver can be used to waive additional costs beyond six credits for students in need.
"The goal is to make cost not a barrier for students seeking college education courses," Bauman said. Beyond the six credit limit, Helena College offers reduced cost dual enrollment classes, which flux in their discount on a year-to-year basis.
Bauman believes the key to making the program a success is to provide an authentic college experience for students. "We will continue to work with the high schools to make this a legitimate college experience," Bauman said.
To have students diversify their experience and prepare them for the rigor and pace of university life is a major goal of the program for Helena College.
"Letting them think this will be like high school would be doing them a disservice," Bauman said.
The state also offers the program to home-school students in an effort to give them the same diverse experience opportunities.
Savannah Vannett, an 18-year-old home-school senior, has taken dual enrollment courses with Helena College for the past two semesters.
Vannett is considered a "non-degree seeking dual enrollment" student. She said she has mostly been taking a lot of core classes such as Spanish, literature, business and biology. She is currently enrolled in the One-Two-Free program taking seven credit hours at Helena College.
She said the program has helped out every single member of her family by not putting a financial burden on them.
"It really has just been a blessing for my whole family not having to pay for so many classes," Vannett said. Her family still pays for the seventh credit, her books and other fees. However, the actual class cost is waived under the program.
Vannett said the fees and books are "nothing compared to class cost."
She said the program is even beneficial to her siblings because her parents don't have to spend so much for her to go to college.
"The program has given me a head start in college and in practical life skills like time management," Vannett said.
By the time Vannett graduates next May, she will have cut two years off of her college career.
She hopes to go to the University of Montana-Western to study equine science and then on to Crown College in Minnesota to study early childhood development. Her hope is to one day run an animal therapy horse ranch like the Healing Hearts Horse Ranch, of which Vannett is a board member.
Vannett said her experience with the program has really helped prepare her for regular university life. She said she has formed friendships with professors who have helped her through the process of being a high school student in college. Even help with basic skills like how to check a syllabus can come in handy later.
"It set me up for the future," Vannett said. "This program has been great and I love Helena College."
This is the kind of result administrators like Bauman want. She hopes the program can help reach students who may not have previously considered college an option.
"I hope that it shows them that they are capable of college level work," Bauman said. "And that they can see themselves in a college setting."
The program has a few risks though. Bauman said there is the possibility of having too many credits in the long run.
"There is a limit on the number of credits a student can have earned and still be eligible to receive financial aid," Bauman said. An example is someone taking a bunch of credits that have nothing to do with their eventual major.
She advises sticking with major-related and core classes when using the One-Two-Free program. Bauman said most students stick with core classes regardless.
Bauman also cautioned prospective students to take the coursework seriously. "Students need to understand that the grade they earn is included in their college GPA," Bauman said.
Bauman suspects Helena College will see even higher dual enrollment numbers next fall. She said that once the program has existed for a year, more students will be aware of it and be able to plan their schedules around it.
Editor's Note: This story has been updated to correct information about the number of credits available through Montana's One-Two-Free program. Eligible students can take up to two classes for a total of six credits.
Get local news delivered to your inbox!
Subscribe to our Daily Headlines newsletter.