Community members and expert panelists discussed funding of local police and school resources during the first of the Helena City Commission's series of public hearings on the matter Thursday evening.
The commission heard from school administrators, Helena Police Department school resource officers, representatives of ACLU Montana, experts in racial equality and numerous members of the public during the meeting.
Commissioner Heather O'Loughlin moved to amended the city's fiscal year 2021 budget to withhold $292,000 from HPD's personnel budget "contingent upon future approval by the commission" during the June 29 meeting. The amendment passed on a 4-1 vote. Commissioner Sean Logan was the lone dissenting vote.
Numerous local protests in the wake of George Floyd's death at the hands of a former Minneapolis police officer called for a re-imagining of policing policies in Helena and Lewis and Clark County.
Advocates for partially defunding local law enforcement agencies have asked the city commission to consider reallocating funds spent on SROs to social services such as mental health professionals within the schools.
Helena Police Chief Steve Hagen outlined the role SROs within schools and the additional training officers receive, including courses on racial bias, verbal de-escalation and crisis response.
SROs are responsible for traffic control during pick-up and drop-off times. They are guest teachers for classes like driver's ed. They are the primary responders to calls of runaway juveniles.
They are also the only entity granted the authority to place an involuntarily emergency mental health hold on a student, although Hagen said that is about the extent of SROs ability to deal with mental health issues.
"Law enforcement shouldn't be the primary responders to (a) mental health crisis," Hagen said.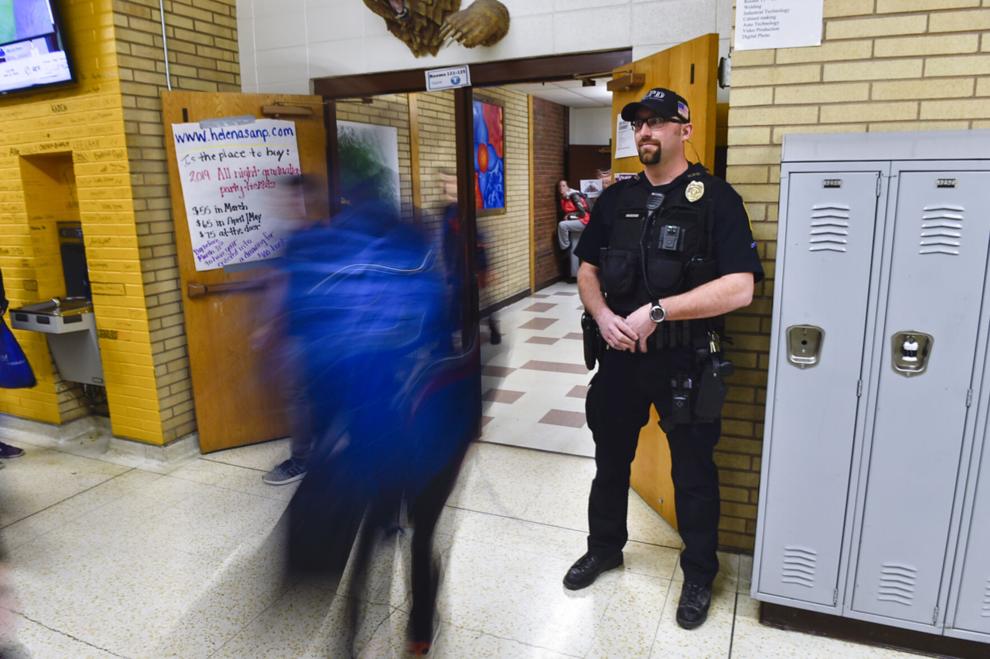 That sentiment was echoed by the Helena School District administrators, who lauded the SROs work on their campuses.
"It has been proposed as an 'either/or' proposition when we should be looking at the power of 'and,'" said Helena High Principal Steve Thennis.
Helena School District Superintendent Tyler Ream said pulling officers from schools on such short notice would leave the district scrambling to fill the security void left behind.
"I truly believe that a reduction (in police funding) would be a detriment to our students, to our educators, to our families, and to our schools," Ream said.
Helena resident Judith Heilman heads up the Montana Racial Equity Project and is a retired police officer.
She contended that the eight hours of racial bias training rookie police officers receive is not enough.
"I've sat in on that and thought it was extremely lacking," Heilman said.
Many opponents to the measure claim Helena does not have the problems larger, more diverse communities like Minneapolis have. ACLU of Montana's Director of Advocacy and Policy S.K. Rossi said that is not true.
"Montana is not immune to those problems," Rossi said. "The same issues that exist for inner-city Black kids in St. Louis also affect Black and Native American students in Montana."
Hagen reported during the meeting the number of cases SROs handled during 2019 that involved either criminal citations, runaways and protective custodies totaled 208.
That number was broken down by race and gender. More than 3% of those cases involved Black students when that demographic represents about 1% of the population, a figure Heilman said was out of line.
Montana Attorney General Tim Fox extended his office's support during public comment.
"We stand ready to provide whatever we can," Fox said.
No action was taken during Thursday's public hearing. The city commission said it intends to host another in the coming weeks. A date for that has not been set.
What the nearly $300,000 would be used for if not to retain HPD's four SROs has yet to be decided.
Commissioner Emily Dean expressed her desire during the commission's June 29 meeting, during which the decision to hold the funds was made, that the money if not returned to HPD should be specifically earmarked for expanding social services within the school district.
O'Loughlin pushed back on the idea.
"I've tried really hard not to make assumptions of what I think these funds should be earmarked for," O'Loughlin said.
Later in that meeting, she said that a lack of city revenue was a consideration in her amendment.
"We sit today in this next fiscal year with expenditures exceeding the projected revenue by $670,000," O'Loughlin said during that late-June meeting.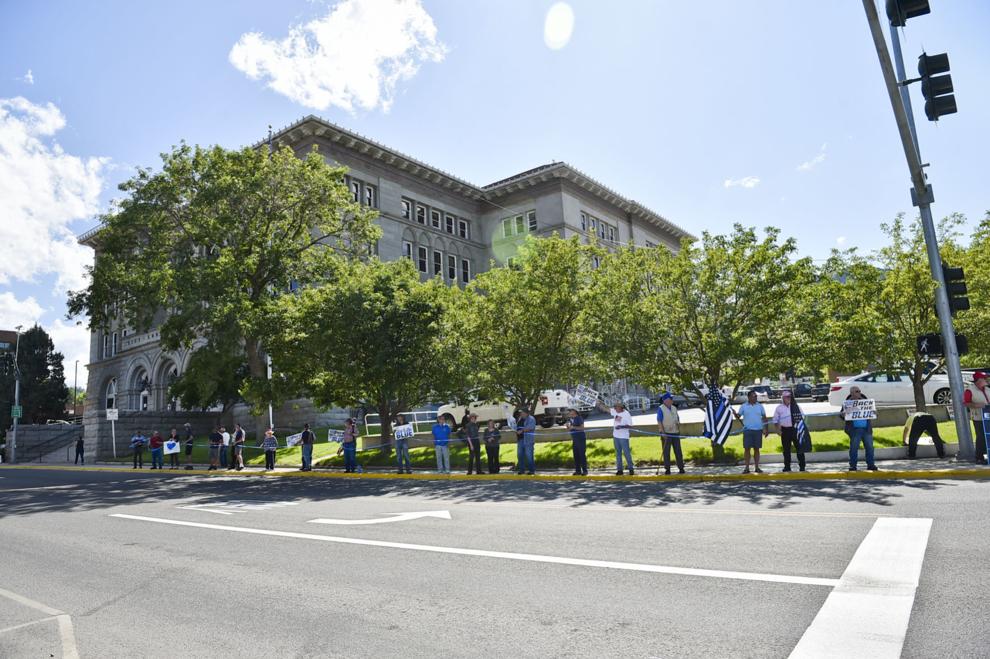 While Thursday's meeting took place, about 60 members of the community held a protest against  defunding of law enforcement on the steps of the City-County Building.
Pro-law enforcement music played from a loud speaker across the street, while protesters held "Back the Blue" signs and a blue piece of surveyors tape along the sidewalk outside the building.
"I absolutely support law enforcement, I know how hard they work and what they go through," Charlotte Snyder said, who previously worked for the Las Vegas Police Department. "We could not live without them. I would be afraid to live without them."
Over the last few days, Bill Bahny has been demonstrating around Helena, holding pro-law enforcement signs and says he gets a few obscene gestures directed at him but more often gets car honks and indications of support.
"We are the silent majority," Bahny said. "There is a silent majority out here that supports law enforcement."