Dustin Lundstrom of Montana City Plumbing and Heating has been named 2018 Boss of the Year by the Helena Area Chamber of Commerce.
Lundstrom was surprised by his staff and the chamber Tuesday morning at his office with the announcement.
"I don't have a speech but I really do appreciate this." Lundstrom said. "My employees are all great people, they work hard to play hard and they work hard for me."
He was unaware of his nomination for the award before it was revealed that he was the recipient. Lundstrom said he was very surprised when he walked into the office to all of those people waiting for him. He joked that he thought it was an intervention.
"I've worked for him for six years and he is the best boss I've ever had," said Kyle Hedden, Montana City Plumbing and Heating employee. "What they said about him taking care of us and our families is true. He also invests everything he can back into the business to make sure we have the equipment we need to do our jobs. It's really nice to be a person and not just a number."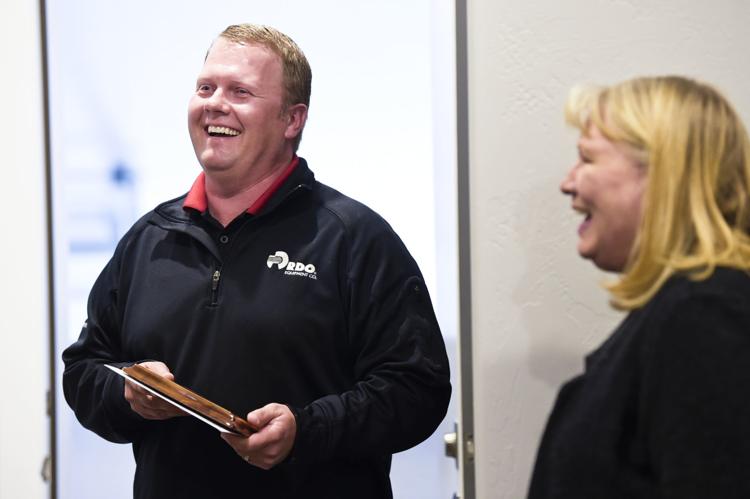 This is the second year the Helena Area Chamber of Commerce has taken nominations for the Boss of the Year award. Jason Davis, chair of the chamber's board, said that Lundstrom's nomination stood out because of how hard he works for his employees and because 100 percent of his employees signed the nomination.
Lundstrom began the business in 2007 in a storage container. He worked the business up to his garage and then to the new building on Highway 282 in Montana City.
"He works hard for his family and the families of his workers," Davis said.
"We have a really tight group here," said Lundstrom. "We are like family.
"We work really hard on relationships and making sure everyone in the group gets along well. I try to take care of everyone and their family and make sure they have the time off they need."
Lundstrom said this is especially true during hunting season. "This is one of the busiest times of the year for us," said Lundstrom. "But I want to make sure everyone gets time to go hunting."
Lundstrom also said that he works hard to give his employees leniency and the respect they deserve.
This mutual respect between boss and employee is a big part of what makes Lundstrom an effective boss and what earned him the title of Boss of the Year.
Oct. 16 is widely recognized as National Boss's Day in the United States. The tradition started with the U.S. Chamber of Commerce in 1958.