Helena spent Tuesday celebrating all things adoption with the 23rd annual adoption celebration held in the Capitol rotunda. 
The celebration was marked by the finalization of two adoptions. District Dourt Judge Mike Menahan and attorney Bill Driscoll legally finalized the adoption of two Helena children, Micah and Alexander. Russ and Carolyn Gates adopted Alexander. Toby and Lynnsey Tade adopted Micah.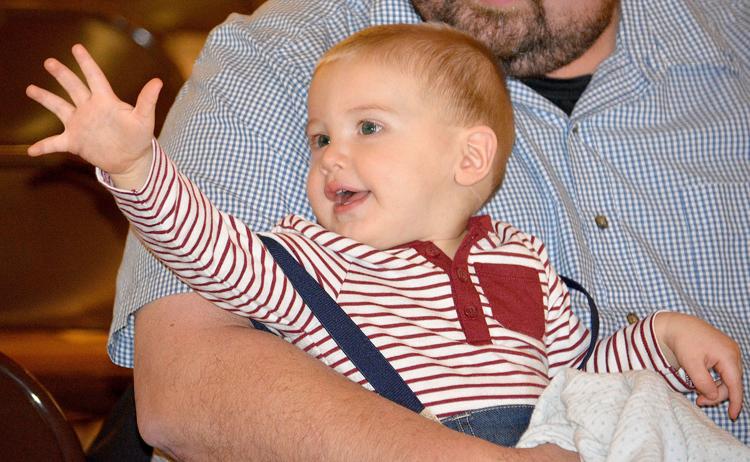 These two adoptions highlighted a record year in which approximately 450 Montana children were adopted. Helena Mayor Wilmot Collins, a former Child and Family Services worker, made a proclamation that Helena will celebrate National Adoption Awareness Month in November. Collins called it a time to "celebrate all the joys that adoption brings" and to "draw attention to all the children still waiting for a loving home." 
Gov. Steve Bullock was the keynote speaker for the event. Bullock said he looks forward to the adoption celebration every year because every adoption is a special occasion. He also extended a special thanks to all of the workers at CFS, police, lawyers, judges and more who "work every day to get us to days like today." 
"There is no greater gift than the one you are providing: a forever home," said Bullock, to the Tade and Gates families. "You've opened up your hearts and homes to children who have a bright future ahead of them." 
You have free articles remaining.
Daryl Mikesell, who adopted a daughter at last year's ceremony, shared the story of his family's adoption. The Mikesells started as a foster family when they took in 2-month-old baby girl temporarily. 
"We did not know when we took her in that we'd be at this very ceremony last year to adopt her," Mikesell said. 
The Mikesells initially wanted to foster children to give them a loving space before they found a forever home. Mikesell said he told himself that he could handle loving a child that would eventually leave them and dealing with that pain. However, when their daughter entered their life the family was unable to let go. They spent over two years working through the adoption process to make her a part of their family. 
It's something Mikesell said he'd do again in a heartbeat. 
The event also included adoption information from several organizations including Catholic Social Services of Montana, Youth Homes of Helena, the Montana Department of Public Health and Human Services foster care and adoption program, and Wendy's Wonderful Kids. The St. Andrews School choir also sang several songs, including an adoption day song for Micah and Alexander. 
Twila Costigan, Catholic Services executive director, and Colleen Lippke, a DPHHS supervisor, praised the Child and Family Services unit and drew special attention to the high number of successful adoptions last fiscal year, noting that Montana has never had more than 400 adoptions in a year.