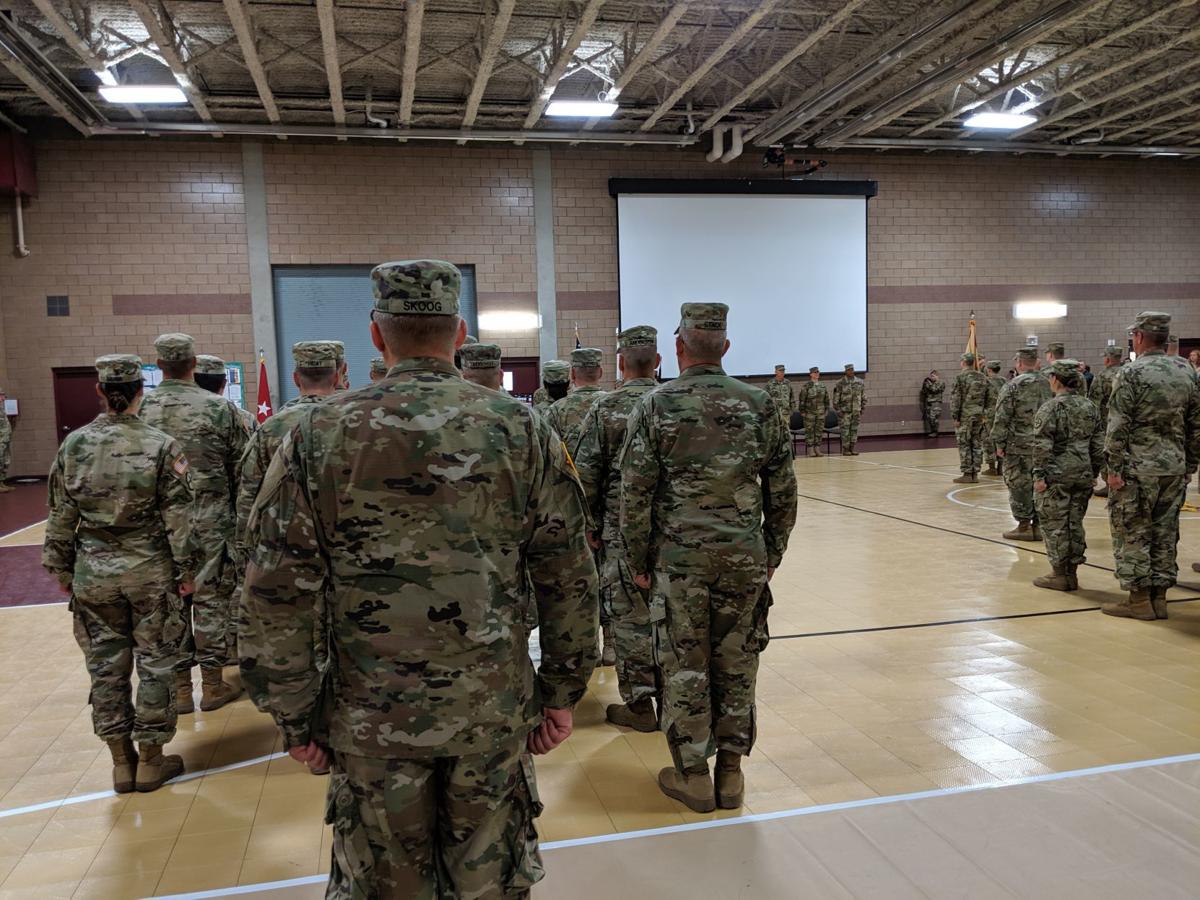 On Saturday morning, Fort Harrison's 652nd Regional Support Group Brigade had a send-off ceremony where they said farewell to friends and family before heading off to Poland for a year-long deployment.
Homecomings tend to take center stage when it comes to ceremonies involving United States military. But farewells are just as poignant, as families and soldiers come to terms with the fact they won't see each other in person for a very long time. 
Brig. Gen. Vincent Buggs, the leader of the 364th Expeditionary Sustainment Command, the division the 652nd is part of, recognizes the importance of the mission for his troops. As part of Operation Atlantic Resolve, they will be going to Europe to support other military. 
But Buggs also understands why it's good for families and soldiers to come together for a ritual like the farewell ceremony. 
"It's a big deal for families to be here," Buggs said.
Seeing their loved ones in uniform and with their fellow soldiers is a powerful experience, and Buggs noted that families were also being affected by the deployment.
"We wouldn't exist unless we had your support," Buggs said to the gathered families. "Please hold the homefront down while they go on this mission."
The 652nd is made up of Army Reserve soldiers from four mountain states: Idaho, Montana, Utah and Wyoming. Attached to Fort Harrison, the troops spend one weekend a month training in Helena, which is why the disparate home states come together in Montana's capital.
Col. Erica Herzog, the commanding officer of the 652nd, said the preparation for the mission wouldn't stop once the farewell ceremony finished. The 652nd will have another training at Fort Hood, Texas, before they ship out to Poland.
"It's all about readiness," Herzog said, adding that dental care, medical care and a whole slew of other logistic details would be checked off before sending the troops out to their overseas deployment.
Marilyn Hedrick, from Toole, Utah, is sending her husband off for their first deployment while married.
"It's a sad and exciting day," Hedrick said. 
Hedrick said her house will be "too quiet" during the deployment, but she and her husband will do their best to talk when they have the chance. 
"The ceremony was beautiful," Hedrick said.
Staff Sgt. Ian Pelkey is going on his third deployment. He likes the farewell ceremony because it allows family to see who, exactly, soldiers are deploying abroad with. 
"It makes them feel safe," Pelkey said. 
For families, he advises them to stay in touch and "keep your head up."
"We have to focus on our jobs, to train and learn," Pelkey said, but when the soldiers get back, he knows that everyone will have "a really good time."
Get local news delivered to your inbox!
Subscribe to our Daily Headlines newsletter.