Impressionistic scenes of ballet dancers.
Watercolor portraits of John Lennon and Myrna Loy.
These are just a few of the many artworks in Ralph Esposito's retrospective show, "Full Circle," at The Myrna Loy.
It opens as part of the Fall Art Walk on Friday, Nov. 2, with a reception from 5 to 7:30 p.m. The exhibit runs through the end of December.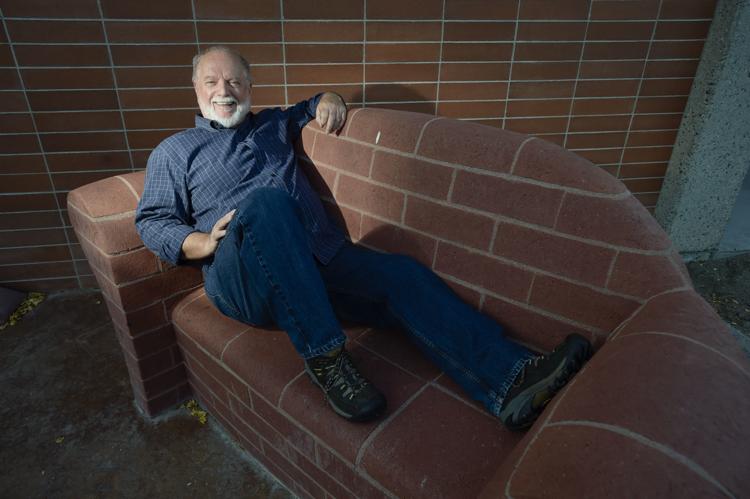 For the past 40 years, Esposito has taught art at Carroll College.
This show of nearly 100 pieces offers a glimpse of just how diverse and eclectic his interests are and how prolific he's been over the decades.
While some artists know from childhood that they are meant to pursue art, Esposito didn't take art classes until his sophomore year at the University of Connecticut in Storrs.
"I didn't know what I wanted to do," Esposito said.
He took an art appreciation class and made a "terrible" wax bust, he said. But something was sparked in the process.
"What a great way to spend your life -- trying to make beautiful things," he remembers thinking.
It took a while, but he finally found a sympathetic professor who let him take art classes. "I had no skills, but I was really determined. I stuck with it. It took me 4 1/2 years."
After earning a Bachelor of Fine Arts at UConn, he earned a master's degree at the University of Puget Sound in Tacoma, Washington.
"I decided clay was my favorite medium," which is certainly evidenced in his show.

Like many others, Esposito was drawn to art because it's so "therapeutic," he said during a recent interview at his kitchen table surrounded by an array of his ceramic works.
One such creation was a red and black piece of "attic ware" pottery he made after studying Greek pottery on a 2008 Fulbright-Hays Summer Seminar Abroad in Greece and Bulgaria.
At first glance, the decoration appears to be classic Greek figures in togas.
But look a little closer. They're all clutching something in their hand.
"I thought it would be fun to do Greek figures with cellphones," he said, so he made a series of pots featuring them.
"My art reflects contemporary life and what's around me."
Esposito was also a visiting artist in China's famous Porcelain City, Jingdezhen, China, in 2012, which he calls a "once-in-a-lifetime experience." Its unique porcelain deposits have made it a pottery center for more than a thousand years. "It's like a Disneyland for potters," he said. "Forty percent of the population is involved with making ceramics."
There, artists work at high speed and are incredibly accurate-- producing a wide range of items from rice bowls that are almost translucent to huge pots that have three people throwing them at the same time.
"I really enjoyed teaching," Esposito said of his Carroll career, which is winding down. "It's a wonderful thing when you get some students who are really interested. ... Some of them really bloom."
"It's notoriously difficult to make a living as an artist," Esposito said. "But there's nothing else I could have done because I just didn't have the interest and it wouldn't have worked."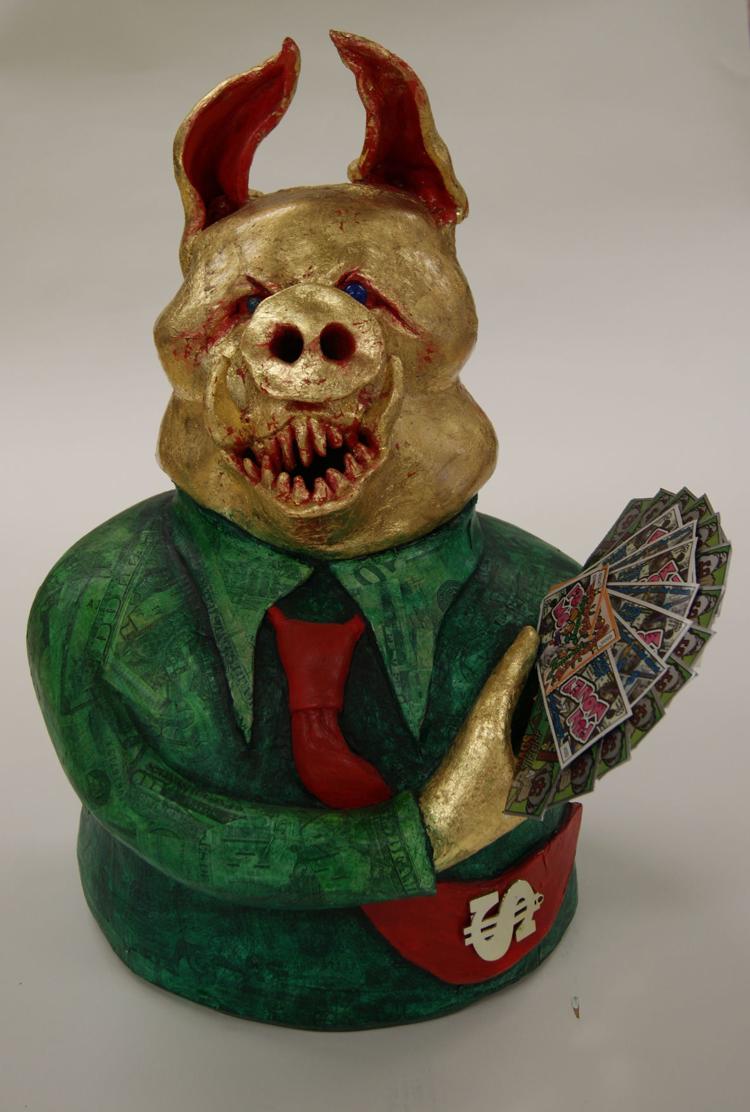 One of the artists who bloomed is Page Kelly Piccolo, a 2007 Carroll alumna, who calls Esposito her mentor.
While she'd taken a few art classes before she met him, it was assisting in the ceramics studio where she really learned important skills -- from mixing glazes to loading kilns.
It was just the practical experience she needed to prepare her to work in her own studio.
She recalled that she and Esposito went out to lunch after she graduated to discuss her career, and he "posed some pretty serious questions and gave me some advice. That free giving of guidance ... was a gift.
"I just adore him. ...For me, he definitely was a cheerleader."
She hopes the word "retrospective" doesn't mean "it's the end of his creative cycle. I hope he explores any media that he becomes interested in."
Myrna Loy gallery volunteer DD Dowden, who is curating the show, said it is an "example of how prolific he is and has been over the years."
"It's somewhat eclectic in its nature," she said of his work. "It comes from different periods of his life.
"He has a particularly expressive way of doing portraits," she said, "which I think are a very difficult art form. His portraits are really quite engaging.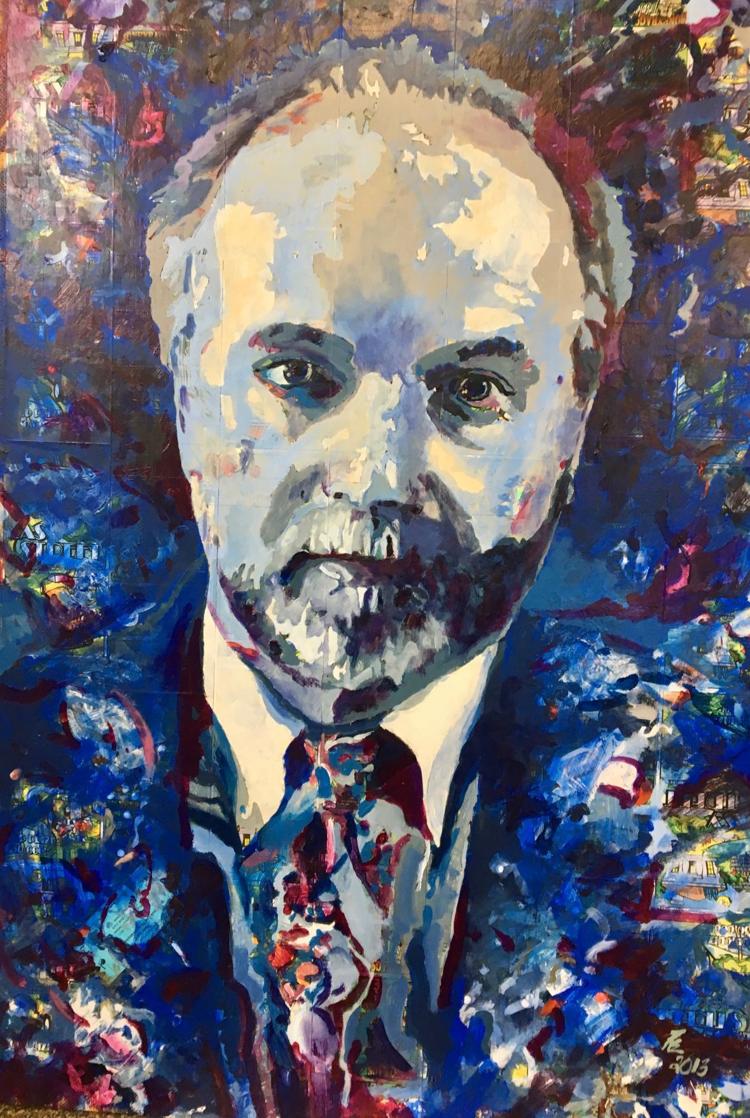 "Portraits can often be very stilted and stiff looking. These are not. They're very lively and capture the person.
"It's a very festive-looking gallery and pretty commanding when you walk in."