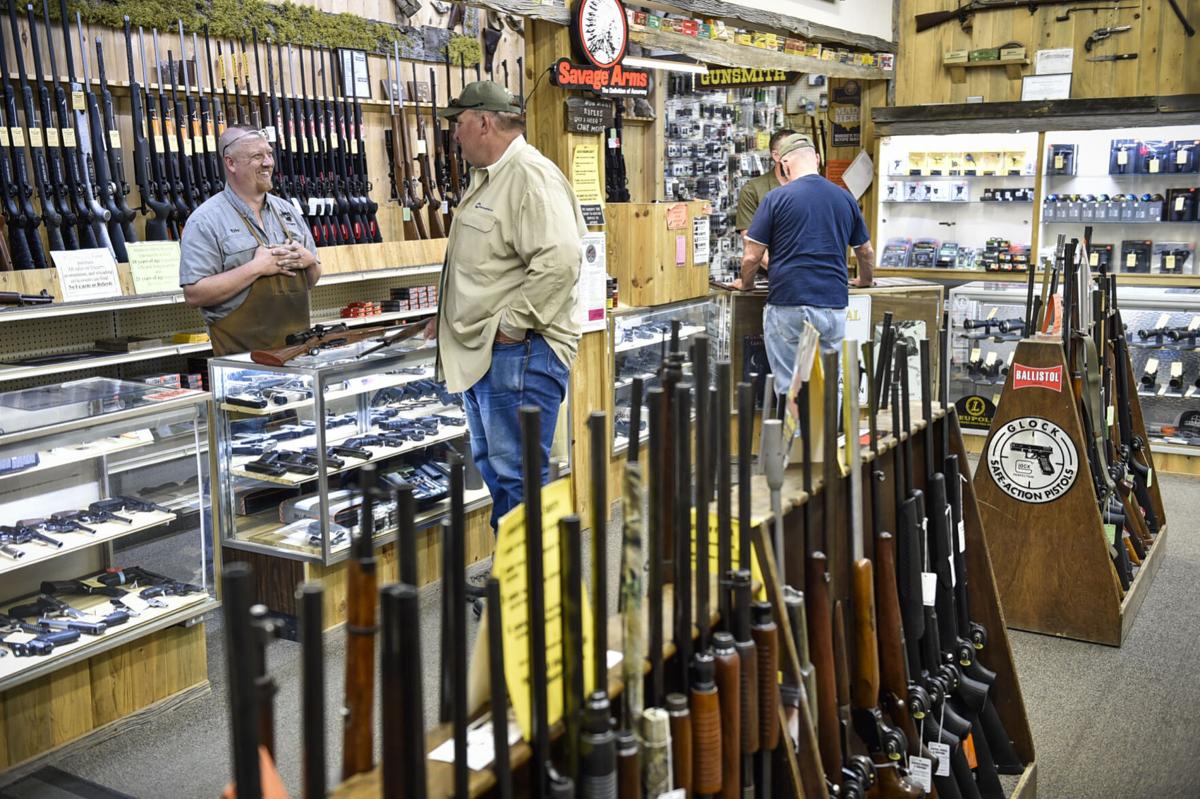 Suicide prevention advocates in Lewis and Clark County are forging partnerships with gun dealers and pharmacists as part of a pilot program that aims to temporarily prevent suicidal people from accessing some of the most common lethal means.
"The greatest gift we can give to people who are suicidal is time," Lewis and Clark County Suicide Prevention Coordinator Jess Hegstrom said. "People don't want to die. They just want their pain to end."
Lewis and Clark Public Health reports that 63% of all suicides in Montana involve firearms, and 70-90% of all suicide attempts in the nation are by overdose of prescription drugs.
According to a study by the T.H. Chan Harvard School of Public Health, temporarily reducing a suicidal person's access to highly lethal means is a powerful strategy to prevent suicide.
This is the goal of the Lewis and Clark Suicide Prevention Coalition's new Safer Communities Montana program, which is rolling out in Helena, East Helena, Augusta and Lincoln.
"We're not talking about gun regulation or taking away firearms," Hegstrom said. "We're talking about making sure people don't have these tools during a crisis."
One of the ways gun dealers and pharmacists can help prevent suicide is by teaching customers about the importance of safe storage, said Caroline Patterson, a Lewis and Clark Public Health suicide prevention VISTA who is helping to implement the program.
"We want safe storage to be an everyday habit for our community members," she said in a press release. "If you have a firearm that is not in use, keep it locked and unloaded -- same thing with medication, lock up what you need and dispose of any leftovers you no longer use. That way, they won't get into the wrong hands at the wrong time."
The gun dealers and pharmacists participating in the program are taught how to recognize warning signs, including statements like "I won't need much ammunition" or "my family would be better off without me." The program provides information on how to connect people with services or slow down sales of firearms or medications if a customer appears to be at risk.
"You could make a decision not to release the medication," said Joshua Loveland, director of pharmacy at Shodair Children's Hospital, which is one of the participating organizations. "It is something that can be done, but it is definitely a last resort because it takes autonomy from the patients."
Additional steps that can be taken by pharmacists include packaging individual pills in blister packs so it takes more effort to overdose, reducing the amount of medications given during each visit, and disposing of unused pills, Loveland said.
Ed Beall, who is the president and owner of Capital Sports & Western Wear and a participant in Safer Communities Montana, said every gun sold at his store comes with a lock.
He also said everyone who buys a gun at the store fills out a form that asks whether they know how to safely handle the firearm and if they plan to use it in an unsafe or unlawful manner. If a customer is acting nervous or does not show interest in learning about a particular firearm before making a purchase, he said, that could be a warning that something is wrong.
Gun dealers who are concerned about a customer can offer an alternative such as pepper spray, provide a lifeline card or directly ask if the person is considering suicide, Hegstrom said. 
On more than one occasion, Beall said, he has been asked to store firearms for gun owners who were struggling.
"People just need to be aware," he said. "The way I look at suicide, it's really a problem we have as a society. And so for us to be aware of the people around us and know as best we can when they're in a situation where they're feeling out of sorts, we can have a response to that and be helpful."
The Safer Communities Montana program is funded by a Montana Mental Health Trust Grant and is based on similar models used in other states. The participating organizations will be reaching out to pharmacists, gun dealers and pawn shops in the area as part of the pilot project in Lewis and Clark County, which could be expanded to other parts of the state if it is successful.
Editor Jesse Chaney can be reached at 406-447-4074, or find him on Twitter: @IR_JesseChaney.