"It's going to feel great to sleep in my own bed again," U.S. Army Captain Dan Bushnell said, in a telephone interview from Fort Hood, Texas, on Friday. "And I'm anxious to see the snow again."
Bushnell is among 65 Montana Army National Guard soldiers from the 495th Combat Sustainment Support Battalion who arrived in Kalispell Saturday night following a nine-month deployment to Afghanistan in support of "Operation Enduring Freedom."
The soldiers of the 495th CSSB were tasked with providing mission command for assigned and attached sustainment units in order to provide full-spectrum sustainment support as required.
The soldiers have spent the previous week demobilizing at Fort Hood, having arrived there last week.
"I can't wait to see my three girls," said Major Kyle Halseth, referring to his wife Morgan, and his two daughters, ages 7 and 3.
Bushnell and Halseth are two of 19 Helena soldiers among the 65 Montanans that returned to Big Sky Country this weekend.
Army Sergeant First Class Ryan Berry, 43, has served in the military for 23 years. A graduate of Helena High, class of 1994, Berry's assignment in Bagram, Afghanistan, was that of a noncommissioned officer in charge of ammunition supply point.
"This is my second deployment to Afghanistan with the 495th and Captain Bushnell and Major Kyle Halseth, the first taking place in 2012-13," Berry related. "I was fortunate to serve with exceptional officers and noncoms, while being in charge of the country's biggest ammunitions supply point. At central command, we were in charge of numerous contractors."
He said it "feels great, to be almost home (in Texas)," and was anxious to see his wife Holly, his friends and his family, "and getting back to (a) normal" life.
Chief Warrant Officer 4 Scott Stewart, 51, was the accountable officer for supply support activity in Bagram. This was also his second tour of duty in Afghanistan.
"It was a really good experience, I learned a lot about getting a mission accomplished," related Stewart, who is in his 32nd year of service.
A 1986 Capital High grad, Stewart and his wife Charlotte are the parents of three children.
"It feels fantastic to be back in the states," he said.
Major Kyle Halseth, 38, attended high school in Texas, but is stationed at Fort Harrison and resides in Helena.
"I was the support operations officer, responsible for the planning and execution of sustainment operations," explained Halseth, who has served in the armed forces for 17 years. "Our battalion was responsible for half of Afghanistan's sustainment for U.S. and coalition forces."
Bushnell described Halseth's job as that of "a card dealer, responsible for eight different locations."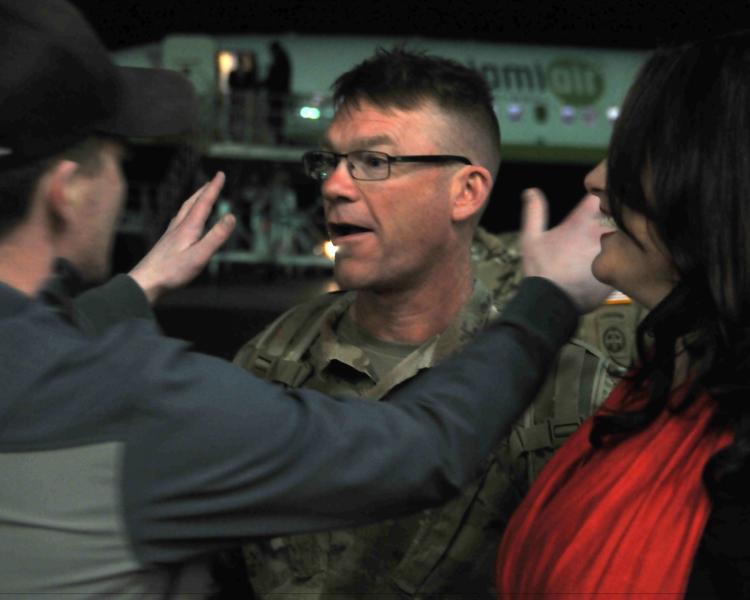 Captain Dan Bushnell, has been "in the boots" for 31 years. He maintained two jobs in Afghanistan.
"After finishing my 30 months as the HHC commander, I switched with Captain Chris Clark as the SSST, Officer in Charge, and the U.S. Mayor for Camp Marmal in northern Afghanistan," Bushnell, a 1988 Capital High graduate, related. "(This tour) was a unique and challenging experience, and unusual in comparison to our stint in '12 and '13. But as is typical of Montana soldiers, we met the challenges and were successful in the commissions that were given to us.
"There were good days and bad days, we experienced a variety of challenges at breakneck speed that were not typical of CSSB, but we adapted and did the best we could."
Bushnell, 49, and his wife Shawnee, are the parents of three girls and a boy. He described how soldiers of the 495th were all "anxious to get back" to the Treasure State.
'Like Christmas Eve'
"It's been arduous duty since last May, a lot of pressure on us, and deployment actually started up a year before that, with training, administrative work and mobilization," Bushnell said. "Coming home is the bow on the package. We'll take 30 days off to decompress, and then attend the Yellow Ribbon Program in Kalispell in May."
Bushnell said that after landing on Saturday night, some of the 19 Capital City soldiers were planning on staying in the Flathead Valley for the night and then making the drive to Helena on Sunday, while some were set to drive home right away.
"We're just excited to see the smiling faces of loved ones and friends, again," Bushnell said. "This is kind of like Christmas Eve for us."
Get local news delivered to your inbox!
Subscribe to our Daily Headlines newsletter.