Helena-area movie reviews: The Favourite, Upside, Aquaman
Sneaking a peek behind the royal curtains of Queen Anne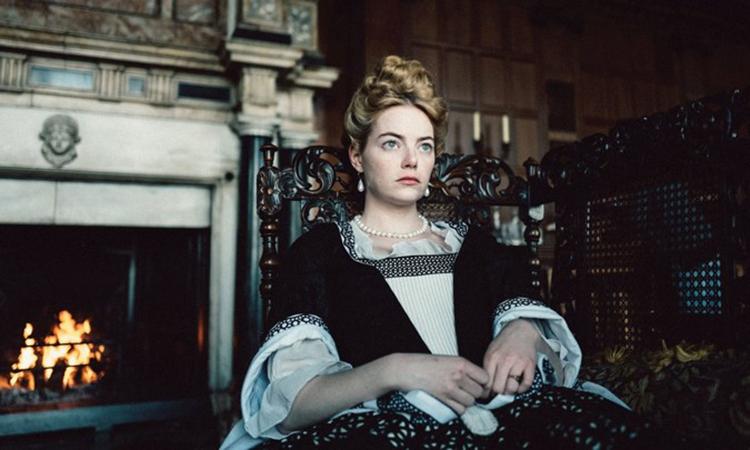 The Favourite
(R)
"The Favourite," a royal romp through the 18th century court of Queen Anne (1665-1714), emerged as an Oscar favorite on Tuesday. Greek director Yorgos Lanthimos' irreverent look behind the curtains and under the sheets of the royals, received 10 Oscar nominations, including Best Picture, Best Director, Best Screenplay, Best Costume Design, Best Cinematography and three acting nods.
Of course, seeing a regal period film among the Oscar elite is no surprise. But this particular film is no ordinary PBS tale of swirling palace petticoats.
This one is a highly surreal trip through a palace where flames burn as brightly in the loins as in the fireplaces, where the queen prefers princesses to princes and where the pawns seem able to checkmate their queen, even while demurely walking backwards.
All of this in a visually stunning period piece that ends with rabbits running through the queen's head.
It's a stunning film, but not one easily understood or translated, and Lanthimos wouldn't have it any other way. The ending? Who knows?
To understand "The Favourite" we need to understand Yorgos Lanthimos, 45, or at least try. Not everyone subscribes to the auteur theory, which argues that films bear the signature of their director.
But calling Lanthimos an auteur hardly seems controversial. We know both Monet and Lanthimos by their brush-strokes. They just paint on different canvases.
One mark of an auteur is a willingness to take artistic risks, even at the cost of lowering the film's box office returns.
Greek filmmaker Yorgos Lanthimos who visited Sweden just to walk on the lands where Ingmar Bergman lived and filmed, grows bolder with every film. And yet, somehow, he has managed to find investors who won't hover, but rather just part with their cash, turn him loose and nervously await the first screening.
What's more, he's developing a loyal band of cinephiles willing to follow him up the mountain path and into the woods as he plays his surreal pipe.
Lanthimos' style of filmmaking reminds me of Robert Altman (1925-2006), who invited his cast to join him in co-collaborating films – inventing, improvising and surprising each other. (We miss you, Robert.)
Actors describe weeks of rehearsal with Lanthimos in which he tries to unshackle their inhibitions and get them to relish risk -- to stop thinking and start acting.
A brilliantly written article in the New York Times magazine ("Yorgos Lanthimos' Polarizing Visions") captures some of this free spirit.
"Lanthimos gathered the central cast together for three weeks of rehearsal," wrote Alexandra Kleeman. "They delivered their lines while trying to tie themselves in knots, jumping from carpet tile to carpet tile, or writhing around on the floor. 'He had us do all sorts of things that keep you from thinking about what your lines mean,' Olivia Colman, who plays Queen Anne, told me. 'It was completely unique.'"
We earlier met Lanthimos when he harvested a "Lobster," a dystopian science fiction tale of arranged marriages, sort of, but not really.
Lanthimos is no less adventuresome in "The Favourite," but the story is more conventional since it takes place in a historical setting.
But anyone going to "The Favourite" thinking they are going to see Sir Thomas More put honor before life or see Helen Mirren adjust her crown is in for a shock.
As for the plot, the Toronto Globe and Mail critic started by calling it "silly," and then noted that it put "a heavy emphasis on humiliation and bodily fluids," while telling a story in 18th century England "centered on two women who vie to curry the favour of Queen Anne."
That's a good start. There's also a distraction outside palace windows – a war or two.
Washington Post Pulitzer-winning critic Ann Hornaday, called this film a feast of "wordplay, foreplay and foul play" where sometimes "a lady likes to have fun."
Queen Anne is like no queen we've seen on screen. Colman plays a seriously ill monarch who seems alternately mad, sad, angry and hungry for sex of a certain kind. The Queen's aides, Lady Sarah and Abigail, have appetites, too.
The two ladies, currying favor to become the queen's favorite, are played by Emma Stone and Rachel Weisz, who turn in two unforgettable performances as black widow spiders willing to kill their mates to covet power.
"The Favourite" is full of breathtaking visuals and sizzling performances. The surreal story will surprise, shock or please moviegoers depending on their appetite for unconventional cinema.
When "The Favourite" is examined for insight and humanity, it's harder to love. The characters all seem dominated by their dark sides, and at times the script seems to enjoy shock for shock's sake.
On the other hand, it's refreshing to see palace figures without their makeup and jewels. We get a sense that real people wore the crowns, full of insecurities just like the rest of us.
Cackles about catheters, mixed with insight into disability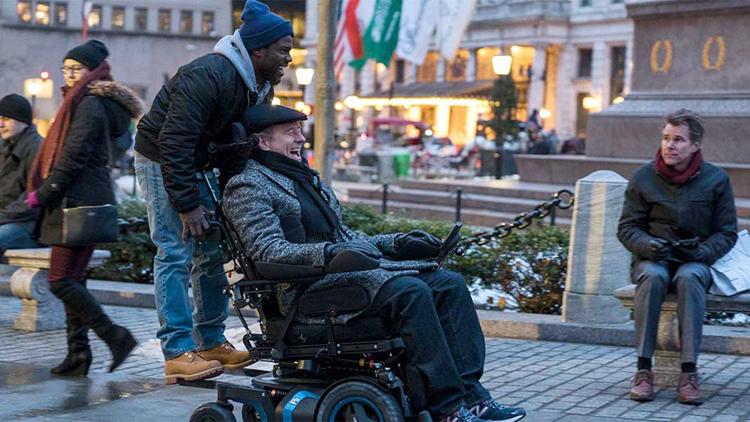 Upside
(PG-13)
Sometimes a few fine moments can save a predictable film.
That's the case with "Upside," a remake of a French film about Phillip, a rich white quadriplegic, who hires Dell, a decidedly unqualified black caretaker.
The original film featured a French billionaire and his French Algerian caretaker. The remake keeps that racially charged premise, but sets the story in America with a white billionaire hiring a black parolee.
The script sticks to the formula, as this odd couple goes through the long journey toward mutual respect, before becoming friends.
In essence, "Upside" echoes "Green Book," another tale of black/white rapprochement. But "Upside" has less cultural bite, a thinner script and a slightly less stellar cast -- and no Oscar nods.
The story in "Upside" is alternately played for laughs and insight. A typical laugh, harvesting low hanging fruit, is changing the old man's catheter or bringing a couple ladies of the night to cheer him up. Or talking too loudly during a fancy opera, smoking weed or learning to love Aretha Franklin.
But now and again the story hits home with insight into race, class and disability.
One touching scene finds wheelchair-bound Phillip finally agreeing to meet a lady he has courted online. He's fearful that his disability will doom him to being alone and lonely for the rest of his life. His wife died of cancer, and he loved her – and misses her -- deeply.
His lunch date, a lovely woman who loved his letters, confesses to being uncomfortable with the reality that he is a man with a disability. She's honest, and it breaks his heart, sending Phillip spiraling into depression.
The exploration of the interior struggles of a quadriplegic is handled sensitively, thanks to the nuanced performance by Bryan Cranston. Kevin Hart is solid, too – he digs deep, beneath funny.
There are some moving moments in Dell's life, as he takes money to his ex-wife to support his young son. Dell admits to a lifetime of bad choices, which ended in prison. But he loves his son and hopes that forgiveness is possible.
Giving most of his salary to his ex is his way of saying he regrets his wasted life.
As both Phillip and Dell sink into depression, they find they have vulnerability in common.
And it's when they both hit bottom, that their connection becomes authentic. The script finally sets aside the cheap chuckles, to wrestle with poignant issues involving forgiveness, loneliness and grief.
It's hard not to think of "Green Book" while watching "Upside." The script in "Green Book" digs deeply into racism and class, while "Upside" mostly skims the surface – with only an occasional moment when, like a pelican, it dives headlong into the water to find nourishment.
But despite the cheap laughs and clichéd script, I was touched by evolution of both men's lives.
Each in his own way is oppressed by society – neither the black ex-con nor the quadriplegic will easily find acceptance. The billionaire is now rich in money only. He feels his life is paralyzed as well.
To his credit Kevin Hart sheds his comedic image to find the heart and soul of this friendship. Nicole Kidman has a supporting role, but her talents aren't really harvested.
When "Upside" hits home, it's deeply moving. I chose to ignore, and forgive, the rest.
Something fishy this way comes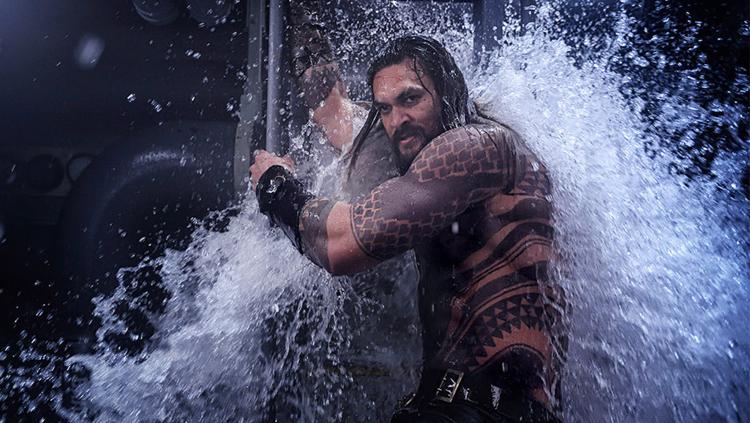 Aquaman
(PG-13)
Warner Brothers reportedly spent about $175 million to create "Aquaman." And, after only three weeks of release, its worldwide revenue already exceeds $1 billion.
Can you spell return on investment?
That's how you make money in Hollywood.
The flip side of this splashy success is that somewhere there's a starving artist who can't find a market for her astonishingly good novel or landscape painting. Life's just not fair, the sequel.
"Aquaman" seems a quite ordinary comic book tale of a sort of "merman" with some unusual powers trying to stay alive and save his kingdom, while malevolent forces pursue him.
I will admit to being periodically entertained by a story that borrows loosely from mythology about gods of the sea, sunken cities and men who would be king.
In the end, we expect the king will stand triumphantly atop the Mount Helena, muscles rippling, with his Trident spear at his side -- and we are not disappointed. Formula fiction.
I'll acknowledge there's something compelling, in a primitive way, about mythological stories and battles for the crown. Such royal tales are a literary trope dating back to forever ago.
We begin at a lighthouse where the keeper of the light, Tom, finds a lovely princess washed up on his beach. (I love it when that happens.) He nurses her back to health, and she repays him with a baby boy named Arthur.
Alas, she must return to her kingdom in Atlantis where she's heir to the throne.
Arthur is no ordinary baby boy, of course. He's a super baby. It's best not to tease this tyke or steal his rattle.
He can communicate with sea creatures, and wicked warriors will learn he's a tough one to kill. He's as comfortable under the water as above: He's a fish, he's a psychic, he's… Aquaman!
Alas, the plot thickens: Aquaman's mom has another child back home, Orm. (Who names a kid that?)
When Orm and Aquaman discover each other, a game of musical chairs commences with only one seat at the throne available when the melody stops.
No DC comic story is ever quite that simple, and this script actually tosses in an environmental subplot, in which the citizens of the ocean, prepare to attack the earthlings in revenge over the polluting of their waters. "You threw a McDonald's wrapper in my lagoon! Prepare to meet your maker!"
That's far too serious a theme for this film, so before long there's a pretty princess named Mera running around with Aquaman. There are a bunch of other characters, including the somewhat intriguing Viceroy Vulko (played by Willem Defoe) and a random pirate. But they hardly matter.
All that counts is that the two half-brothers -- one mom, two dads -- are destined to clash, with pretty girls swirling around them as they fight.
And, of course, there's that lonely lighthouse man who pines to see the princess again and let her turn on his lights.
At the center of all this is Arthur, played by a mountain of a man, the 6 feet 4 inch Hawaiian, Joseph Jason Namakaeha Momoa. He's appealing in a visceral way, and plays his role with a welcome light touch. He's a reluctant hero who would rather not be king.
A little research tells us why we like this guy, who can't really act (but who cares.) He grew up in Hawaii and worked in a surf shop. A modeling agency discovered the handsome hunk and set his life atop a big wave. It's the Cinderella story, surfer boy variation.
To borrow an old country classic, Momoa went from a Jack to a King.
It's a corny song and "Aquaman" is a corny movie. But it's tapping into Shakespearian threads with its classic game of thrones on center stage.
A few tender moments kept me caring: lighthouse keeper loves the princess; mom loves her son; Arthur loves Princess Mera. It's a whale of a tale of a tail.
The film fills the screen with colorful scenes and well-choreographed action sequences. Like dolphins, we're underwater for a while, and then we resurface.
But whether amidst the waves or above them, we are swept mindlessly along through a familiar formula that takes us exactly where we expected to go.
Sometimes, that's OK, especially when our underwater hero doesn't take himself too seriously.
Hollywood tames the notorious RBG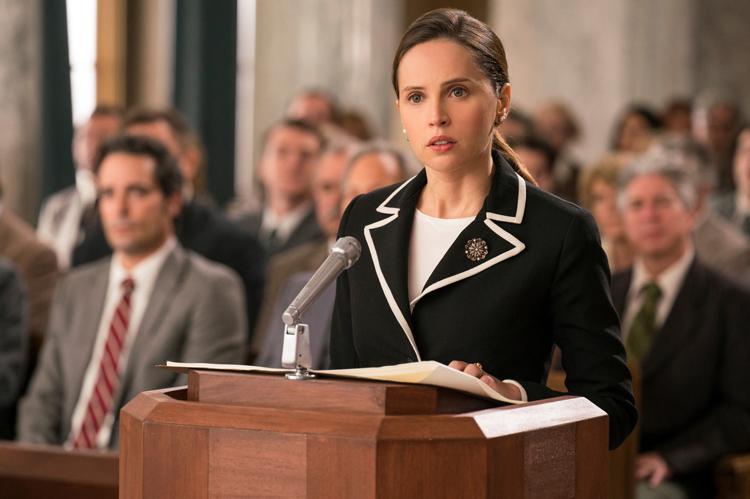 On the Basis of Sex
(PG-13)
Last May in the documentary "RBG" we were treated to a powerful portrait of Supreme Court Justice Ruth Bader Ginsburg. We met a kind, but ferocious lawyer/judge with an unparalleled work ethic.
We saw her prepare so thoroughly, that by the time she reached court, she was favored even over the best of attorneys, and even against overwhelming odds. She proved the adage that most cases are won before they arrive in court.
We loved her for her respect for the dignity of work and for the quiet courage to stand up for anyone oppressed by any law.
We also saw her build ideological bridges, such as her touching friendship with Justice Antonin Scalia, a conservative judge whose votes frequently opposed Ginsburg's.
She was a complex figure who stood against injustice wherever she found it – and she was respected by conservatives and progressives alike. She was a champion of women's rights, who won a famous case on behalf of discrimination against a man. And in a Senate divided 57-43, she was confirmed, 96-3 in 1993.
The documentary "RBG" let Ginsburg remain enigmatic and surprising, warning us not to try to make her predictable or, even worse, to make her one dimensional.
Now, eight months later, Hollywood takes its turn capturing the essence of Ruth Bader Ginsburg in the historical fiction film "On the Basis of Sex."
This time the power, the complexity and the indefatigable work ethic of RBG take a back seat to a rather simplistic story formulaic tale of a woman defying the odds and emerging triumphant.
RBG becomes predictable and, unforgivably one-dimensional. Yes, we see her win a famous case, but missing is the gentle genius who went to operas with Scalia.
It's rather telling that the most potent moment in the film is the final scene: when the actress Felicity Jones climbs the stairs to the Supreme Court – and dissolves into Ruth Bader Ginsburg herself.
The justice agreed to film this one scene on the last day of filming. At last, the authentic RBG.
Ginsburg has seen the film and applauded the movie and the cast. In keeping with her gracious nature, she was humbled that the film told her story.
And, in fairness, the film does respectfully portray her journey through the sexist halls of Harvard towards a legendary career, although the script stops 20 years before she was appointed to the court.
We get a glimpse of the many obstacles she hurdled as she broke glass ceiling after glass ceiling on her way to taking a seat on the court of last resort.
No film that introduces audiences to Ginsburg should be cavalierly dismissed, but it's high tragedy that such a multi-dimensional lady gets reduced to such a convenient collection of clichés – especially when the truth was that she was so defiantly iconoclastic.
In a Los Angeles Times article, Scalia described his friendship with RBG.
"Call us the odd couple," Scalia said. "She likes opera, and she's a very nice person. What's not to like?" he said dryly. "Except her views on the law."
That gets to the heart of Ginsburg, a person who seldom voted with Scalia, but who rang in every new year with him on Dec. 31.
If anything, this portrait of Ginsburg is too consistent.
I'm reminded of the wisdom of Emerson and of Walt Whitman.
"A foolish consistency is the hobgoblin of little minds, adored by little statesmen and philosophers and divines. With consistency, a great soul has simply nothing to do," wrote Emerson.
"Do I contradict myself? Very well, then I contradict myself, I am large, I contain multitudes"? wrote Whitman.
Ginsburg unplugged is much more inconsistent than the piously consistent script in "On the Basis of Sex." How about some delicious ambiguity, please?
Nearly every scene has a black and white villain – whether male law professors and male students sneering at Ginsburg, or white male judges ridiculing her arguments. A little nuance, please?
Ginsburg's multi-dimensional nature is not unprincipled, that's not what inconsistency means in this case. Rather, her genius is not beholden templates and her friendships are not bound by ideology.
Such is the beauty of Ruth Bader Ginsburg.
"RBG" captured her like the impressionistic brush strokes of a Monet painting.
"On the Basis of Sex" prefers to paint within the lines, never daring to let her splash across the canvas. The movie is merely respectable, when it so easily could have been unforgettable.