The row of houses taking up a block of new construction on Helena's east end are indistinguishable from the dozens of other homes in the area, except for the signs out front reserving them for families working with Helena Area Habitat for Humanity.
"This meets our goal to make it so you can't pick out which homes are affordable, so you can't drive by and say, 'That's a Habitat house,'" said Jacob Kuntz, the organization's executive director.
Habitat provides a path to home ownership for families otherwise unable to qualify for loans. The program relies heavily on volunteer support and those purchasing homes must also offer "sweat equity" by helping construct the homes themselves.
Habitat broke ground a year ago on the six homes along with an ambitious program to greatly expand its affordable housing building program that, until last year, only built one or two homes per year. The six families planning to move in have been brought together by working hand-in-hand on neighbors' houses toward a goal of taking ownership in June.
"It's been great — we've never had a program with so much self-help," Kuntz said, referring to the owner participation.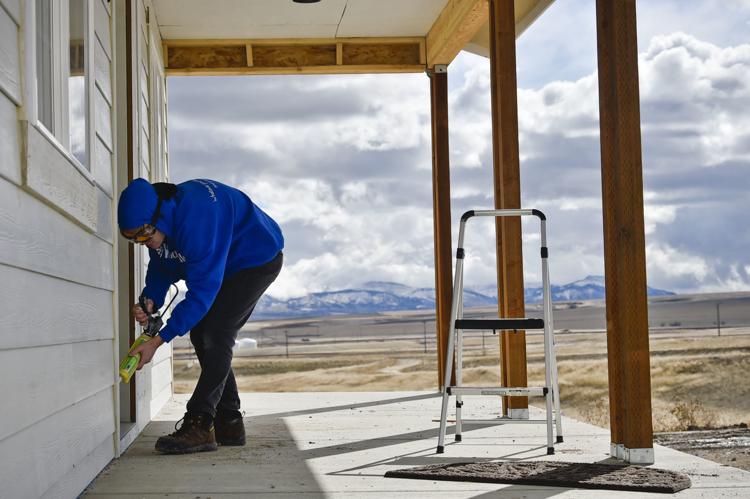 Construction came with some new challenges for the Habitat crew. The organization typically builds one-level houses, but the subdivision covenants and lot space led to two-story models.
"It's more complicated and because safety is our top priority, it is a little slower when we set up full scaffolding and get up there," Kuntz said.
Thursday also was a day of special recognition as volunteers from Wells Fargo Bank were on-site to help build. Helena Habitat recently received a $100,000 grant from the bank — the only organization in Montana to receive the special funding.
"We've had a long relationship helping Habitat fulfill its vision and this is an ongoing commitment for us," said Randy Riley, Wells Fargo district manager, adding that employees contribute hundreds of hours toward affordable housing programs every year.
The bank offers smaller grants in the $10,000 range but has another pool of grant money geared toward community projects with a minimum budget of $500,000. Until Habitat moved into the six-home project, it had never been eligible to apply, Riley said, and receive the $100,000 grant.
Sitting behind the six homes under construction are another six lots that will be the location of Habitat's next build. The families already have been selected and Kuntz says he hopes the efficiencies learned on the current build will help crews complete the builds in about a year.
Looking to the future, Habitat will need to "think outside the box" and work with the city of Helena due to the expense of building property, he said. The organization is also looking at locations such as East Helena for future builds, Kuntz added.