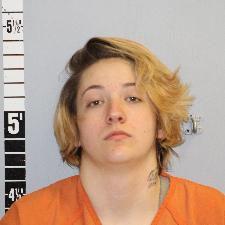 A 20-year-old Helena woman has been charged with felony assault on a peace officer or judicial officer. 
Samantha Joy Bowling allegedly assaulted a peace officer while in the custody of the Lewis and Clark County Detention Center.
A sheriff's deputy was dispatched to the detention center on Oct. 30 to meet with the alleged victim, a peace officer. The victim reportedly told the deputy that she was serving Bowling her lunch when the defendant became upset with her about scheduling. 
The defendant allegedly tried to walk past the officer and was told to back up. The officer then attempted to get Bowling back into her cell, and the defendant allegedly threw her meal tray and lunged at the officer. A struggle ensued. 
The victim reported back pain following the confrontation. Upon reviewing surveillance video of the housing unit, the deputy reported seeing the defendant throwing the meal tray and then sweeping the legs from under the victim. The deputy also reported seeing the defendant punching the officer multiple times. Other inmates reportedly came to the aid of the officer, stopping the assault. 
All charged are presumed innocent until proven guilty.