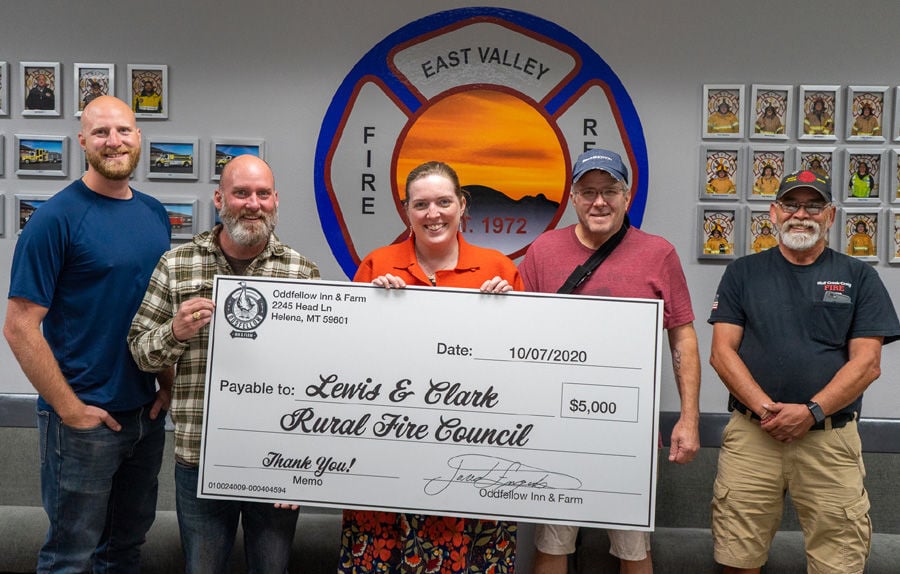 Talking Saints participate in 'make-up Nationals'
While Carroll College's first-year students on the Talking Saints forensics team, were at virtual novice events, the upperclass teams headed virtually up to Hobart and William Smith Colleges in Geneva, New York, on Oct. 3-4, for what organizers called "make-up Nationals," a huge event designed to soften the canceling of nationals last spring. More than 220 teams entered, although last year's graduating seniors could not attend.
Talking Saint senior Josh Mansfield of Pocatello, Idaho, and his partner sophomore Hellie Badaruddin of Missoula, finished tied for the 32nd and final spot to advance to the championship octa-final rounds, but narrowly lost out on speaker points.
"That was a fine showing in a deep field that had the best teams in the country present – Harvard, Stanford, John Hopkins, Berkeley, Amherst, Princeton and the rest," said coach Brent Northup.
Carroll assistant coach Becca Poliquin '18 was chosen as one of the elite final round judges, a significant honor.
The tournament was virtual, as are all debate tournaments this COVID season.
Four Carroll teams competed at the New York tournament, and all did well, but did not advance. Joining Badaruddin and Mansfield, were sophomores Roisin O'Neill of Lake Oswego, Oregon, and her partner Vinny Gallardo of Butte; juniors Eleanor Ferrone of Hastings, Nebraska, and her partner David Lange of Ferndale, Washington; senior Teigen Tremper of Whitefish, Montana, and her partner junior Taylor Potts of Great Falls.
"The Talking Saints had 16 debaters in rooms around campus on October 3-4, competing in New York and Calgary," said Northup. "That's just surreal, really. The teammates gathered together to have donuts outside together at 8:30 am and then disappeared into separate classrooms. Sort of like groundhogs sticking their heads out into sunlight for a few minutes, then scurrying back in their holes. They might not like being called groundhogs, but somehow it fits a virtual COVID season. We'd all like to stay in the sunlight more and meet real people."
Newest Talking Saints find Success with virtual tourneys
The eight newest members of the Carroll College Talking Saints entered two novice tournaments, reserved for first year students, and all eight Carroll students won awards, including top speaker. All four teams advanced to championship rounds at least once, and they added six top-10 speaker awards – with three more Saints coming in at 11th.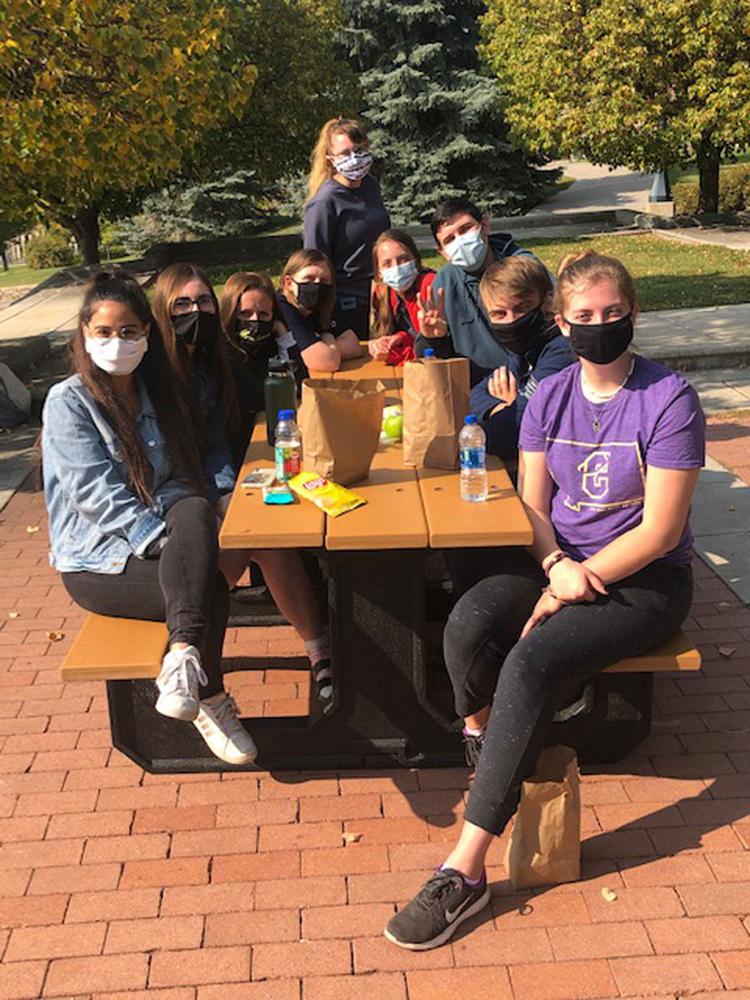 "Some of these newcomers started from zero, with no prior experience and to see them already starting to excel was so encouraging," said coach Brent Northup. 
At the Teaching Tournament on Sept. 18-20, hosted virtually by Carroll, Elaina Goulet of East Wenatchee, Washington, and Josie Howlett of Bigfork, reached the finals in a competitive field that attracted 36 teams from eight states, including entries from the University of Mississippi and the Air Force Academy in Colorado.
Ally Haegele of Helena won top speaker, with Goulet third, Howlett fifth, and Matt Glimm of Kalispell seventh. One spot away from recognition, in 11th, were Melissa Jagelski of Ontario, Oregon, and her partner Elissa Mazkour of Beirut, Lebanon.
At the University of Calgary Fall Open on Oct. 3-4, three Carroll teams reached the semifinals, including Glimm and Hagele, Jagelski and Mazkour, plus Finlay Bates of Forest Grove, Oregon, and Sarah Osmon of Ontario, Oregon. Glim was named fifth best speaker, and Bates was ninth, with Hagele next in 11th.
Both tournaments were conducted virtually on different software platforms. The Carroll teams each were stationed alone in a Carroll classroom, with COVID precautions. Between rounds, the team would gather outside to enjoy box lunches from Dining Services. At day's end, the group chose their rewards: Dairy Queen ice cream cones.
Applications sought for 2021 Youth Serve Montana Scholarships
The Governor's Office of Community Service, Reach Higher Montana, and Montana Campus Compact have announced applications are now being accepted for the 2021 Youth Serve Montana Scholarship.
The Youth Serve Montana Scholarship was created to promote volunteerism among high school students. Funds are available through support from Montana Campus Compact, a network of Montana campuses committed to community service; Reach Higher Montana, a nonprofit dedicated to helping students pursue and fund post-secondary education; and the Governor's Office of Community Service, a state agency tasked with expanding and promoting community service in Montana. The Governor's Office of Community Service administers the scholarship funds.
The $1,000 scholarships will be offered to 100 Montana seniors attending Montana Campus Compact member institutions next fall. Qualified applicants are graduating high school seniors who have completed at least 50 hours of volunteer service during the past year. (Due to COVID-19 restrictions and closures, the service hour requirement has been reduced from 100 to 50.)
The Youth Serve Montana scholarship application and FAQs can be found online at serve.mt.gov.
Cowboy Hall of Fame announces 2020 inductions
The Montana Cowboy Hall of Fame & Western Heritage Center have announced the 13th class of inductions into the Montana Cowboy Hall of Fame. The inductees were chosen from a field of candidates nominated by the general public. Inductees are honored for their notable contributions to the history and culture of Montana.
The MCHF & WHC board of directors has designated 12 trustee districts across the state from which up to 20 trustees may be appointed. Nomination criteria established by the board for the Class of 2020 inductions allowed the election of one Living Inductee and one Legacy Inductee from each of the 12 districts.
The 2020 inductees from the Helena-area District 8, which includes Broadwater, Jefferson, and Lewis and Clark Counties, are: Living Award – Kent Mosher, Augusta. Legacy Award – Gary Murphy, Wolf Creek.
The MCHF & WHC tentatively plans to honor inductees during the MCHF Annual Induction Ceremony & Western Heritage Gathering Feb.12-13, 2021, in Great Falls at the Heritage Inn. More information on this event will come later in the year.
Full biographies for past inductees are available on the MCHF & WHC's website, http://www.montanacowboyfame.org. This year's inductees will be added to the website soon.
Get local news delivered to your inbox!
Subscribe to our Daily Headlines newsletter.