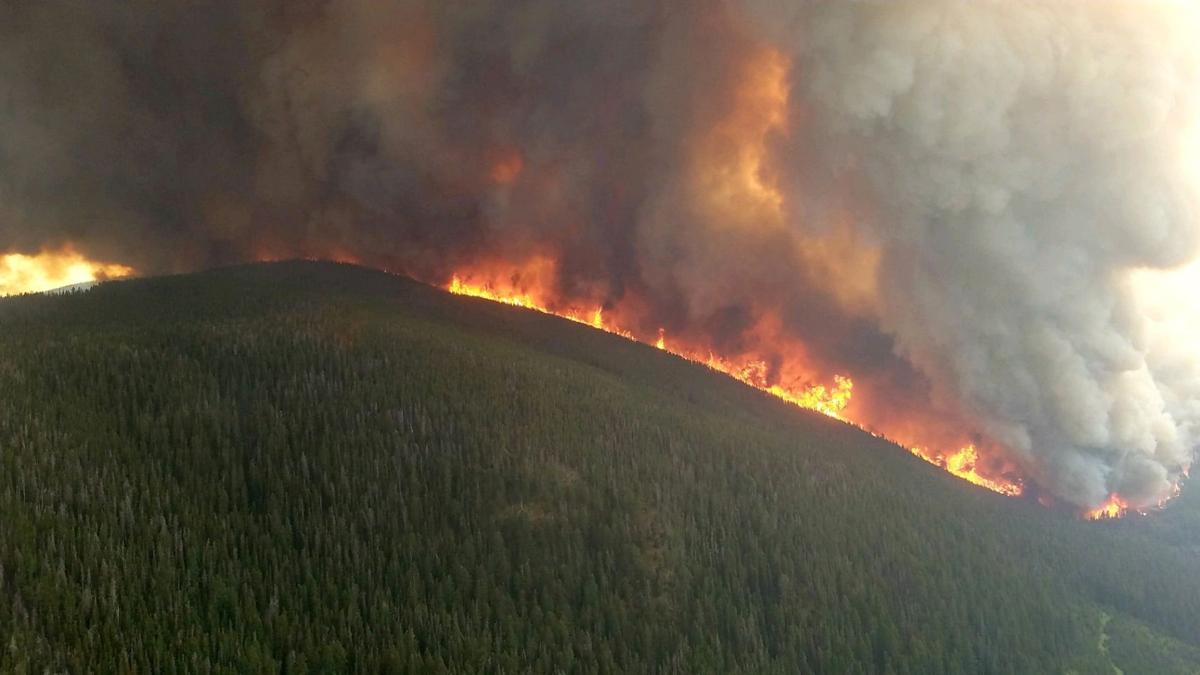 The Harris Mountain fire more than doubled in size in 24 hours and grew to 11,890 acres Monday, as the Cascade County Sheriff's Office ordered mandatory evacuations and the American Red Cross set up a shelter as multiple blazes continued to rip through the state.
On Sunday night, Cascade County Sheriff Jesse Slaughter issued a mandatory evacuation order for all those living on Adel Road, south of mile marker 7. Evacuation orders were issued near Sheep Creek Road as well, officials posted online Monday. Residents are asked to avoid the area as much as possible to allow fire response efforts to travel unheeded into the area.
 "There is a mandatory evacuation order for all residents on Adel Road and Whitmore," Cascade County Disaster and Emergency Services posted from the sheriff's office. "You are in imminent danger of the fire. Grab your essential items and house pets and leave immediately. First responders will not come rescue you."
The fire, 10 miles southeast of Cascade, was reportedly sparked by lightning on Friday afternoon. As of Monday afternoon it was 0% contained.
Officials said it burned more than 3,000 acres within the first burn period.
Northern Rockies Team 7, a Type II Incident Management Team, assumed command of the fire from the Montana Department of Natural Resources and Conservation at 6 a.m. Monday.
"The fire is located in difficult and rugged terrain with fuels and topography driving fire activity," officials posted on https://inciweb.nwcg.gov. "Location, along with limited resources creates challenges for immediate suppression. Multiple crews, engines, dozers, water tenders and air resources are assigned to the fire and providing point protection near structures."
There were seven fire crews assigned, two engines, two water tenders, four pieces of heavy equipment and one helicopter. Officials said Monday they would focus on establishing a new anchor point and protecting structures. They also said aircraft will be used to slow the fire spread.
Authorities attributed the quick growth of the fire to fuels on the ground and the topography in general.
The American Red Cross opened an evacuation center at Cascade School at 321 Central Ave. West for residents displaced by the fire. Red Cross officials said people will have access to services including a safe place to stay, meals and other community resources. All Red Cross services are free.
People can request Red Cross Services by calling 1-800-272-6668.
The following is a roundup of some area fires:
The Woods Creek fire near the Boulder Lakes in the Big Belt Mountains in the Helena-Lewis and Clark National Forest is now at 2,706 acres.
It was caused by lightning July 10 and was moving west of the Boulder Basin and burning mainly on the ridge tops, U.S. Forest Service officials said Monday. On Sunday, the fire switched directions, heading east with heavy fuels in continuous subalpine fir and moving about 3 miles in two hours. It was listed as 0% contained Monday.
A Type III Incident Management team was expected to arrive Monday. Crews assigned to the fire will be assessing structures and doing point protection.
The lightning-caused Balsinger fire, burning 7 miles west of Neihart, started on July 8. It is being managed as part of the Divide Complex with the Ellis fire. It is one of several wildfires burning on the White Sulphur Springs Ranger District of the Helena-Lewis and Clark National Forest.
On Monday officials said 5,203 acres had burned and 222 fire personnel had been assigned.
The Cascade County Sheriff's Office issued an evacuation order for residents of Belt Park on July 23.
The Ellis fire located in the Dry Range - East Fork, about 2.5 miles southwest of Smith River, was reported as 70% contained Monday with 1,277 acres burned. It also started on July 8 and its cause is under investigation.
Health officials warned Montana residents to protect themselves from smoke pollution on Monday.
Air quality considered harmful to sensitive groups — such as people with lung disease or asthma — was reported in Helena, Missoula, Butte, Billings, Great Falls, Lewistown and several smaller cities. The pollution was at concentrations high enough for officials to recommend that people limit outside activities in communities including Bozeman, Dillon, Frenchtown, Seeley Lake and Broadus.
The Associated Press contributed to this story.
Assistant editor Phil Drake can be reached at 406-231-9021.