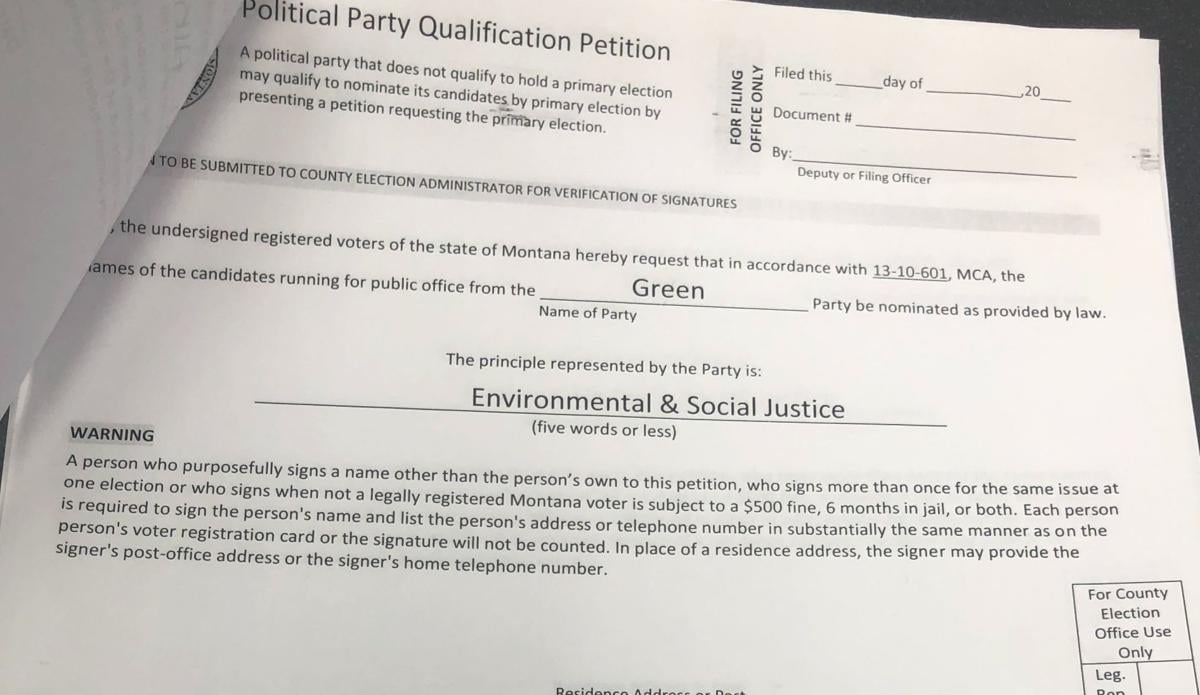 The Montana Green Party is saying a political action committee behind ads supporting one of the candidates running under the party's name has nothing to do with the party or its platforms.
"Please keep in mind this is a conservative backed (page) with absolutely no affiliation with the Montana Green Party, nor has the featured candidate chosen to reach out to us," the Montana Green Party wrote in a Facebook post May 11. "The fact alone that this is a page backed by a superPAC automatically should reveal that the page hides an ultimate ulterior motive."
The page refers to the website and Facebook presence of a group called Go Green Montana and the candidate that group is supporting, Wendie Fredrickson of Helena.
"Be aware that this website is not affiliated with the Green Party of Montana, and all candidates which are featured have not been endorsed by GPMT, nor have they attempted to make or return contact with our organization," the post reads. The Montana Green Party did not return a phone call or message seeking further comment.
Fredrickson did not return a call for comment for this story and the Montana Green Party said in a Facebook post she had not returned their attempts to make contact.
Third parties can be seen as pulling votes away from major party candidates. In Montana, the Libertarian Party has fielded enough support in past elections to remain qualified to run candidates, while the Green Party reached the ballot this year after a signature-gathering effort backed by at least $100,000 in spending from the Montana Republican Party. Libertarians can be seen as pulling votes away from Republicans, while Greens could siphon votes from Democrats.
Political action groups crossing over to support the third-party candidate that could harm their opponent is not new: in 2012 the liberal group Montana Hunters and Anglers paid $500,000 for ads supporting the Libertarian in the U.S. Senate race in a move some said helped Democratic U.S. Sen. Jon Tester win that race.
There's a Senate primary in the Green Party between Fredrickson, who is a former state health department auditor who left her job after saying she'd been bullied by members of Bullock's administration, and Dennis Daneke, of Lolo. Daneke has suggested he may drop out following the primary if he does not win, both in an interview with Montana Television Network in March and with Lee Newspapers on Monday. Daneke has said he'd do that to avoid pulling votes away from Bullock.
Go Green Montana registered as a political action committee with the Federal Election Commission on May 5, meaning they do not have to file a report showing who is financially backing the group or how it is spending its money until June 21. The group has already sent out mailers in Montana supporting Fredrickson, though their reach and cost is unknown since it's not yet reported. It has also spent about $352 on Facebook ads with potential wide reach. The custodian of records and treasurer for the group listed on FEC filings did not return a call seeking comment.
Facebook's ad library shows that one placement that started running Friday cost less than $100 but has a potential audience of 100,000-500,000. That and other ads posted Friday flips the argument the Montana Green Party has made calling Fredrickson a false Green Party member, saying it's Daneke that is the "fake Green Party candidate."
Daneke acknowledged Monday he's run as a Democrat before in races for county commissioner and the state Legislature, but said after reading the Green Party's platform he realized he better aligned with their beliefs. He's a former professor who retired after teaching sustainable construction at Missoula College.
"I filled out my Green Party ballot and the only person I voted for was myself because nobody else on the ballot is in the Green Party," Daneke said. "It's just bad manners to run in a party that you're not even a member of."
Calling the actions to qualify the Green Party for the ballot "shenanigans," Daneke said he decided to run "just to give Wendie a run for her money."
Earlier this election, the Montana Green Party said in another Facebook post that "none of those running under the Montana Green Party ticket this season are actual Greens as far as we can tell." The party has not yet released any endorsements, but has disavowed one candidate, John Gibney of Hamilton, for statements he made at an anti-refugee rally in Missoula.