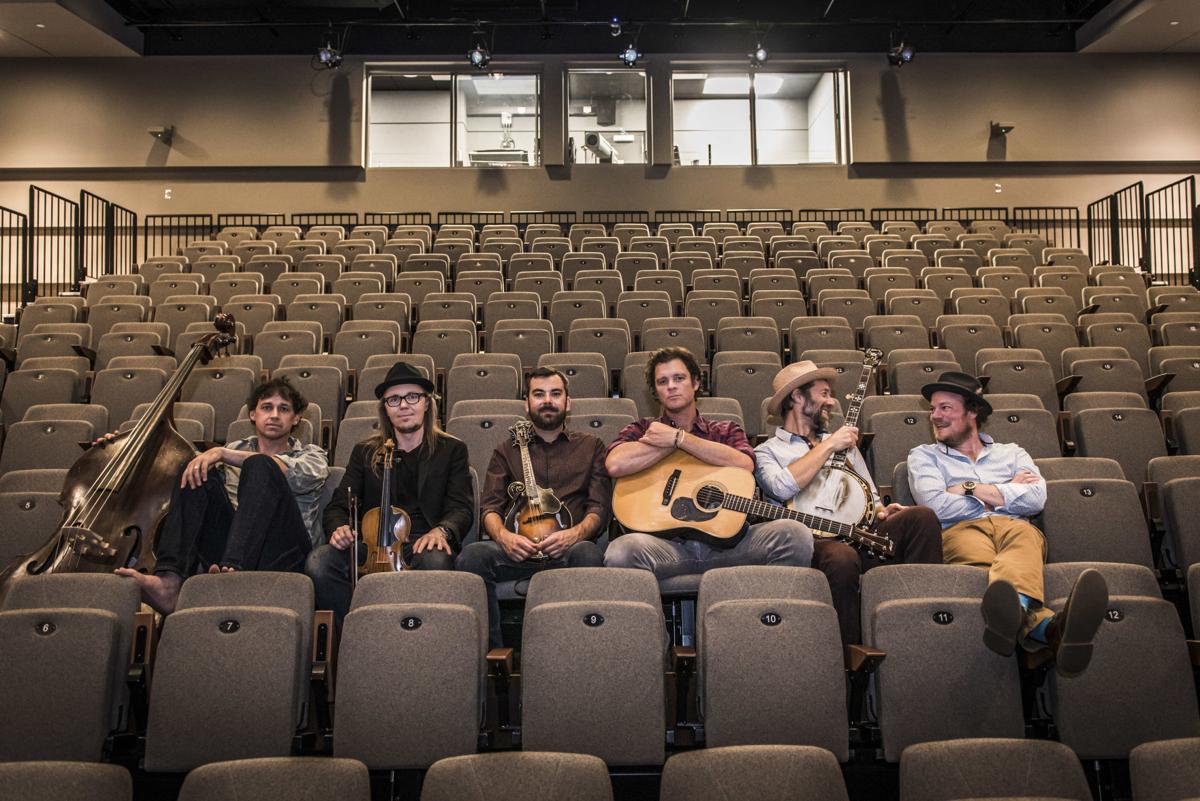 Perhaps you heard them at the Red Ants Pants Music Festival in White Sulphur Springs?
Or maybe on NPR's "Mountain Stage"?
Or possibly on "The Late Show with Stephen Colbert" Jan. 29?
Wherever they play, the accolades just keep rolling in for the Steep Canyon Rangers.
The Grammy-winning sextet takes the stage at 7:30 p.m. Saturday, Feb. 22, at the Helena Civic Center.
The Asheville, North Carolina, bluegrass band is particularly known for how much they like to mix up their music and for their outstanding shows.
Bluegrass Today wrote of their 2019 MerleFest performance:
"The diversity seems to be an inherent part of Steep Canyon Rangers' performances these days, given that the vocal responsibilities now extend to the newer members of the band, specifically bassist Barrett Smith and multi-instrumentalist Mike Ashworth. Indeed, it affirms the tight-knit cohesion that core members Woody Platt (vocals, guitar), Graham Sharp (vocals, banjo), Mike Guggino (mandolin, vocals) and Nicky Sanders (fiddle) have always brought to the band. Suffice it to say, there's never been anything less than exceptional about a Steep Canyon Rangers performance."
In an IR phone interview, founding member Graham Sharp, said, "When we're playing concerts, we really mix it up. It will go all the way from some acoustic, quiet stuff to some stuff with drums and electric guitar.
"We have a pretty wide palette of what we do, but it's all pretty much our own songs.
"We 've got maybe 12 albums out there that we draw from.
"We've got several lead vocalists.
"We try to keep the whole thing really varied and give everybody a chance to shine.
"There will be long instrumental moments, and then there will be moments that are all voices and harmonies.
"So, we just cover the whole range of the music we love.
"Where the band started is, we all fell in love with the music together at the same time.
"We're pretty much just a group of buddies in college who discovered that everybody was interested in this music.
"I was learning banjo. Mike was learning mandolin. Woody played the guitar and sang.
"It really started out very informally as a group of guys who loved just getting together to make music."
Soon, to their surprise, they learned they could earn a little cash or a meal when they played, he said.
"It just kept growing from there really organically."
You have free articles remaining.
"That's one of the strengths of the band," Sharp added. "We're a group of guys who really have a history together."
Sharp particularly fell in love with banjo music listening to Jerry Garcia, he said.
"I just kept walking through these doors and finding more music I loved -- a lot of it traditional and a lot was totally non-traditional and just trying to soak it all in."
Everyone in the band writes songs, he said, but he does the bulk of the writing.
He believes in sitting down regularly to write, whether the songs are flowing or not.
Later, walking down the street, everything he was trying to make work will suddenly fall into place.
Themes of songs range from home, to being away from home, to people he loves and the different stages of their lives.
Sharp's favorite songwriters, he said, capture a person in a moment and provide just enough detail to let the listener's imagination fill in the story.
Steep Canyon Rangers are also known for their collaborations with actor, comedian and musician Steve Martin.
But Martin is NOT appearing at the Helena show.
In March, however, Martin and the band are heading out for a UK tour.
When they perform with Martin, it's a completely different band, Sharp said.
It was just happenstance, they wound up meeting Martin and playing music with him.
"We were friends with Steve's wife," he said. "She and Steve met around the time of his foray into bluegrass."
The collaboration has been "nothing but wonderful," he said.
Another amazing, and "off the wall" collaboration, was a project with the Asheville Symphony and Boyz II Men, which is well worth checking out at this link https://www.steepcanyon.com/watch.
The groups are "seemingly very different schools of music" that come together to make something more than the individual parts, Sharp said.
People are moved by their concerts, he said. Some particularly listen to the words, others come to dance.
"Our concerts span those two worlds."
They're really looking forward to their Montana shows, he said.
Last time they played in Montana, it was at the Red Ants Pants Music Festival in 2018.
"The crowd was so awesome. It was so much fun. If we can capture one-tenth of that energy, we're in for a great night."
Ticket prices start at $35 and are available online at www.helenaciviccenter.com, by calling 447-8481 or visit the box office at the Helena Civic Center, 340 Neill Ave M-F 10-1, 2-4.
This show is a cooperative presentation by Starz on Stage and the Helena Civic Center.