The center in Helena originally created to train firefighters to respond to aviation emergencies is expanding to prepare emergency personnel across the region to respond in a broad range of emergencies.
Jeff Wadekamper, director of the Helena Regional Airport, gave U.S. Rep. Greg Gianforte a tour of the Rocky Mountain Emergency Services Training Center on Friday.
The center is one of three training centers west of the Mississippi and attracts more than 500 people a year. While receiving world-class training, responders from around the region help boost Helena's economy, Wadekamper said.
The center opened in 1996 with funding from Congress to build fire training centers and strictly dealt with aviation fire and rescue. Now, the center offers fire and rescue training courses on fuel spills, car fires, structural fires and hazmat training. Wadekamper said law enforcement agencies also have used the facility to simulate responses to other situations, including  hijacking.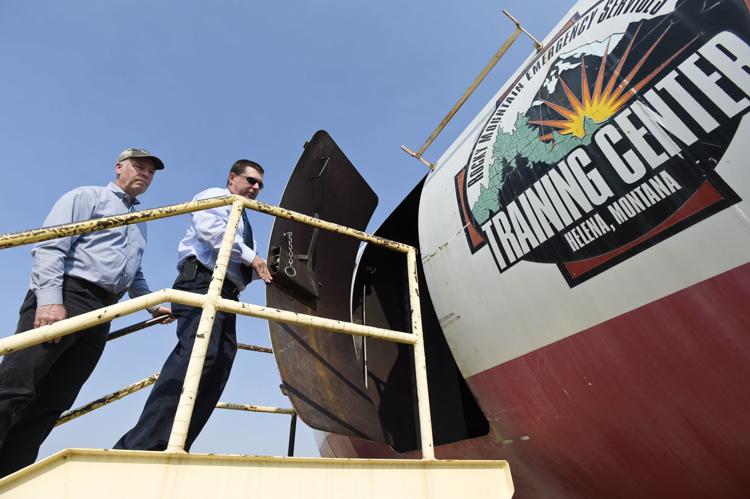 Wadekamper said he invited Gianforte because senators Steve Daines and Jon Tester had visited the facility and he wanted to include the new congressman. Wadekamper said the national delegation, as well as state and local politicians, have been supportive of the training center over the years.
"This is a real asset to the state," Gianforte said.
Gianforte has been visiting training and response facilities across the state and meeting with law enforcement agencies to address community safety. He said he plans to introduce some related legislation, most likely to provide emergency response funds for rural communities who lack resources and training.
"It all fits under this need to make sure our communities are safe," Gianforte said.
The center offers the basic 40-hour class firefighters need to get certified in aircraft rescue firefighting and intermediate recertification.
The emergency services training center has multiple training devices, including a passenger and cargo aircraft, to recreate any scenario an aircraft firefighting rescue team could encounter. A 1.2 mile closed driving track is used by law enforcement training and demonstrations on motorcycle safety.
On Friday, Wadekamper and his staff demonstrated how students fight live fires. The trucks only use water, but students in real life situations would use aqueous film forming foam, which is more efficient in suppressing fire. Because the foam is not environmentally friendly or cost friendly, the training center uses water but has the technology system so instructors can see if students are using the right application techniques from the control room. They can speak to students during a simulation via radio to give direction and feedback.
"Statistically, air travel is still the safest form of transportation," Wadekamper said.
But Wadekamper said it's important for aviation response teams as well as rural and municipal firefighters to have the basic training. And because it's so rare, it's important emergency responders get training often to apply best practices. Wadekamper said the most common situation is when a plane is having some sort of issue that could cause a difficult or dangerous landing. Crews are prepared, but rarely have to act.
The next goal for Wadekamper and the emergency services training center is to add a structural burn building to train municipal fire response teams, police departments and SWAT teams. The center also is partnering with Helena College to train students.
Emergency responders interested in taking classes at Rocky Mountain Emergency Services Training Center can visit their website: http://rmestc.com/.