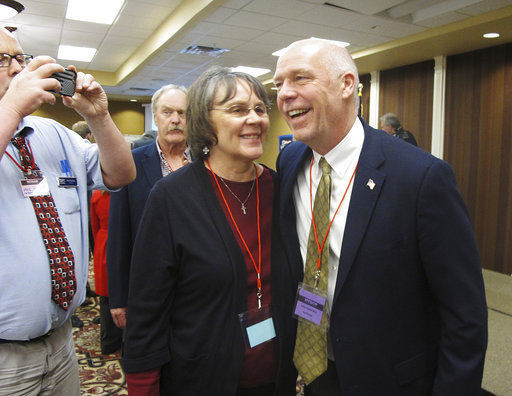 That brings Gianforte's total self-financing to $1.5 million this election.
Gianforte pulled in more than $651,800 from mid-April to mid-May, though that includes the $500,000 loan. Fox raised $39,178. Olszewski got $72,100, but $50,000 was a loan from the candidate.
Gianforte has also out-spent any other candidate by far, dropping $2.6 million on the race. Campaign finance reports filed Wednesday show heavy spending on advertising, with $356,240 going to TV ads from April 16 to May 14. The campaign also sent $137,210 in mailers over that period and put $28,580 toward polling.
The candidate closest to Gianforte in both raising and spending still trails his financial force significantly. That's Democratic candidate Whitney Williams, a Missoula businesswoman. She's running against Lt. Gov. Mike Cooney, who isn't far behind her.
Over the election Williams reported raising about $1.01 million and has spent $738,102 to date. More than any other candidate, Williams is pulling campaign contributions from out of state, tapping into an extensive network she built in the private sector.
A measure tracked by the Montana Free Press puts the percent of her individual contributions from Montanans at 25%, though the data is pulled from figures that may not include contributions below $35. All candidates are measured off data reported following the same rules. Cooney, by comparison, has gotten about 74% of his individual contributions from Montana.
Expenditure reports now required to be filed within 48 hours show Williams is putting up last-minute ads, including one for $20,000 on stations in Butte, Bozeman and Missoula that will run May 20-26. Williams' campaign also spent $18,624 on a TV ad in Great Falls. From April 16-May 14 Williams spent an additional $155,100 on TV ads.
"Montanans across the state want a new generation of leadership to help us recover from these challenging times, and the surge in momentum and fundraising shows that," Williams said in an emailed statement. "In these final days, we'll continue to get our message out that Montanans want leadership, energy and new ideas, a champion for clean water, public lands and women, and a candidate who can lead us into a bright future."
Cooney has raised more than $895,000. Over the last filing period from mid-April to mid-May, the lieutenant governor brought in about $134,000 to Williams' $147,500, though she also reported an additional $18,000 over the last few days, relying very heavily on out-of-state contributors.
"I want to thank the many Montanans who have been incredibly generous in their contributions to this campaign," Cooney said in an emailed statement. "Their grassroots support is what's going to get us across the finish line on June 2 and keep our Montana values in the governor's office come November."
Cooney has spent about $684,000. That includes $37,000 worth of polling on May 4. He also spent about $39,000 for an ad buy that will run May 17-26 in Billings, Great Falls and Missoula and another $28,270 on ad production in those markets.
Fox has raised about $760,000 over the election and spent about $579,300. His campaign dropped about $30,700 on TV ads recently, and also reported a $5,000 loan from Fox's running mate, former state Rep. Jon Knokey of Bozeman.
To date Olszewski has raised about $350,000. He spent about $28,300 on TV ads in the last month.
By Wednesday evening, about 29% of those mailed an absentee ballot had returned it. The primary is being conducted mostly by mail because of the novel coronavirus pandemic, though in-person voting is still available at county elections offices. Ballots can take up to five business days to be delivered, so people are encouraged to mail them in soon or drop them off at their local elections offices.
Get local news delivered to your inbox!
Subscribe to our Daily Headlines newsletter.