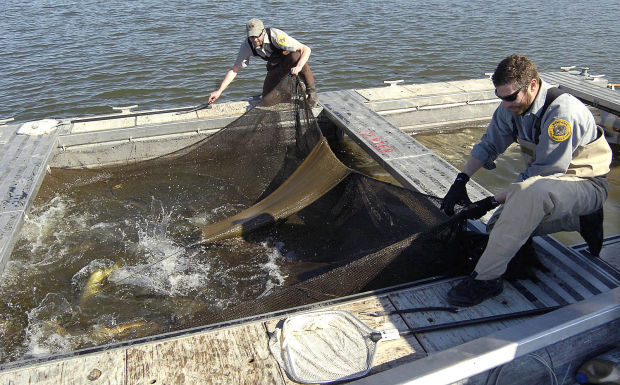 Montana Fish, Wildlife and Parks is holding eight public meetings across the state to discuss a proposed rule change that would direct the agency on how to respond to illegal fish introductions.
The new rule commits FWP to investigating reports of unauthorized fish plantings within 30 days of learning about them, followed by an action plan to deal with the introduction. Action plans can include a range of options, from removing unauthorized fish with nets or chemicals to changes in fishing regulations or commercial fishing. Responding to illegal introductions, often called "bucket biology," has proved challenging for FWP, something that has frustrated anglers around the state.
"They've never caught anyone. It's like chasing smoke," Bob Gilbert, executive director for Walleyes Unlimited of Montana said.
Walleyes Unlimited has offered a cash reward for information on illegal introductions for almost a decade. The reward has not had much effect.
"They're trying to get someone to rat out on their buddy," Gilbert said. "In any case, it needs to be stopped. We'll work with anyone to put a halt to it because we don't want to see it."
Montana FWP hopes that the rule change will lead to a more timely response and create more public awareness about unauthorized introductions.
"Hopefully this process will help call attention to it," Region 4 Warden Capt. Mike Martin said. "It's extremely difficult to actually catch somebody introducing fish. It's one of those cases that's done in secrecy."
Wardens do occasionally catch people transporting live fish, but it's almost impossible to tie that to specific illegal introductions, Martin said.
State biologists also spend a great deal of time dealing with fisheries after unauthorized introductions. Bringing in a new species can have serious consequences to other species and management.
"It (unauthorized introductions) varies across the state," FWP biologist Eric Roberts said. "I do spend quite a bit of time dealing with it, especially with the Canyon Ferry walleyes that's technically considered an unauthorized introduction."
Roberts is the state fisheries biologist for the Missouri River and reservoir system in the Helena area. FWP had planted walleyes in Holter and Hauser Reservoirs, but wanted to keep Canyon Ferry walleye free.
Canyon Ferry anglers and biologists began reporting walleyes on their hooks and netting surveys in the late '90s. FWP classified the walleyes as an unauthorized introduction, and responded by trying to net them around known spawning beds. Those efforts essentially failed.
The highly voracious walleyes made serious dents into the perch, trout and sucker populations. FWP then changed management plans to incorporate walleyes in the system. They lowered limits and put in slot limits to grow more sizeable walleyes for anglers.
"We've really seen the number of perch change dramatically. In all three reservoirs we've seen perch numbers down," Roberts said.
Walleyes also impacted trout numbers, feeding on the fingerling trout FWP planted every year. In response, the agency has planted larger trout at a cost of seven times higher than fingerlings.
While FWP believes many unauthorized introductions are on purpose, some introductions could come unintentionally, Roberts said.
"A lot of people don't know it's illegal to transport fish in live wells," Roberts said. "Our aquatic invasive check stations try to look in live wells as much as they can."
Walleyes Unlimited of Montana points out that illegal introductions involve all species including trout and walleyes. They plan to keep an eye on how the new rule change could impact fisheries. Despite their support of efforts to stop illegal introductions, often times eradication efforts are too expensive and do not work, Gilbert said.
"There's not enough money to make it feasible unless they just want to poison the whole stream," Gilbert said. "We'll do what we've always done, and tell people if you hear or see anyone turn them in."