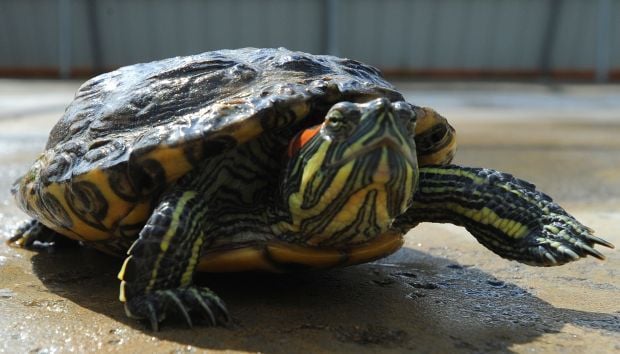 BILLINGS — Here's a national issue in which Montana has raced out in front of the pack: turtles.
State Fish Wildlife and Park officials have concluded there is no room under the Big Sky for red-eared slider turtles, the kind that have been popular in pet shops for decades. Turns out the turtle's willingness to eat just about anything makes it highly competitive with native species when owners with buyer's remorse release the hard-shelled pet into the wild.
"Red-eared sliders are on the list of the 100 most invasive species in the world," said Allison Begley of Fish, Wildlife and Parks. "They're omnivores. They eat anything, and they adapt to any habitat."
Red-eared sliders, which get their name from the red markings on the sides of their heads, have been found in Riverfront Park in Billings, the Lee Metcalf Wilderness and Spring Meadow State Park in Helena, according to FWP. The turtles often get dumped in the fall by owners with second thoughts about keeping a turtle around in a basement or garage during the winter.
Now that the reptiles are verboten, animal advocates like Dave Pauli, a Humane Society wildlife capture and field project specialist, are concerned even more turtles will be released.
You have free articles remaining.
But Pauli has a plan. He's going to load up a trailer with as many red-eared sliders as Montanans will offer and drive the turtles to a Texas lake, where the turtles are native. He said he will make his turtle trip to Texas in October.
"The unique thing about his project, besides giving people the opportunity to turn in turtles, is that it gives a bunch of the turtles the chance to be released into a large lake in Texas, Burro Lake."
The lake is on a wildlife sanctuary created for relocated Grand Canyon burros. Pauli's trip is no pedal-to-the-metal exercise. Turtles take time. The ones Pauli receives will spend weeks in large ponds in Montana getting used to catching food, diving deep and swimming beyond the glass walls of an aquarium.
A turtle that has lived in shallow water in a short glass tank doesn't know how to manage the sink-or-swim pond life. Pauli said the animals will be tested to see which are fit for release and which continue to need looking after.
Thursday, Pauli was working with a red-eared slider that was swimming the length of a pool 25 feet long. That turtle will be joined by other turtles submitted during the one-time, red-eared slider turtle turn-in program.
Anyone who has owned a red-eared slider earlier than July doesn't have to surrender the animal. The state will allow owners to keep red-eared sliders bought before that date, provided they have a permit from FWP. Owning an unregistered turtle can result in a $100 fine.