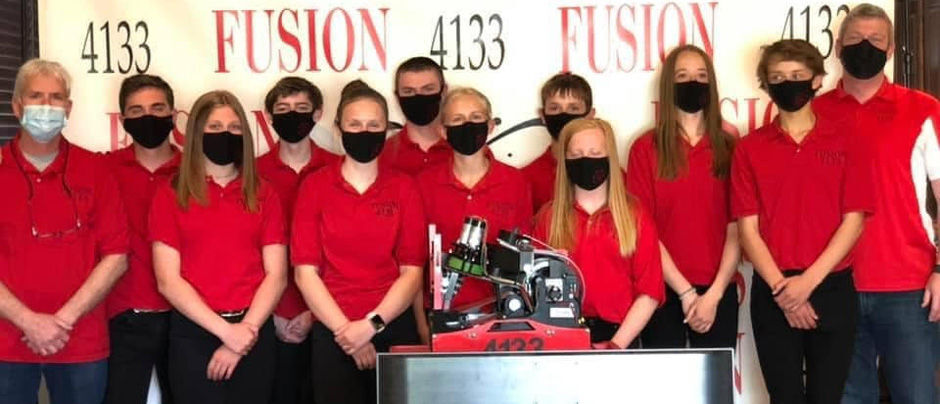 The Helena-based robotics club, Fusion 4133, recently captured the Montana Robotic championship, compiling the most overall points and winning the state's Inspire Award.
This is Fusion 4133's fourth consecutive State title, and its sixth qualification since 2010 to the FIRST Tech Challenge robotics world championships in Houston, Texas. But the world's, which consists of 160 teams from a field of thousands, have been canceled due to the pandemic.
The recipient of the Inspire Award is considered the most well-rounded team at a competition, meaning everything from building the robot, to sportsmanship with other teams, called "gracious professionalism" by FTC.
Robotics clubs compete annually in FIRST Tech Challenge – the mission being to inspire young people to be science and technology leaders – although this past year was mostly virtual due to COVID-19.
Team Fusion is an independent student/mentor-based robotics team made up of school kids from grades 7-12, presently composed of 10 members representing CR Anderson, and Capital and Helena high. The team's co-captains are lead builder Zach Heller and engineering notebook lead Miranda Sheafor.
"As co-captain I do a lot of organizing and planning," related Sheafor, a CHS sophomore. "Some of that is what we're doing when, what we're wearing, etc., but it's also making sure everyone is involved and engaged to the best extent possible and that we're working as a team."
Engineering notebook lead means she's responsible for keeping an accurate record of their season through pictures and logs on our daily activities, events, plans, and more.
"I can then delegate out tasks within that to other people who are interested and make sure everyone writes something about what they accomplish or work on each day," she explained.
Each year, Fusion robotics builds a new robot to compete in the FTC, designed and built by the team members for the unique set of challenges.
Their latest robot, "Luxon," is considered one of the local Fusion club's best-ever. With hundreds of hours of build time, the team is constantly modifying the bot, oftentimes during competition.
"One of our most valuable tools is learning to fail, we take that experience and learn more from it," team coach Mike Ellis said. "The team belongs to the kids. The coaches are there to guide them, teach them and keep them safe around power tools, but the kids make most of the decisions."
Most of the team members say that robotics runs their life, but it's worthwhile due to the legitimate love for the competition.
Rounding out the Fusion 4133 squad are Kate Drynan, build team and social media; Cooper Nelson, build team and outreach; Kathleen Cook, programing team and engineering; Rhett Quinn, lead programmer and build team; Grady Dushin, safety officer and programming; Ava Reichart, build team and social media; Willa Bishop, build team and notebook team; Jaret Dushin, social media lead and field management; and coach Dan Jankowski.
"As a member of the notebook team, I help by creating records of what things we have done out in our community, with other teams, and any other form of outreach that we do," Bishop, an HHS sophomore, said. "I also do many smaller tasks like reading (over) daily entries.
"On the build team, I help with many different things and what I do changes every day. Sometimes it's something small like drilling holes, or sometimes it's something bigger like attaching a big part on our robot."
Nelson helped design parts on the robot in computer-aided design software – afterwards being able to bring the design to real life – and helped build the drive train and the field (mat) that the robot does the runs on.
A 7th-grader at CRA, Cooper said his favorite subject is math, and hid favorite teacher this year is Mrs. Hagengruber.
FTC opens many doors for its participants, and companies and colleges are scouting STEM field students and given over 80 million dollars in scholarships by FIRST every year.
For more information, or to donate (tax deductible) to the 501c3 non-profit organization, visit www.4133fusion.org.